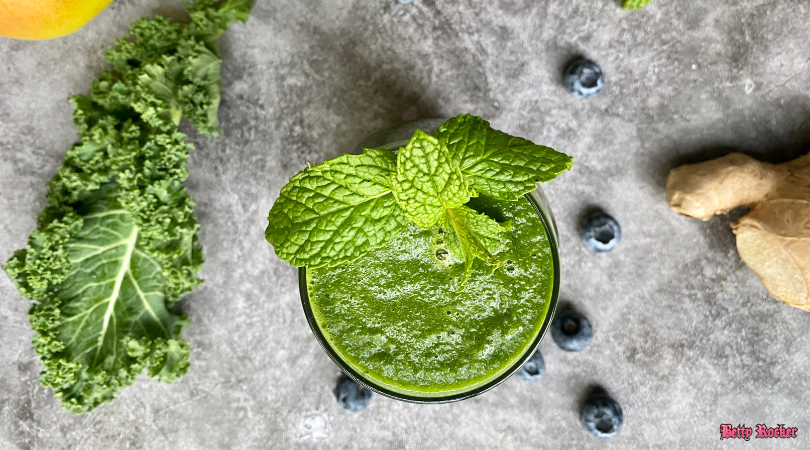 Get some greens in your body today with this healthy, refreshing smoothie! Bright and citrusy, this blend is big on flavor and packed with nutrients.
What makes this smoothie so healthy? To start, it's made with ginger and pears which are booth anti-inflammatory foods that fight free radicals and support your immune system (1).
Ginger can reduce cholesterol levels, helping to decrease the risk of cardiovascular disease and diabetes (2). It can also help improve brain function which is especially important as you age (3). Pears are a great source of soluble and insoluble fiber, which are essential for digestive health (4). Pears also contain antioxidants that can boost heart health by improving blood pressure and cholesterol (5,6)
Plus this smoothie is a great way to add in extra greens, and that means more powerful health-supporting nutrients into your diet. Packed with vitamins, minerals and fiber, this smoothie is the perfect addition to your morning routine for a tasty start to the day!
Ginger Pear Smoothie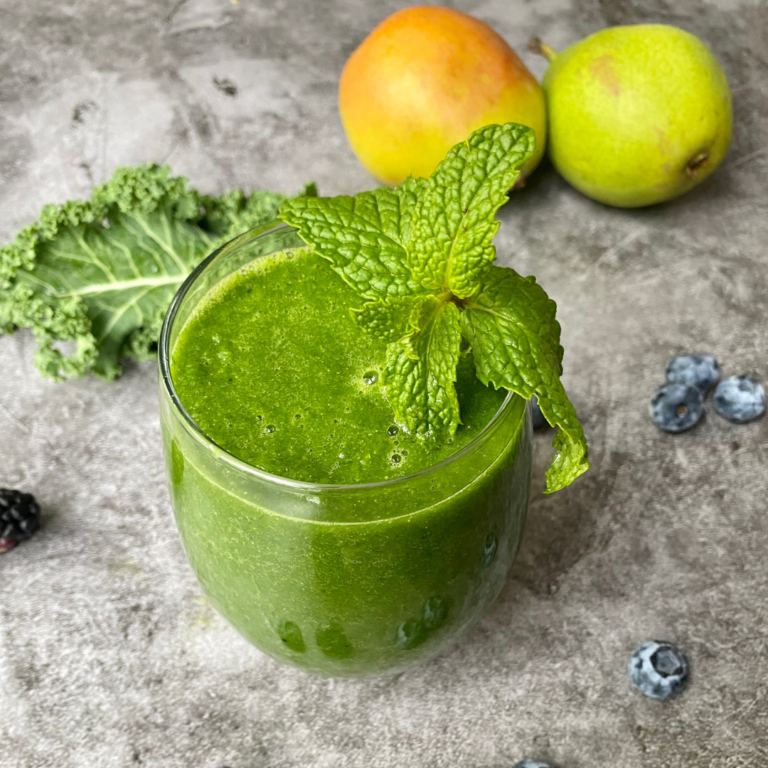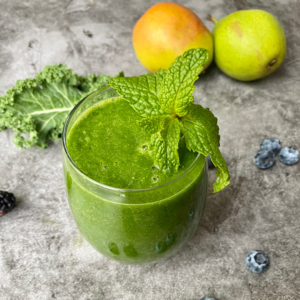 Yield: 1 serving
You will need: blender, cutting board, knife, measuring cups and spoons
Key: T=Tablespoon; tsp=teaspoon
Ingredients:
1 cup/handful dark leafy greens (spinach, kale, chard etc.)
1/2 lemon, juice of
1-1 1/2 cups water
1 pear
1 chunk fresh ginger
1 serving (30 grams) I ❤️ Vanilla Protein powder
Directions:
1. Blend the greens and liquid together very well.
2. Add the pear and ginger and blend well again.
3. Finally, add in the protein powder and blend until smooth.
Nutrition Facts
Calories per Serving:

228
Did you make this smoothie? Leave me a comment and let me know – I love hearing from you!
---
I ❤️ Vanilla Protein is a 100% ORGANIC, high protein (20g per serving), nutrient-dense whole food protein powder combining 4 plant-based protein sources into a delicious vanilla shake to support an active lifestyle!
If you are following a healthy lifestyle, you'll love the energy and vitality you get each time you shake it, bake it, or blend it up with I ❤️ Vanilla Protein so you can boost your total daily protein intake easily!