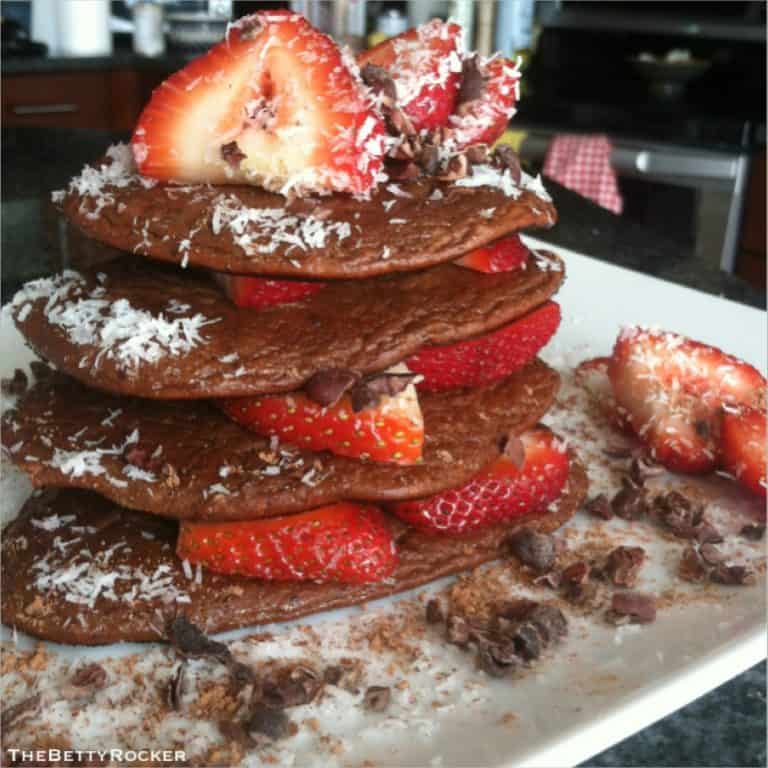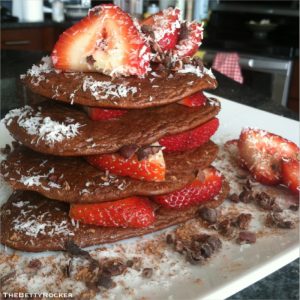 These pancakes weren't the original plan. I was actually planning on making waffles today, but I had loaned my waffle iron to a friend and remembered at the last minute that I didn't have it.
I decided to turn my waffle batter into pancakes, and if you have a waffle iron please try these out in it and let me know how they do. 🙂
By the way, this batter has no added sugar, is completely gluten free, dairy free and has the taste and texture of chocolate donuts 🙂
Chocolate Strawberry Donut Protein Pancakes
Yield: 2 servings
You will need: measuring cups and spoons, mixing bowl, whisk, skillet, spatula
1 T + 1 tsp coconut flour
1 scoop (33 g) vanilla egg white protein powder (there is a little stevia in the Jay Robb vanilla egg white protein powder – also, egg white protein powder gives this recipe its donut texture. You can use a different protein powder and still make a great recipe, but it will change the texture slightly)
1/4 tsp baking powder
2 T cacao powder
1/2 cup unsweetened applesauce
1 tsp vanilla extract
1 egg
3 T almond milk
1. Measure coconut flour, protein powder, baking powder and cacao in a bowl and mix well.
2. Add applesauce, vanilla, egg and almond milk and blend.
3. Heat a medium skillet and coat with cooking spray. Ladle batter into the skillet in 4 equal sized portions.
4. Cook until small bubbles appear in the surface and flip to cook briefly on the other side.
5. Serve with sliced strawberries, unsweetened coconut flakes and cacao nibs for an especially delicious breakfast!
Nutrition Facts
Calories per Serving:

179
Need some help with healthy eating?
When planning for the week, I think about:
2-3 breakfast options I like 

A few entrees that could double as dinner or lunch 

A couple smoothie ideas that have complimentary ingredients to give you variety with your greens

A snack option like homemade protein muffins or an easy to make trail mix for days you're just hungrier and want a little more to eat.

Round out your plan with a couple of staple sides that you would like to have on hand daily like a big mixed greens salad and some rice, quinoa or easy to grab sweet potato chunks…
……and then make your grocery list around that.  
Or, you can let me make the whole plan for you, with so many delicious, easy and healthy recipes!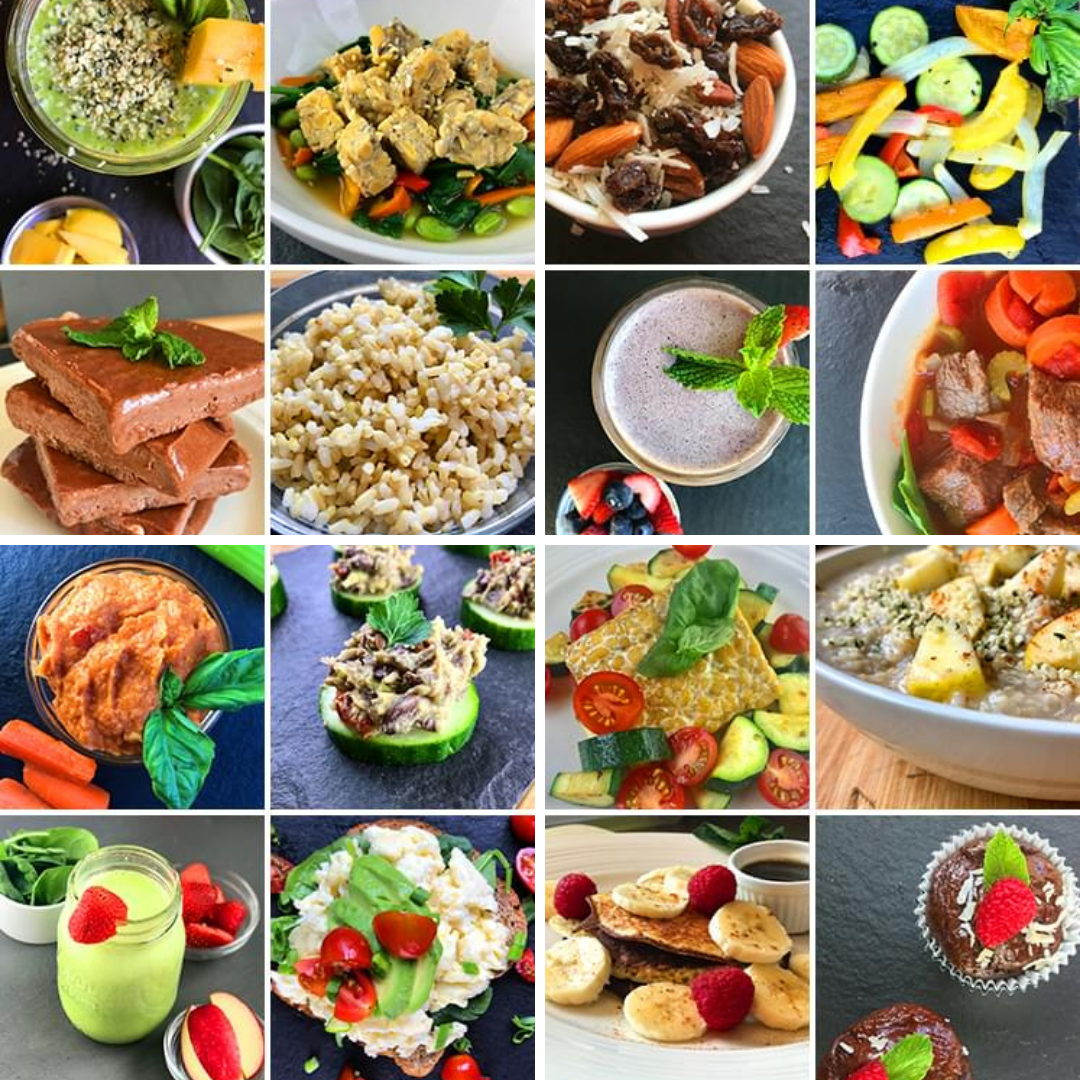 The 30 Day Challenge Meal Plan includes all the recipes and grocery lists for breakfasts, smoothies, sides, snacks and entrees for 4 full weeks – with plenty of delicious options and structure to help you eat right for YOUR life!