A little taste of Fall!
This recipe is an amazing combination of spices and warming flavors all rolled up in a nutrient-dense satisfying muffin.
Please don't be mad at me when you discover that they are not only addicting, but incredibly hard to keep anyone away from long enough for you to get some!
These gluten free pumpkin protein muffins contain all the essential macronutrients (protein, whole food carbohydrates and healthy fat), and boast a low-glycemic index – meaning they won't spike your blood sugar.
Made with almond flour, a little protein powder to make them even more satisfying, some organic pumpkin and a delicious spice blend I concocted, this is a muffin that really sums up what a taste of Fall in your mouth should be.
---
Gluten Free Pumpkin Protein Muffins
Yield: 12 muffins
You will need: muffin tins, foil liners (optional), large mixing bowl, whisk, measuring cups and spoons
1 1/2 cups almond meal flour
2 servings (60 grams) I ❤️ Vanilla Protein (or other plant-based protein – use grams for accurate measurement)
1 tsp baking soda
1/2 tsp sea salt
1 cup pumpkin puree
3 eggs*
1/4 cup avocado oil (you can also use olive oil)
1/2 cup honey
Spice Blend (or simply use 3 tsp pumpkin pie spice)
1 tsp cinnamon
1/2 tsp cardomom
1/2 tsp ginger
1/2 tsp cacao powder
1/4 tsp cloves
1/4 tsp allspice
Optional Topping:
1/4 cup Enjoy Life dairy free chocolate chunks or mini chips
1/4 cup walnuts
2 T unsweetened coconut flakes
*may also use 3 flax eggs: 1 T ground flaxseed meal + 3 T water = 1 flax egg – may affect texture somewhat)
Preheat oven to 350.
1. Measure all the dry ingredients, including the spice blend into the bowl and mix together.
2. Add in the pumpkin and eggs, and whisk well.
3. Measure oil and honey and beat in. I've tried this with less honey – I like going as low on the sweetener as possible, even the natural kind – but it really seems to compliment the pumpkin best with just this amount. Let me know if you experience anything different.
4. Line muffin tins with foil cups, or grease with cooking oil.
5. Evenly distribute batter. In 12 regular sized muffin cups, you can fill them about 3/4 of the way full.
6. Mix the topping and measure about a tablespoon onto each muffin.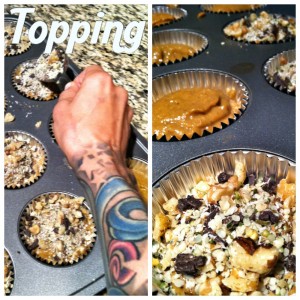 7. Bake for 22 minutes, or until a toothpick or cake tester inserted comes out clean.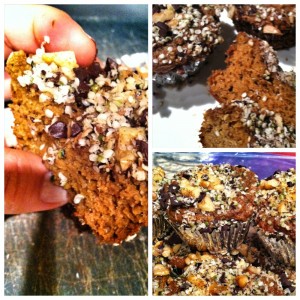 Nutrition Facts
Calories per Serving:

237
---
Incorporate delicious recipes like this into your complete healthy eating  every week with great recipe guides and meal plans!