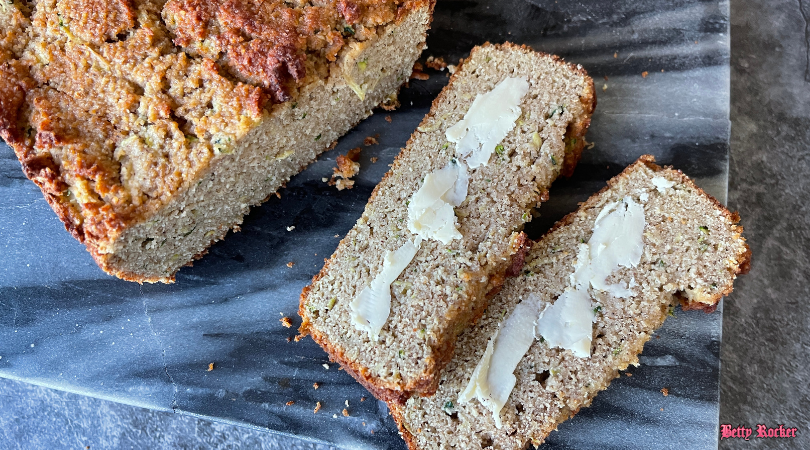 This healthy Zucchini Bread is easy to make and so delicious! I love having this with eggs for breakfast or topped with grass fed butter, dairy free butter, or nut butter.
Including applesauce and zucchini in this recipe adds moisture, texture and is a great way to get a little extra plant power in your day.
In addition to our macros, we also need micronutrients – vitamins and minerals – to grow, metabolize properly, and enjoy an overall sense of well-being. And fruits and veggies are such a great source! Both apples (1) and zucchini (2) are nutrient dense, as well as being widely available and affordable.
Even though we only need a comparatively smaller amount of micronutrients than macronutrients, they are equally as important to our health and wellness. You can read more about all of their benefits here!
This gluten free zucchini bread is so good I'm sure you'll love it too! You can toast it, slice it, spread stuff on it and enjoy!
Ready to start baking? Let's go!
---
Gluten Free Zucchini Bread
Yield: 12 servings
You will need: 2 mixing bowls, measuring spoons and cups, loaf pan, parchment paper, cheesecloth/nut milk bag/kitchen towel, rubber spatula, whisk, toothpick.
Key: T=Tablespoon; tsp=teaspoon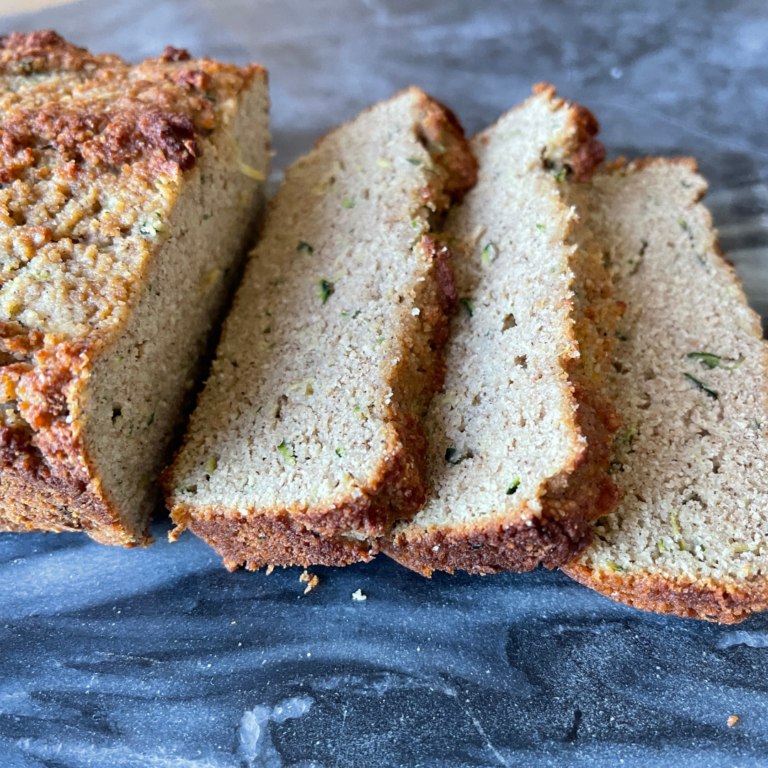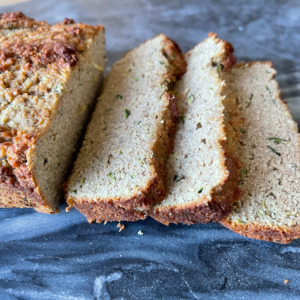 Ingredients:
Dry:
1 ½ cups almond flour
½ cup tapioca flour
½ cup coconut flour
1 tsp baking soda
2 tsp cinnamon
½ tsp salt
Wet:
3 eggs
½ cup applesauce
2 T maple syrup
1 T apple cider vinegar
1 ½ cups grated zucchini, squeezed to remove water (very important to remove the water or your bread will not bake through)
Directions:
Preheat the oven to 350 F and either spray or line with parchment paper a 8.5 x 4.5 inch loaf pan.
Add all of the dry ingredients to a mixing bowl and stir until combined.
In a separate bowl add the eggs, applesauce, maple syrup, and apple cider vinegar and whisk together.
Grate the zucchini and squeeze in fresh cheese cloth, kitchen towel, or nut milk bag. Add to the wet mixture.
Pour the wet ingredients into the dry and stir until the batter is well mixed. Pour the batter into a loaf pan.
Bake the zucchini bread for 50-60 minutes or until a toothpick comes out clean.
Use a skewer or butter knife to run along the sides of the pan, and flip bread out of the pan once fully cooled. Note, the bread doesn't rise and makes a compact loaf. You can also bake this in muffin tins or mini loaf pans – just adjust your baking time and check muffins after 20 minutes, mini loaves after 30 and cook until a toothpick comes out clean.
Nutrition Facts
Calories per Serving:

142
So delicious, simple and healthy!
Leave me a comment below and let me know how it turns out!
---
This is my signature eating system and it contains 6 weeks of done-for-you meal planning and recipe guides! You will not only learn the strategies that have given me long-term success, but also enjoy the time-saving benefits of having it all planned out for you!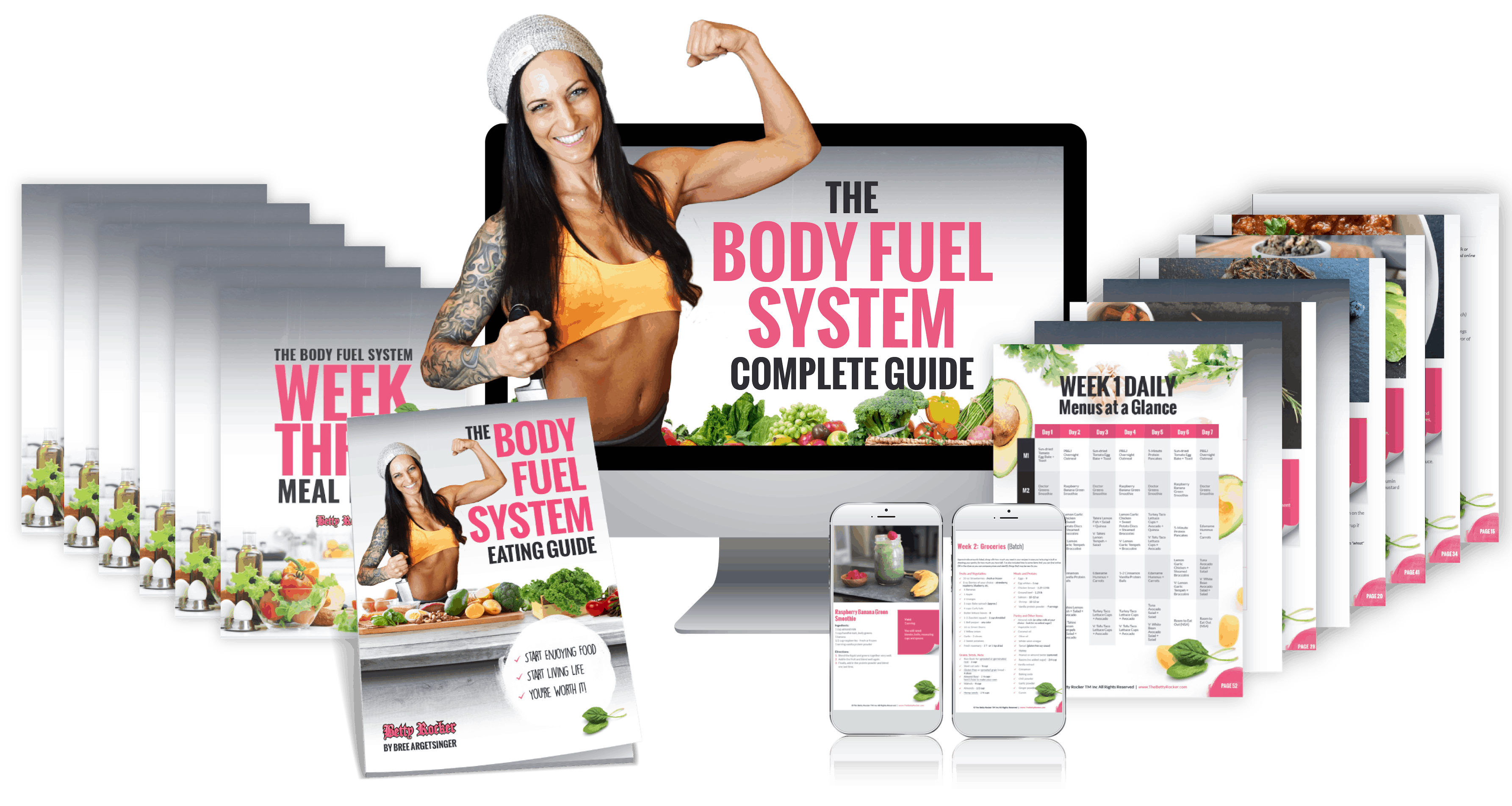 The Body Fuel System uses my simple, proven Eating Types to make it easy to stay on track. It also gives you healthy, fat-burning recipes and foods you can eat to look and feel your BEST every day!
Recipes like…