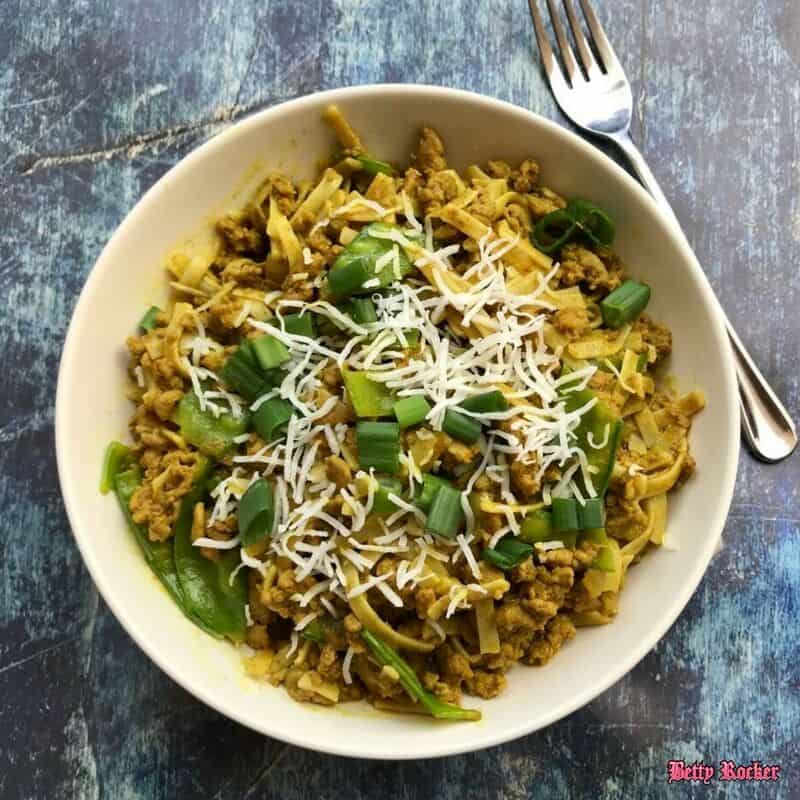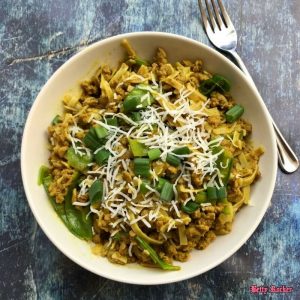 Welcome back to my kitchen!
Today I've got a seriously simple and easy entree for you to try: it's my Green Curry Turkey Bowl, and it's packed with good nutrients and tastes amazing.
The warm, savory flavors of this dish are complimented by the light crunch from the snap peas, and the satisfying buckwheat noodles will keep your energy tank fueled.
I really love curry – so if you're a fan, you're going to love this recipe. Curry has some great health benefits too, like reducing inflammation in the body and protecting your heart and bones.
Check out the incredible benefits of the ingredients in this dish:
Curry: relieves pain and inflammation, protects bones and heart, and promotes anti-bacterial activity.
Turkey is an excellent source of protein, as well as a good source of iron, zinc, potassium, and phosphorus, and B6 and niacin, both necessary for your body's energy production.
(Using tempeh instead? Tempeh contains high levels of vitamins B5, B6, B3, and B2.)
Onions contain vitamins A, B6, C and E, minerals such as sodium, potassium, and iron, and dietary fiber. In addition, onions are a good source of folic acid.
Coconut Milk provides important minerals needed to maintain blood volume, regulate heart health and prevent dehydration. It's also an excellent anti-inflammatory food.
Buckwheat Noodles contain buckwheat, a grain-like seed (so it's gluten-free) which has been shown to aid in cancer prevention, diabetes management, improved digestion, a boosted immune system, and is a rich source of protein (have you tried making my  Buckwheat Bread yet?)
Snow Peas contain vitamin A, vitamin C, iron, potassium, dietary fiber, magnesium and folic acid
Wow! Talk about a lot of nutrient power packed into one place!
---
Curry Turkey Bowl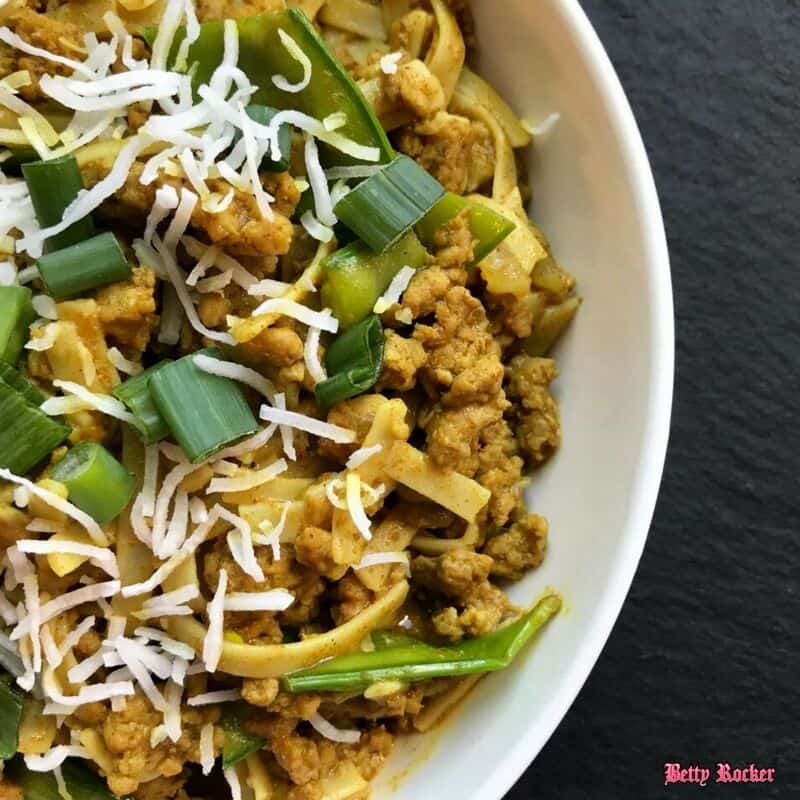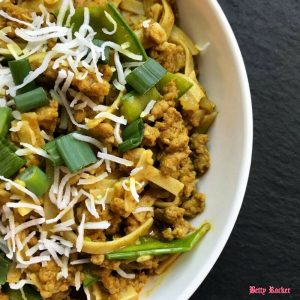 Yield: 4 servings
You will need: large pot, large skillet, cooking spoon, cutting board and knife, strainer, measuring cups and spoons
KEY: T=Tablespoon; tsp= teaspoon
Ingredients:
8 oz dry buckwheat soba noodles
16 oz ground turkey
Vegetarian? Use (1) 8 oz package of Tempeh
1/2 cup chopped onion
1-2 tsp salt (divided)
1 cup lite coconut milk
3-4 T curry powder (depending on how spicy you like it)
1/2 cup chicken or vegetable broth
2 cups snap peas, diced as shown
Optional toppings: diced green onion and shredded unsweetened coconut
Instructions:
Bring a large pot of water to a boil, and add your buckwheat noodles. Let the water return to a boil, then reduce heat to simmer. Cook the noodles for as long as the package describes, approximately 5-8 minutes.
Heat a skillet over medium heat with a little cooking oil.
Once the pan is warm, add in the turkey (or tempeh) and salt and brown over medium heat.
While the meat is cooking, chop the onion and prep snap peas.
Once the protein is cooked, remove from the heat and set aside. Add the chopped onion to the same pan the protein was cooking in and saute them in a little salt until translucent. Add a little more oil if needed.
Drain the noodles and rinse with cool water and set aside.
Once the onions are cooked add 1 cup coconut milk, 1/2 cup of broth and 3-4 Tbsp curry powder (curry can be spicy so start by adding less and taste it)
Cook until the liquid is mostly absorbed.
Add the snap peas and toss in. Cook for 3-5 more minutes, or until they are tender.
Add buckwheat noodles and turkey/tempeh to the pan
Mix all together and cook for about 1-2 minutes to combine all the flavors.
Optionally, serve and top with unsweetened coconut flakes and green onions.
Nutrition Facts
Calories per Serving:

450
Happy cooking!
Let me know how your curry bowl turns out in a comment below, and be sure to check out my Meal Plans for more time-saving healthy eats!
---
Incorporate delicious recipes like this into your complete healthy eating  every week with great recipe guides and meal plans!