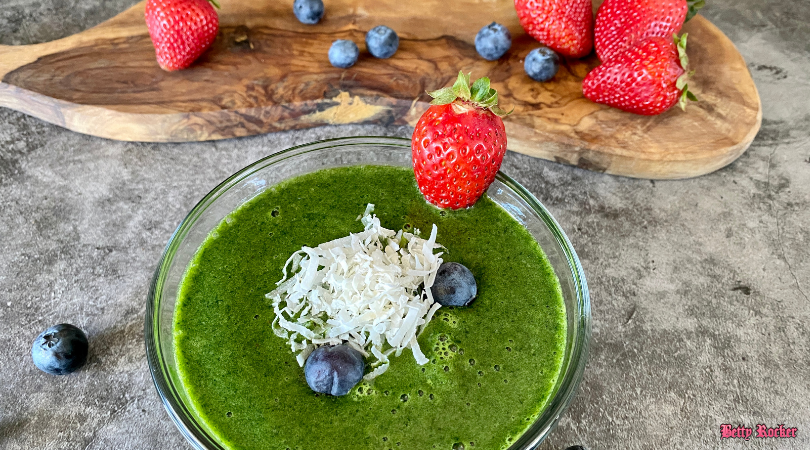 One of the best ways to promote a healthy digestive system, skin that glows, decrease inflammation, and keep food moving through your digestive system (all of which are prime components of fat loss and blood sugar regulation) is to include fresh, fiber-rich leafy greens and vegetables in your daily food intake.
Dark leafy greens are an excellent source of both fiber and micronutrients, which give your body the vitamins and minerals it needs to support a healthy metabolism and energy production (1).
I added coconut water to this smoothie bowl because I love the flavor, and for its mineral content. It contains minerals like magnesium, potassium and calcium – all of which can support proper fluid balance within your cells, and regulate nerve and muscle function. (2).
This green smoothie bowl will boost your immune system, energize you, and provide you with an excellent source of fiber to support a healthy gut and regular digestive function. Plus it's delicious!
---
Healthy Green Smoothie Bowl
Yield: 1 serving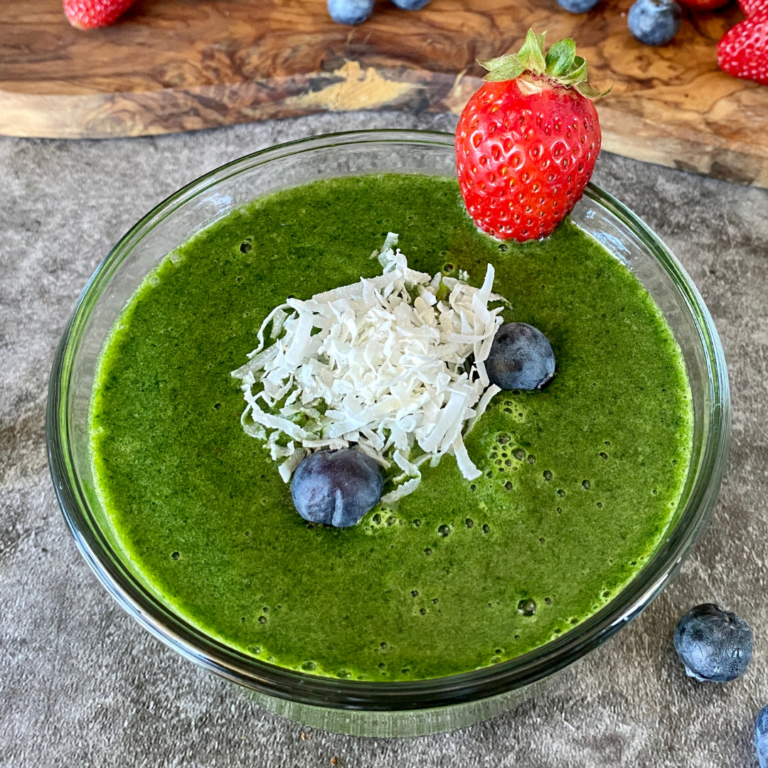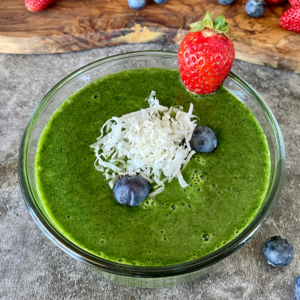 You will need: measuring cups, cutting board and knife, food processor or blender, spatula
Ingredients
1 cup dark leafy greens (spinach, kale, chard, etc.)
1 cup coconut water
1 banana, sliced and frozen
1 serving (32 grams) Berry Green Protein powder or protein powder of choice
Additional Toppings:
1/4 cup strawberries, sliced
1/4 cup blueberries
1 T coconut flakes
Directions
Add greens, coconut water and banana to a food processor or blender.
Blend until no chunks remain.
Add protein powder and blend until smooth.
Serve topped with fresh fruit and coconut flakes.
Nutrition Facts
Calories per Serving:

333
Did you make this smoothie bowl? Leave me a comment and let me know – I love hearing from you!
---
Berry Green Protein is a delicious plant-based vanilla strawberry blend that has 22g of highly absorbable protein per serving. It also has an impressive array of organic ingredients including barley grass, wheat grass, spirulina, chlorella, spinach, kale, tomatoes, carrots, beets, parsley, apple, blueberry, cranberry and raspberry.
If you are following a healthy lifestyle, seeking support for sustained energy, mental clarity and overall well-being, Berry Green Protein is a convenient, delicious and powerful nutrient-dense option for you!