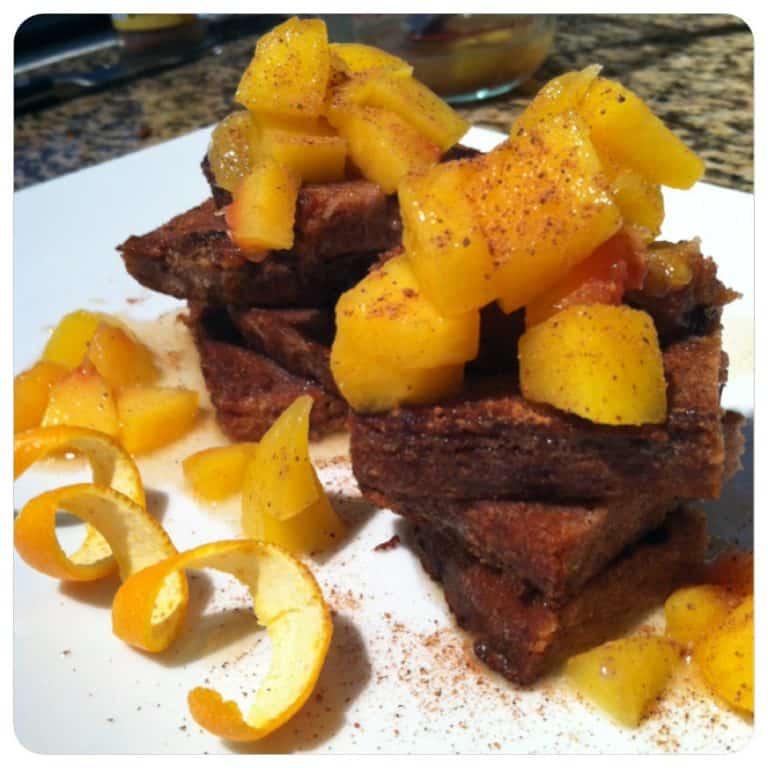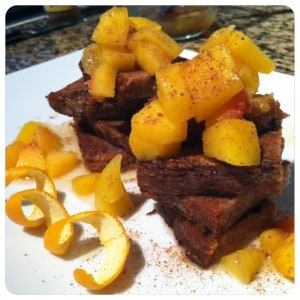 I love starting out my weekend with pancakes or French Toast – something tasty and on the sweeter side. For some reason, I come up with the absolute best recipes when I'm actually running out of groceries! Maybe that's because having less ingredients to tinker with actually engages the problem-solving part of my brain…..does that ever happen to you?
This recipe is easy to make plant-based if you are egg-free, can be gluten-free simply by using a good-quality gluten-free bread, and tastes delicious.
You could use the Homemade Orange Syrup recipe below on pancakes, to top your oatmeal or as a crepe filling. While the Orange Syrup has a little sugar, it's mostly natural sugar from the fruit, and only a Tablespoon of maple syrup for a batch that makes enough for 4 slices of French Toast.
This will help keep your blood sugar steady after breakfast, but have that sweet taste that always feels right on Saturday or Sunday.
Holiday Spiced French Toast
gluten-free, dairy-free, plant-based optional
Yield: 2 servings
You will need: shallow dish, blender, measuring cups and spoons, skillet, spatula
1/3 cup almond milk (or other milk)
1/3 cup egg whites (for plant-based option: add 1/4 additional almond milk, and 1/2 scoop vanilla protein powder – the chia seeds will hold the batter together)
1/4 fresh orange, juice of
1 T vanilla
1 T chia seeds
1 tsp cinnamon
sprinkle of sea salt
4 slices gluten free bread
1. Soak chia seeds in milk, eggs, vanilla, cinnamon and orange juice for 5-10 minutes.
2. Transfer to a blender and blend on high to pulverize the seeds.
3. Pour the mixture into a shallow dish and soak the bread for 5 minutes, turning to evenly coat.
4. Heat a skillet to medium and coat the pan with coconut oil.
5. Cook bread evenly on both sides.
6. Top with Orange Syrup.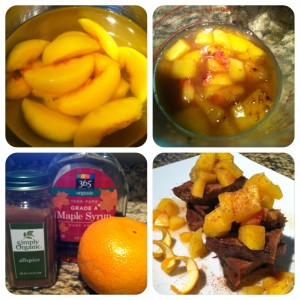 Orange Syrup
Yield: 2 servings
You will need: knife, cutting board, measuring spoons, mixing bowl, whisk
1/2 peach or other fruit (I used frozen, just pop 4-5 slices in a bowl of warm water for 5-10 minutes)
3/4 orange, juice of
1/4 tsp allspice
1/4 tsp vanilla
1 T maple syrup
1. Finely chop the peaches.
2. Combine the peaches, orange juice, allspice, vanilla and syrup in a small bowl or liquid measuring cup. Whisk together.
Garnish with a sprinkle of nutmeg.
Nutrition Facts
Calories per Serving:

327
Looking for more delicious breakfast recipes? Check out the recipe guides in my done-for you meal plans!