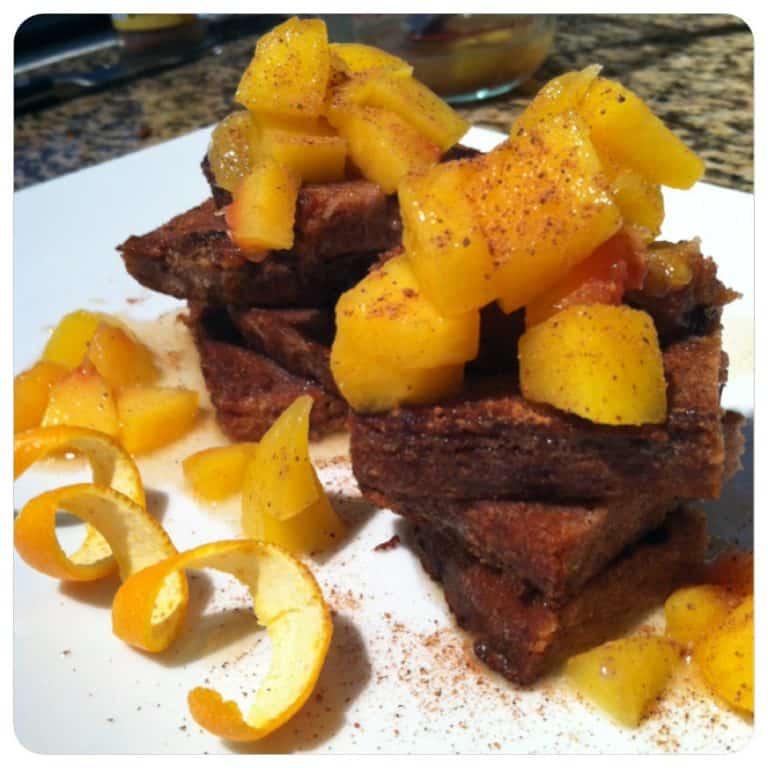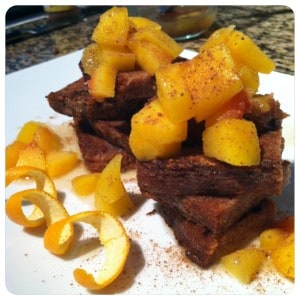 *gluten-free, dairy-free, low glycemic index, vegan optional
On the weekend, I love starting out my weekend with pancakes or French Toast – something tasty and on the sweeter side. For some reason, I come up with the absolute best recipes when I'm actually running out of groceries! Maybe that's because having less ingredients to tinker with actually engages the problem-solving part of my brain…..does that ever happen to you?
This recipe is easy to make vegan if you are egg-free, can be gluten-free simply by using a good-quality gluten-free bread (and sometimes you'll want to warm it up before you soak it – if you keep it in the refrigerator like me it needs to soften up a bit before it can absorb your French Toast batter) and tastes delicious.
You could use the Homemade Orange Syrup on pancakes, to top your oatmeal or as a crepe filling. While the Orange Syrup still has sugar, it's mostly natural sugar from the fruit, and only a Tablespoon of maple syrup for a batch that makes enough for 4 slices of French Toast. This will help keep your blood sugar steady after breakfast, but have that sweet taste that always feels right on Sunday.
Here's how I made it…
Holiday Spiced French Toast Batter *gluten-free, dairy-free, vegetarian, vegan optional
Yield: 2 servings
You will need: shallow dish, blender, measuring cups and spoons, skillet, spatula
1/3 cup almond milk
1/3 cup egg whites (for vegan option: add 1/4 additional almond milk, and 1/2 scoop protein powder – the chia seeds will hold the batter together)
1/4 fresh orange, juice of
1 T vanilla
1 T chia seeds
1 tsp cinnamon
sprinkle of sea salt
4 slices GF or Sprouted Grain Bread
1. Soak chia seeds in milk, eggs, vanilla, cinnamon and orange juice for 5-10 minutes.
2. Transfer to a blender and blend on high to pulverize the seeds.
3. Pour the mixture into a shallow dish and soak the bread for 5 minutes, turning to evenly coat.
4. Heat a skillet to medium and coat the pan with coconut oil.
5. Cook bread evenly on both sides.
6. Top with Orange Syrup.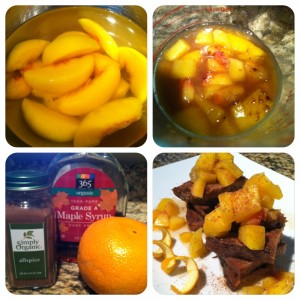 Orange Syrup
Yield: 2 servings
You will need: knife, cutting board, measuring spoons, mixing bowl, whisk
1/2 peach (I used frozen, just pop 4-5 slices in a bowl of warm water for 5-10 minutes)
3/4 orange, juice of
1/4 tsp allspice
1/4 tsp vanilla
1 T maple syrup
1. Finely chop the peaches.
2. Combine the peaches, orange juice, allspice, vanilla and syrup in a small bowl or liquid measuring cup. Whisk together.
Garnish with a sprinkle of nutmeg.