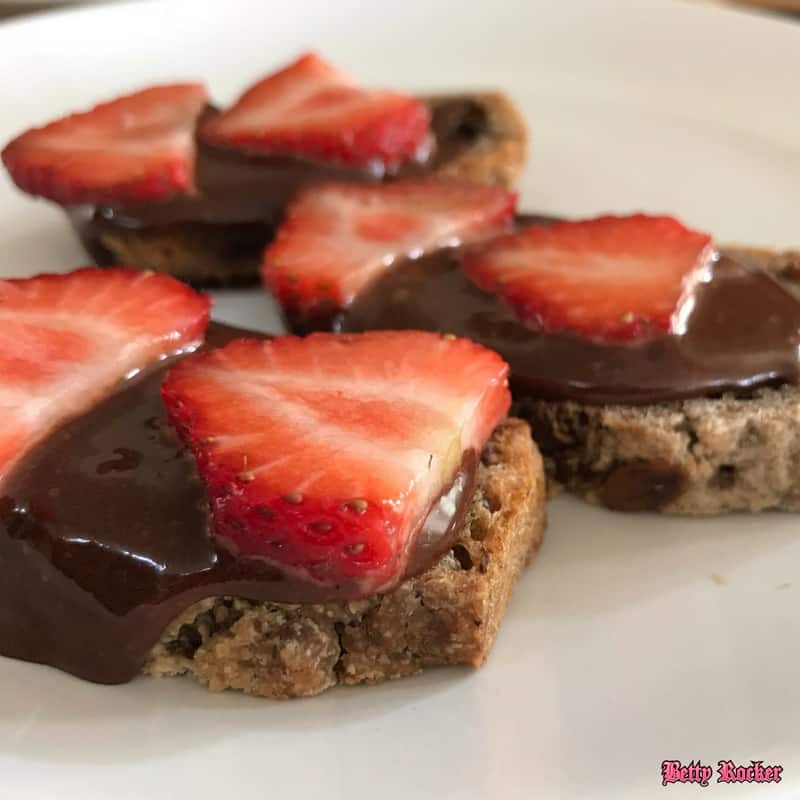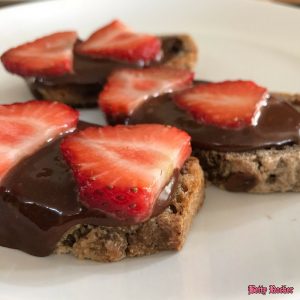 This chocolate spread is something I came up with as a delicious alternative to the super high sugar in traditional nutella, and as a creative way to get collagen into your intake!
Turns out this makes an amazing accompaniment to your meals at any time of the day. There's no added sugar, it contains some healthy fat AND chocolate (my favorite food group), plus collagen.
I included my Full Body Collagen Peptides to help hold this recipe together perfectly, and because of their  health-boosting benefits to our body tissues – particularly our skin, bones and joints.
Collagen is made up of the amino acids glycine, proline and hydroxyproline primarily (don't worry I'm not going to quiz you on that!).
These 3 amino acids can be found in other protein sources, but not in as high of concentrations – which is why collagen peptides are a great supplement to add to a healthy balanced diet.
Collagen used to make its way into our diets through foods like bone broths, slow-cooked organ meats, kidney pies, baked beef hearts, whole crustaceans, and whole-fish soups and stews. But if you're not regularly eating these types of foods, you may not be getting much or any of this goodness into your body.
I regularly add collagen peptides into my rotation to boost those amino acids that support my skin, bones and joints.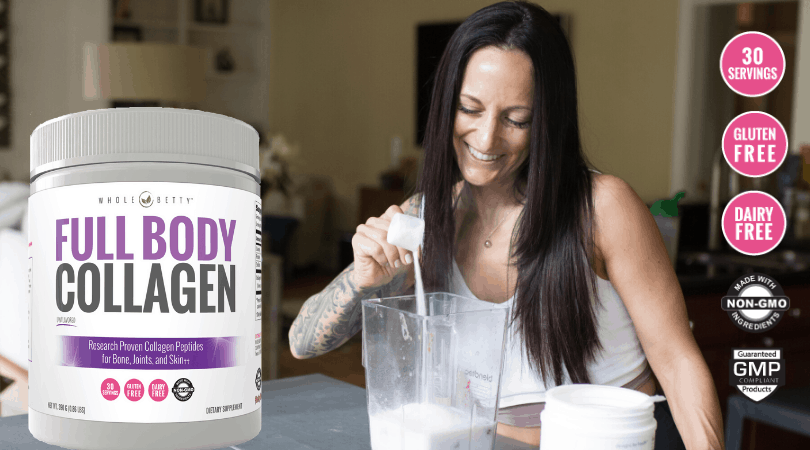 I used raw cacao powder in this recipe. It's basically the purest form of unprocessed chocolate, all powdered up. Plain cocoa powder is also beneficial – it's just processed at a higher heat and can lose some of the purity of the nutritional value.
Just a few of the benefits of pure dark chocolate include:
natural mood elevation and anti-depressant
highest plant-based source of iron (pair your dark chocolate with a vitamin-C rich fruit like the strawberries pictured for maximum absorption)
more calcium than cow's milk
more antioxidants than blueberries, tea, wine and goji berries
rich in magnesium, for heart and brain health
In the pictures in this post, I had toasted some home made buckwheat bread (gluten free, btw) and spread the healthy nutella on the mini toast pieces with a little sliced strawberry on top.
Let me know what you serve it with in comments below, and keep reading for a little more backstory on my latest healthy creation!

Dark Chocolate Spread
 Ingredients:
Key: big T=tablespoon tsp=teaspoon
Instructions:
1: In a small bowl, stir together cacao powder and collagen. If you take any powdered supplements, like a glutamine powder, you can also mix that in.
2: Add your nut butter. It's best if it's slightly soft. I usually buy nut butter packets that I keep for this exact purpose, as one packet is the perfect amount for your mixture – but you can also just scoop it right out of the jar.
3: Drizzle in about 1-2 T water. Then stir. You'll be able to tell if you need to add a little more water. Too much water and it will be runny (but still delicious). Too little water and it won't combine completely.
---


Nutrition Facts
Calories per Serving:

336
Protein:

30 grams (22 as peptides)
Drop me a line below and join the conversation, and if you enjoyed this post share it with friends!
---
The Body Fuel System uses my simple, proven Eating Types to make it easy to stay on track. It also gives you healthy, fat-burning recipes and foods you can eat to look and feel your BEST every day!
Recipes like….
This is my signature eating system and it contains 6 weeks of done-for-you meal planning and recipe guides! You will not only learn the strategies that have given me long-term success, but also enjoy the time-saving benefits of having it all planned out for you!
References:
Proksch, E, et al. "Oral Supplementation of Specific Collagen Peptides Has Beneficial Effects on Human Skin Physiology: A Double-Blind, Placebo-Controlled Study." Skin Pharmacology and Physiology. Web. Aug 2013. https://www.essentialnutrition.com.br/media/artigos/redberrywhey/13.pdf
König, Daniel et al. "Specific Collagen Peptides Improve Bone Mineral Density and Bone Markers in Postmenopausal Women-A Randomized Controlled Study." Nutrients. Jan. 16 2018.  https://www.ncbi.nlm.nih.gov/pubmed/29337906
Zdzieblik, Denise et al. "Improvement of activity-related knee joint discomfort following supplementation of specific collagen peptides." Applied Physiology, Nutrition, and Metabolism. Jan 2017.  https://www.ncbi.nlm.nih.gov/pubmed/28177710
Balzer, Jan, et al. "Sustained Benefits in Vascular Function Through Flavanol-Containing Cocoa in Medicated Diabetic Patients: A Double-Masked, Randomized, Controlled Trial." Journal of the American College of Cardiology. June 2008. Web. http://www.onlinejacc.org/content/51/22/2141
David L. Katz, Kim Doughty, and Ather Ali. Antioxidants & Redox Signaling. October 2011, 15(10): 2779-2811.https://doi.org/10.1089/ars.2010.3697
Ellinger, Sabine, et al. "Epicatechin ingested via cocoa products reduces blood pressure in humans: a nonlinear regression model with a Bayesian approach." The American Journal of Clinical Nutrition. March 16, 2012. Web. http://ajcn.nutrition.org/content/95/6/1365.abstract
Francis, S. T. Phd, et al. "The Effect of Flavanol-rich Cocoa on the fMRI Response to a Cognitive Task in Healthy Young People." Journal of Cardiovascular Pharmacology. June 2006. Web. http://journals.lww.com/cardiovascularpharm/Abstract/2006/06001/The_Effect_of_Flavanol_rich_Cocoa_on_the_fMRI.18.aspx
Harvard Women's Health Watch. "Chocolate: Pros and Cons of This Sweet Treat." Harvard Health Publications, Harvard Medical School. February 2014. Web. https://www.health.harvard.edu/heart-health/chocolate-pros-and-cons-of-this-sweet-treat
Matsui, Naoko, et al. "Ingested cocoa can prevent high-fat diet-induced obesity by regulating the expression of genes for fatty acid metabolism." Nutrition Journal. May 2005. Web. http://www.nutritionjrnl.com/article/S0899-9007(05)00058-4/fulltext
R.M. Lamuela-Raventos, A., et al. "Review: Health Effects of Cocoa Flavonoids." SAGE Journals. June 1, 2015. Web. http://journals.sagepub.com/doi/abs/10.1177/1082013205054498
Steinberg, FM, et al. "Cocoa and chocolate flavonoids: implications for cardiovascular health." US National Library of Medicine National Institutes of Health. February 2003. Web.
https://www.ncbi.nlm.nih.gov/pubmed/12589329