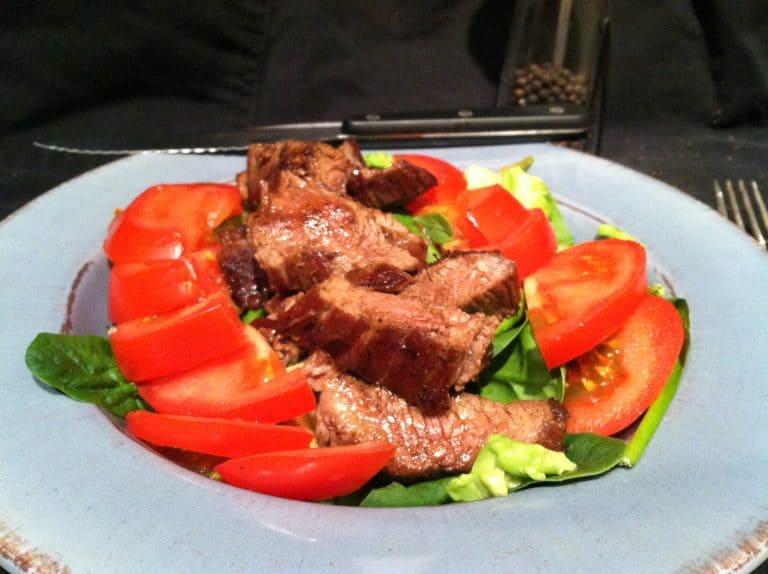 You could really make this anyway you like, add potatoes or rice or some other nutrient dense carbohydrate to it.
I keep my carb intake low at night, because I generally work out earlier in the day. I eat a balanced amount of carbs before and after my workout to replenish my muscle glycogen, but after dinner I tend to be less active, so don't need the extra energy.
I do however want to eat a nutrient dense meal that fills me up.
The combination of lean protein, lots of fiber-dense greens and healthy fat accomplishes that perfectly for my needs – making this an ideal dinner if you've had an earlier workout. If you've just worked out, I'd add some healthy carbs!
Steak Salad
Yield: 2 servings
You will need: sharp knives, cutting board, sautee pan or grill, tongs
2 flank steaks – about 1/3- 1/2 lb each
Salt and pepper
2 cups baby spinach
fresh basil
2 vine-ripened tomatoes
1 avocado
1. Season the steaks with salt and pepper. Heat up your grill or skillet, and cook until desired doneness.
2. While the steaks are cooking, prepare your salad by filling two bowls with the salad ingredients. Add 1 cup of spinach to each, some fresh basil, 1 sliced tomato to each, and divide the avocado between them.
3. Slice the steak pieces over the salad and serve with a little fresh ground pepper.
Nutrition Facts
Calories per Serving:

412
---