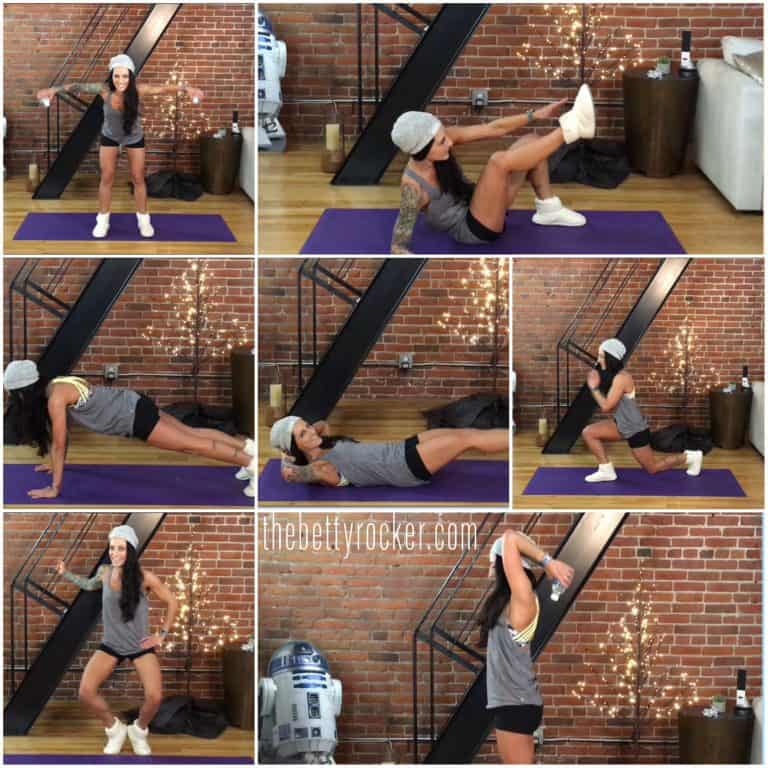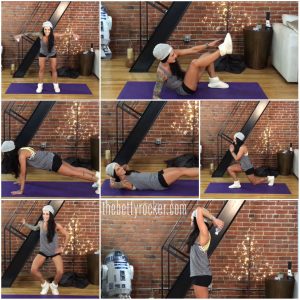 It's the most wonderful time of the year….and if you need some quick, super effective workouts you can do no matter where you find yourself, I've got your back!
I have 3 mini circuits you can do anywhere, anytime – in your Christmas booties, in your stockings or barefoot – and you can do them all in a tiny space no bigger than a cot.
How to use this guide: 
Use the video for form tips and modifications.
You have 10 moves total, divided into 3 zones, abs, legs & booty and upper body.
You can do the entire 10 moves as one circuit and repeat 1-3 times or
Grab 1 zone and do 1-3 rounds, then do another one when you have another few minutes to spare
Great to share with your relatives or sneak away and do in the guest room at grandma's 🙂
Great Job!! Share this workout with your friends and relatives and have a Happy, Healthy Holiday!
Looking for something to do after the Holidays are over?
Click Here for a 30-day Trial to ROCK YOUR LIFE – my online home workout studio with 30-day Challenges, new classes in the workout studio all week long, private women's support community and MORE!
Holiday Home Workout Guide
Click to expand and see all workout moves.
Zone 1: ABS (begins at 00:40)
Leg Lifts (20)
Cross Over Leg Reach (10 each side)
Leg Circles (10 each direction)
Zone 2: LEGS & BOOTY (begins at 05:05)
Jump Switches (20)
Plie Pulse (20)
Sumo Jump Squats (15)
Reverse Curtsy Lift (15-20 each leg)
Zone 3: UPPER BODY (begins at 10:43)
Push Ups (10)
Triceps Extensions or Dips (10)
Bentover Rows Combo (15 total, combine wide and narrow)
Reverse Flyes (10)
5 BONUS Healthy Holiday TIPS:
#1: STAY HYDRATED:
You'll help support your body's digestive processes and metabolic balance, prevent fatigue and mood swings and lubricate your joints and tissue when you stay hydrated. Use a handy app like me to remember to sip on that water bottle regularly throughout the day (and night!)
#2: EAT GREENS:
The fiber in greens will help keep all that rich food moving through your digestive system, provide you with vitamins and micronutrients to keep your immune system strong, your brain sharp, and your body healthy.
Even if you can't get a green smoothie in every day over the holidays, you can eat a few handfuls of mixed greens, baby spinach or romaine to give your body some roughage. A great thing to do if you can't stop craving sweets, or have just totally overindulged on candy lol – try it, it's amazing. It will curb the cravings and help your body process that stuff.
#3: PACK YOUR TRAVEL KIT:
When I travel, I take my greens and protein powder, my favorite organic vanilla protein powder (in individual zip-top bags), squeezable food packets, epic meal bars, and a shaker cup.
I'm all about the portable healthy foods to keep me fueled when I don't have a lot of good options or I'm just hungry and away from my house!
#4: MAKE A DESSERT:
This tip will make you popular 🙂 Contribute one of my healthy, delicious dessert recipes to your holiday gathering. You'll be sure to have something nutrient dense and delicious to eat and everyone will love it!
#5: BE PRESENT:
Don't sweat it if you eat too much dessert. Don't beat yourself up if you don't do a workout. Be present to the people you love and enjoy the holiday time. You don't get to do today over, there's only one of them. Make it count, and enjoy yourself.
---
How about new workouts to do daily, from anywhere?
…in my epic home gym that has new classes every week, 30-day Challenges to keep you on track with a program, your own personal workout library, over 300 healthy recipes, an exclusive support group, access to the Team Betty Rocker coaches, and so much more!