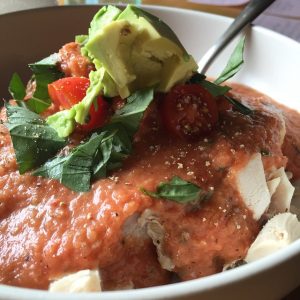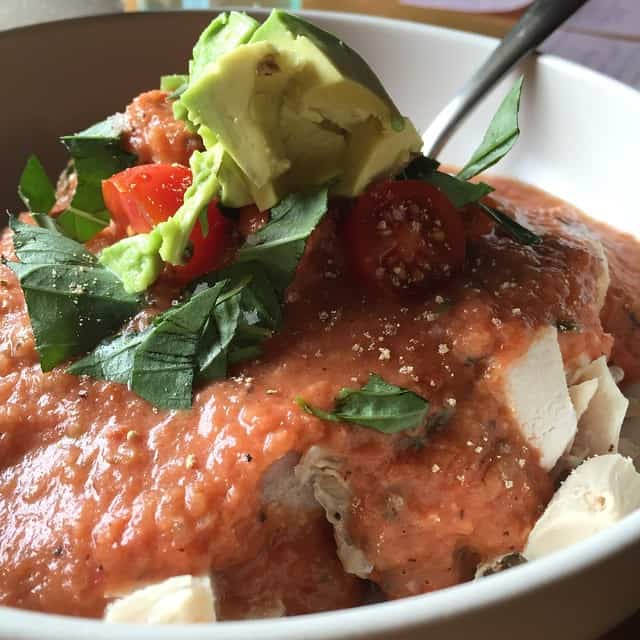 How does some hearty and healthy tomato basil soup with shredded chicken and rice sound on a cold winter day?
Sounded pretty awesome to me, so I made some. 🙂
This is a staple in my kitchen because it's so easy to make, keeps well, and is packed with healthy nutrients.
Did you know that a single tomato can provide 40% of the daily recommended amount of Vitamin C?
Vitamin C is an important antioxidant that helps prevent cancer-causing free radicals from damaging our body's systems. 
Tomatoes are also a great source of potassium and iron. Potassium is vital in maintaining nerve health, and iron is essential for our blood health.
I topped this delicious soup with some avocado, cherry tomatoes, and a little white pepper, and had it for lunch over a scoop of rice.
---
Tomato Basil Chicken Soup
Servings: 4
1 yellow onion, diced
2-4 cloves garlic, minced
1/4 cup avocado oil (olive oil also excellent)
2 cans diced tomatoes (I use 14.5 oz cans of Muir Glen fire roasted tomatoes – they're amazing)
1 cup vegetable stock or broth
1 cup almond milk (or milk of your choice)
1/4-1/2 cup fresh basil
2 cups pre-baked and shredded chicken
Chop onion and mince garlic. Add it to a large saute pan with oil and cook on medium til onions are getting translucent.
Stir in tomatoes. Cover and cook for 10-12 min, stirring regularly.
Remove from heat and transfer to a blender (I use a ladle for this operation so it doesn't spill).
Blend to make a nice even consistency.
Add stock and milk. Blend until smooth. Add additional liquid to adjust consistency.
Add in basil and pulse a few times to roughly chop it in.
Add salt and pepper to taste.
Add a serving of chicken to a bowl (I use about 1/3-1/2 cup) – a scoop of rice or quinoa too is awesome and makes for a more hearty meal.
Pour soup over and top with garnishes. I like a little fresh chopped basil, avocado and cherry tomatoes. For a spicier soup, try adding some crushed chili flakes or jalapeno!
Give it a try, see how you like it! It's so easy to make.
Nutrition Facts
Calories per Serving:

361
The Body Fuel System uses my simple, proven Eating Types to make it easy to stay on track. It also gives you healthy, fat-burning recipes and foods you can eat to look and feel your BEST every day!
Recipes like….
This is my signature eating system and it contains 6 weeks of done-for-you meal planning and recipe guides! You will not only learn the strategies that have given me long-term success, but also enjoy the time-saving benefits of having it all planned out for you!
---
References:
Story, Erica N. et. al. "An Update on Health Effects of Tomato Lycopene." National Center for Biotechnology Information. NCBI, 4 December 2013. Web. 28 December 2015. <http://www.ncbi.nlm.nih.gov/pmc/articles/PMC3850026/>