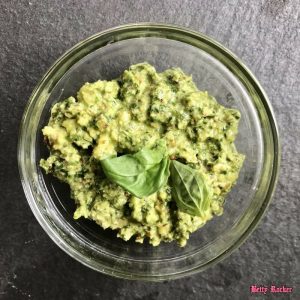 Pesto is one of my all-time favorites, and this simple recipe makes it easy to enjoy it often!
I don't eat very much dairy, so I like to add walnuts into my pesto rather than the traditional cheese.
Walnuts make a really great addition, giving the pesto a creamy and nutty base. Walnuts also provide the Omega-3 healthy fats we need, as well as essential minerals like copper and manganese.
The spinach I add to the pesto brings a healthy dose of protein, fiber, vitamins A, C, E, K, and B6, as well as minerals like calcium, iron, magnesium, and potassium, to name just a few.
This pesto is a #totalpowerhouse!
Betty Rocker's Basil-Spinach Pesto
Yield: About 1/2 cup
You will need: food processor (or blender), spatula, knife and cutting board
1-2 cups basil, de-stemmed, loosely packed
1 cup baby spinach (to stretch out your basil)
2-3 garlic cloves
2-3 T walnuts
1/2 lemon
1/4 tsp salt
1/4-1/2 cup olive oil (approximate)
Add the basil and spinach to the food processor, and pulse until they've formed a fine, even consistency. Pulsing will allow the leaves to settle over the blade and you'll get the consistency you're looking for.
Peel the garlic and add it along with the walnuts. Use the pulse mode again and blend until sticky.
Remove the lid of the food processor and squeeze in the juice of your lemon.
Run the food processor again, and slowly add the olive oil. Scrape the sides down with the spatula periodically. You may add a little more or a little less, depending on how you like your consistency.
Nutrition Facts
Calories per Serving:

210
---