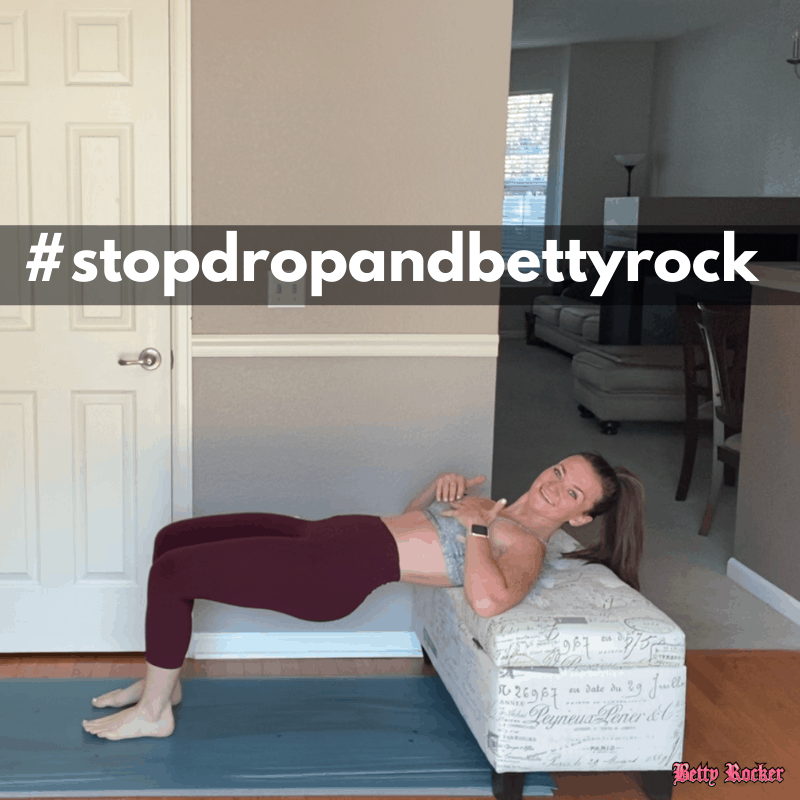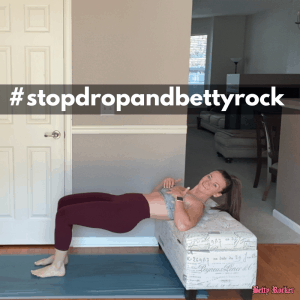 Ready to feel the BURN? This workout will heat you up and give you an amazing booty and leg shred!
You'll be working out today with the awesome Coach Amanda. I hope you're ready to sweat because this workout is intense and so much fun!
Coach Amanda is a NASM and NESTA Certified Personal Trainer, Crossfit Level 1 Trainer, TRX Qualified Trainer and a Team Betty Rocker Coach in Rock Your Life.
Keep reading for a special message from Coach Amanda below.
---
Hey hey Rockstars, Coach Amanda here and I have an awesome workout for you! This format is super challenging but so fun!
The most important thing I want you to focus on in this workout is being in your body and focusing on form. It's so easy to get caught in the mentality of just doing the workout or following your instructor's tempo and intensity but today is all about muscle engagement, quality form and going at YOUR speed.
In those moments when you don't feel like you can do anymore, I want to encourage you to reset your body, re-engage your glutes and your core and try to push out one to two more reps. I know you can do this and I'm so excited to hear how you did!
---
Listen for the breakdown for different fitness levels and form cues so you know how to make each move right for where you're at and keep working on your goals!
---
Love having workouts you can do ANYWHERE, ANYTIME – and a well-designed plan to follow so you get the BEST RESULTS?  Take a 30-day Challenge in Rock Your Life and have workouts like this formatted into a plan to follow!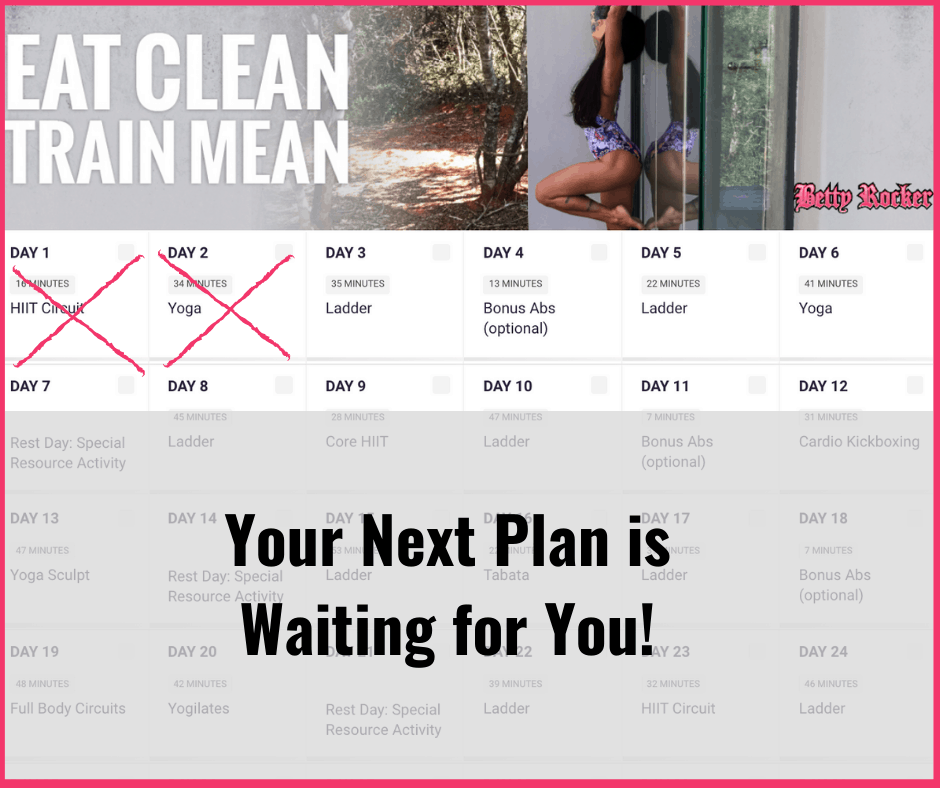 Legs and Booty Shred
Click to expand and see all workout move descriptions.
Equipment: Elevated Surface.
Format: Perform each movement for the prescribed repetitions and repeat for 3 rounds. Rest as needed. 
Superset 1:
Elevated Hip Thrusters (12-12-12)
Position your back on an elevated surface (couch or chair). The edge of the surface should be at the base of your shoulder blades. Bend your knees and have them at 90 degrees.

Drive through your heels to lift your hips to the ceiling, squeezing your glutes and keeping a tight core.

Drop your hips back down toward the floor with control and repeat for 12 reps.

Next, lift one foot off the ground and drive through the heel of the foot on the ground to perform a single leg thruster. Perform all 12 reps on one side before switching to the other.

MOD: Perform this on the ground rather than an elevated surface.
Static Lunge Pulse Jumps (8-12 each side)
Stand in a lunge position with your right foot forward, left foot back about 3 feet with your chest up tall, core engaged and weight in your front heel.

Bend both knees to lower yourself towards the floor while keeping the front knee behind the toes and be sure to lower straight down rather than forward.

Keep your chest up tall and core engaged as you power through your front heel to jump back to your starting position.

Land lightly back on the balls of your feet and repeat all repetitions on one side before switching.

MOD: Take out the jump to make this low impact.

Superset 2: 
Squat to Box + Pistol Squats (10-10-10)
Stand with feet about hip distance apart, with your core engaged. 

Begin sending your hips back behind you, pulling your belly button in and up to engage your core, keeping your chest up tall (don't bend forward), weight back in your heels and knees tracking in line with your toes.

Squat all the way down to your box or chair to a seated position. 

Power through your heels and posterior chain to return to standing, squeezing your glutes at the top and repeat.
Sumo Jump Squats (8-12)
Stand with your feet slightly wider than hip distance apart, core engaged (Optional: resistance band placed at mid thigh, holding weights on your shoulder).

Shoot your booty back behind you, keeping your chest up (don't bend forward) and weight back in your heels.

Drive through your heels and power through your posterior chain to come back to a standing position.

MOD: Squat down to an elevated surface.
Superset 3: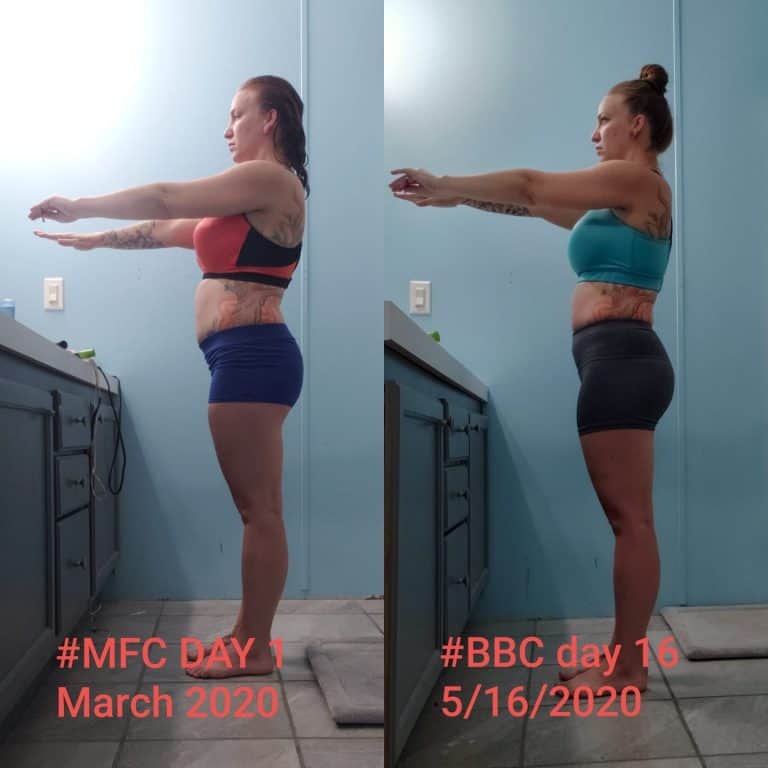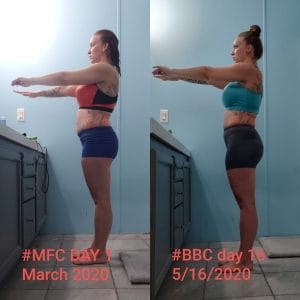 Standing Donkey Kicks/Fire Hydrants (8-8 each side)
Begin standing, holding onto the back of a chair, hinge at the hips slightly and engage your core. 

Brace yourself on your right foot as you bend your left leg and kick it back toward the ceiling for a donkey kick, initiating this movement through your glute. (Be sure to keep your hips square and your core engaged rather than opening your hips to kick your foot further back.) 

Perform all repetitions on one side and then, while keeping your leg bent, perform a fire hydrant by lifting your leg laterally. 

Perform all repetitions and then switch legs and start back with donkey kicks. 
Lateral High Knees to 3 Squat Taps (4 each side)
Begin standing on the right side of your mat with your core engaged and chest upright.

One at a time, run your knees up toward your chest in a fast running motion and move your body to the left. 

When you get to the other side of your mat, jump your feet out into a wide sumo squat position, sending your hips back behind you and keeping your chest up tall (not bending forward), weight back in your heels and knees tracking in line with your toes. As you squat down, reach toward the floor with one hand.

Come back up to standing by driving up through your heels and squeezing your glutes as you powerfully jump from this wide leg squat, bringing your feet together and then jump back out to a wide squat touching the ground with the other hand.

Perform 3 squats and then move back to the other side of your mat by running your knees to your chest.

Repeat this back and forth from high knees to squat taps. 

MOD: Remove the jump for a low impact option.
Get after it Rockstar! Check in with me and and Coach Amanda and let us know how you're doing and where you're working out from today.
---
…so we can support you in ROCKING your body AND your life! Get stronger and healthier with a community of rockstars to support you, home workout challenges for a fit body, and fresh new workout classes each week to keep you motivated!