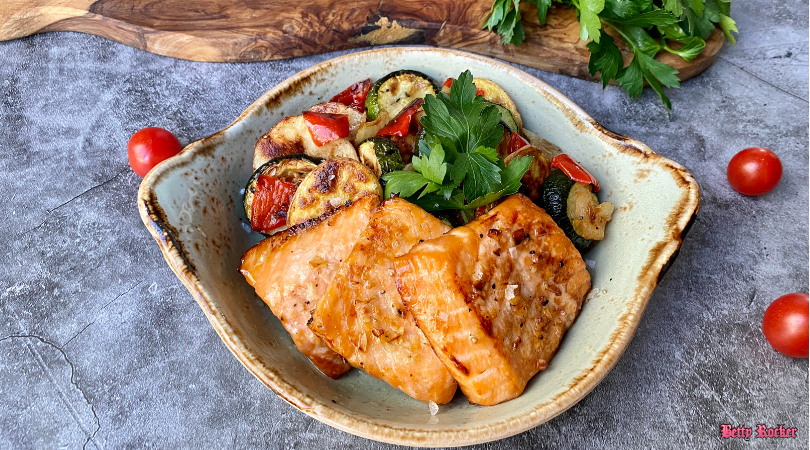 If you're looking for a simple, quick and delicious dinner, this Lemon Garlic Salmon does the trick! It's super easy to make, and flavored with fresh herbs, garlic and lemon so the natural flavors shine through.
In this recipe I'm using Wild-caught Alaskan salmon, which is great source of protein (1) and omega-3 fatty acids. I get a lot of my fish from Vital Choice Seafood – they have a great selection, and I can always be sure I'm getting the best quality, wild-caught seafood.
Eating protein-dense foods as part of a complete meal will help you feel more full and satisfied, and can help reduce cravings later on. Protein is important for supporting your brain health, hormone and enzyme function, and of course for muscle protein synthesis.  The omega 3 fats are considered "essential," meaning your body can't make them on its own so you have to get them from food (2). Omega-3's can help decrease inflammation, improve your sleep, and have even been shown to ease menstrual cramps (3).
This lemon garlic salmon will work well anytime you want something tasty and easy to put together. I paired it with roasted veggies and brown rice but you could also serve it with sweet potatoes, on top of a salad or anything else you like!
Lemon Garlic Salmon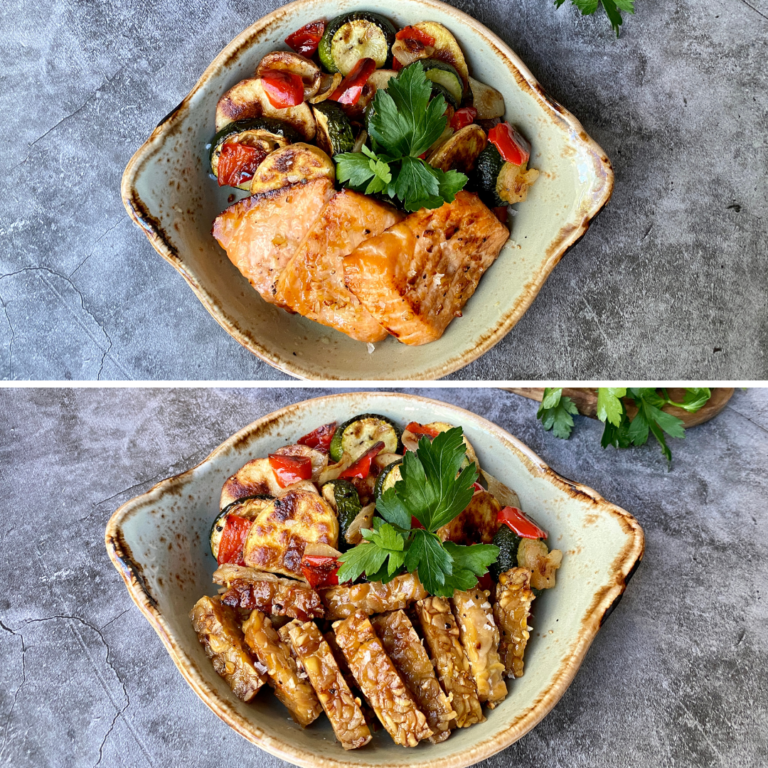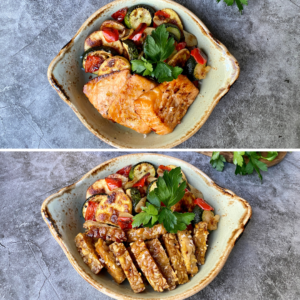 Yield: 2 servings
You will need: baking sheet, parchment paper, small bowl, measuring spoons
Key: T = Tablespoon; tsp = teaspoon
Ingredients:
2 salmon filets, 5 oz each or 8 oz tempeh, chopped
1/2 T olive oil or avocado oil
2 cloves garlic, minced
1/2 T honey
1/2 lemon, juice of
1/2 tsp sea salt
1/4 tsp black pepper
Directions:

1. Preheat the oven to 375 F. Coat a baking sheet with oil or cover with parchment paper.
2. Mix the oil, garlic, honey, lemon juice, salt and pepper in a small bowl. Spoon this mixture on top of the salmon filets or tempeh.
3. Place the filets or tempeh on the baking sheet and bake for about 15- 20 minutes until the salmon or tempeh is cooked through.
4. Serve and enjoy!
Nutrition Facts
Calories per Serving:

235
I hope you enjoy this recipe! Let me know in the comments below if you make it and how it turns out.
---

The Body Fuel System uses my simple, proven Eating Types to make it easy to stay on track. It also gives you healthy, fat-burning recipes and foods you can eat to look and feel your BEST every day!
Recipes like….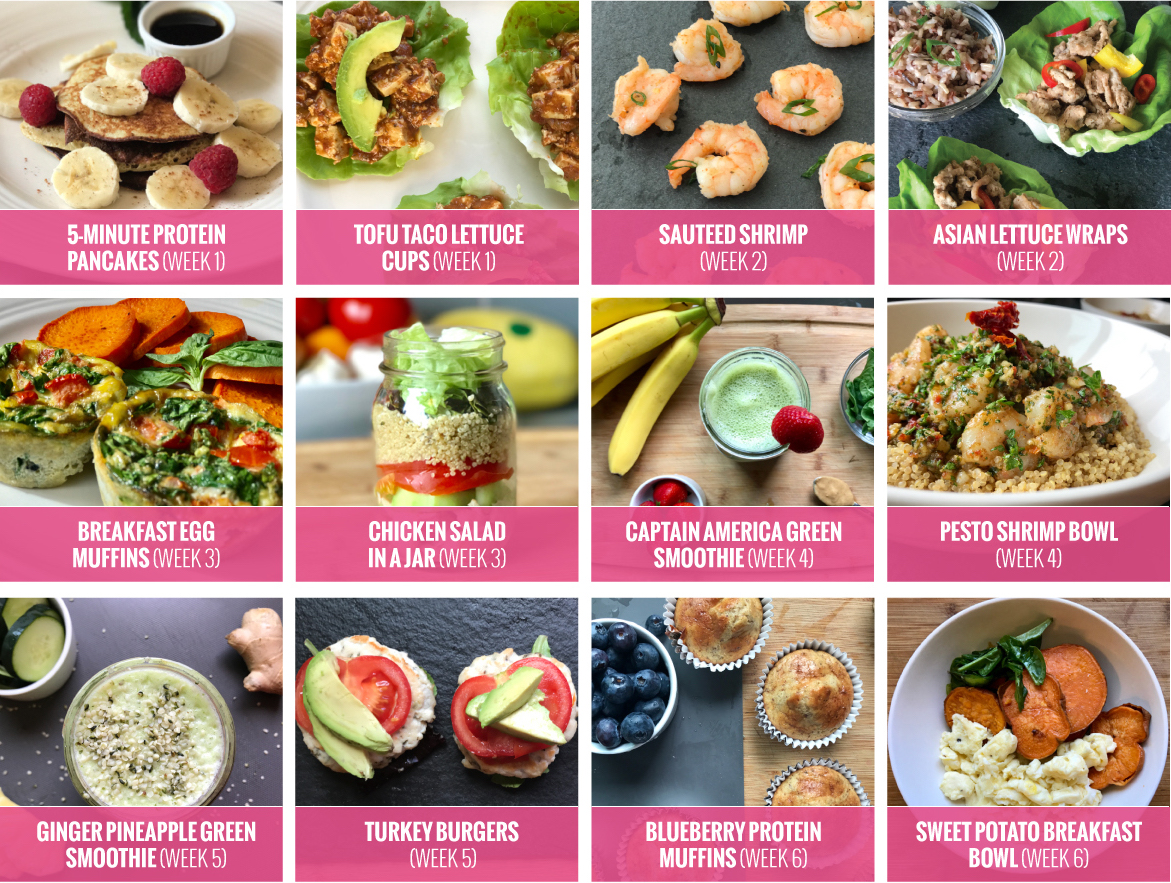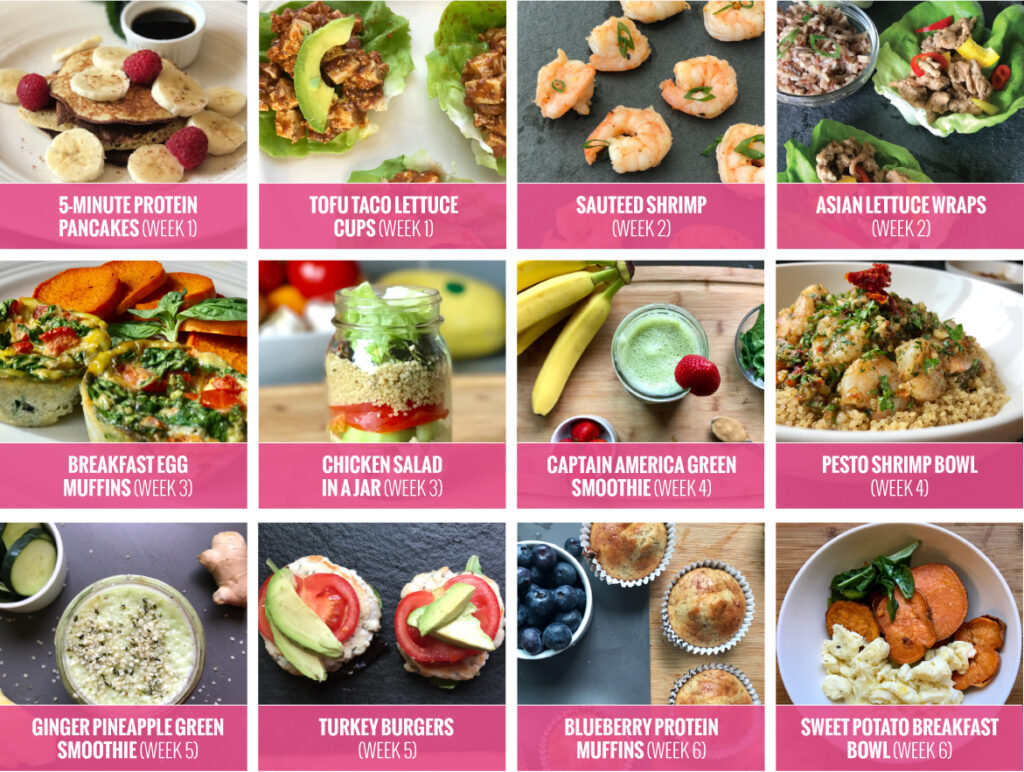 This is my signature eating system and it contains 6 weeks of done-for-you meal planning and recipe guides! You will not only learn the strategies that have given me long-term success, but also enjoy the time-saving benefits of having it all planned out for you!
---