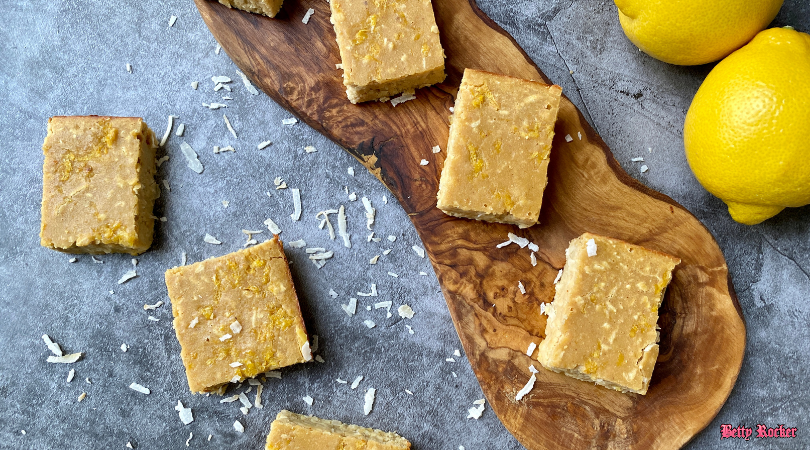 These Lemon Protein Bars are not only easy to make, they're also satisfying and delicious all while supporting your health!
When I'm making a "snack" or what I call "small meal" to take with me like a home made bar, I'm always going to make sure it has a serving of protein. Protein is even more satisfying than fat or carbs, so making sure it's included in any meal (small size meal or full size meal) is going to be part of why you feel satisfied when you eat it.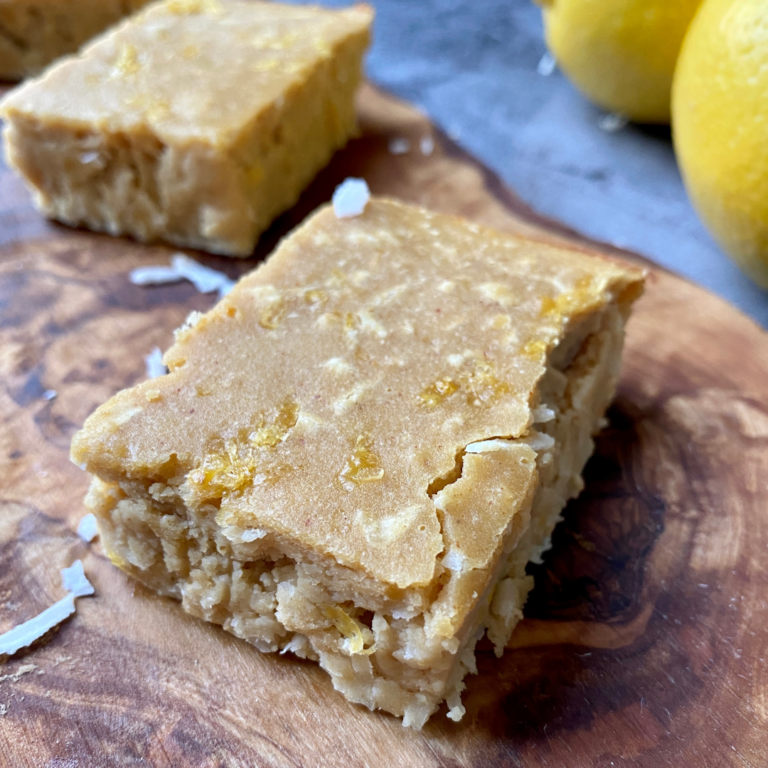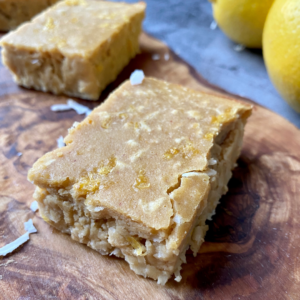 If you think of your snacks as small meals, it's easier to think of balancing the nutrients they contain. "Snacking" isn't necessarily going to provide you with the nutrients you need if you're just grabbing crackers or pre made "snack foods."
Stick to "small meals" that fuel you with wholesome carbs and/or fat, and ensure they always contain a serving of complete protein (complete means they contain all of the essential amino acids your body can't make on its own). I used some of my Whole Betty I ❤️Vanilla organic protein in this, plus some satisfying nutrient dense fat from coconut and almond meal.
A bonus ingredient in here is fresh lemon. Lemons are high in Vitamin C which has been shown to improve heart health (1) and reduce the risks of certain cancers (2). They also contain soluble fiber and plant compounds that work to improve digestion (3) and decrease inflammation (4).
Having healthy foods like these protein bars that are ready to grab and go are the perfect way to keep your energy strong and support your active lifestyle in between your main meals. 
Lemon Protein Bars
Yield: 12 bars
You will need: 8×8 baking dish, two mixing bowls, measuring cups, measuring spoons, whisk
Key: T = Tablespoon; tsp = teaspoon
 Ingredients: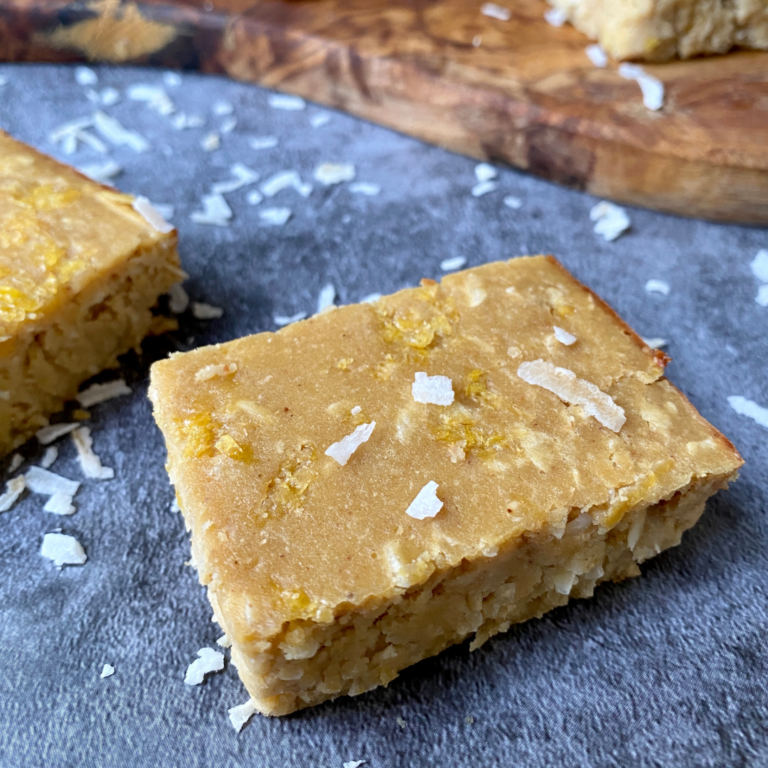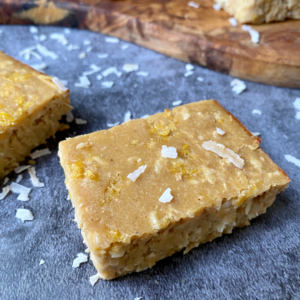 4 servings (120 g) I ❤️ Vanilla Protein powder or protein powder of choice
1 cup almond flour
½ cup unsweetened dried coconut
3 large eggs
2-4 T maple syrup (to taste)
½ cup freshly pressed lemon juice (including pulp)
zest from 1 lemon
¼ cup unsweetened almond milk (or non-dairy milk of choice)
Instructions: 
Preheat oven to 350 F and grease and line a 8×8 inch square cake pan, put aside.
Combine protein powder, almond flour and dried coconut in a large bowl and whisk until well mixed. Put aside.
In another large bowl, beat eggs until well blended.
Add maple syrup, almond milk, lemon juice and zest and continue to beat until all are incorporated.
Then mix in the dry ingredients and stir gently until just combined. Batter should be the texture of cake batter. If too dry, add almond milk in 1 T increments until it reaches the correct texture
Pour into prepared baking dish
Bake for 30 min or until a toothpick inserted in the middle comes out clean.
Allow to cool completely, then remove from the pan and cut once horizontally and then cut each portion into 6 bars to make 12 bars total.
So delicious! Comment below and let me know if you make them and how they turn out.
Nutrition Facts
Calories per Serving:

150
---
I ❤️ Vanilla Protein is a 100% ORGANIC, high protein (20g protein per serving), nutrient-dense whole food protein powder combining 4 plant-based protein sources into a delicious vanilla shake to support an active lifestyle!
You Can Mix It In Water, Blend It In A Smoothie Or Bake With It.
Get Yours Today!