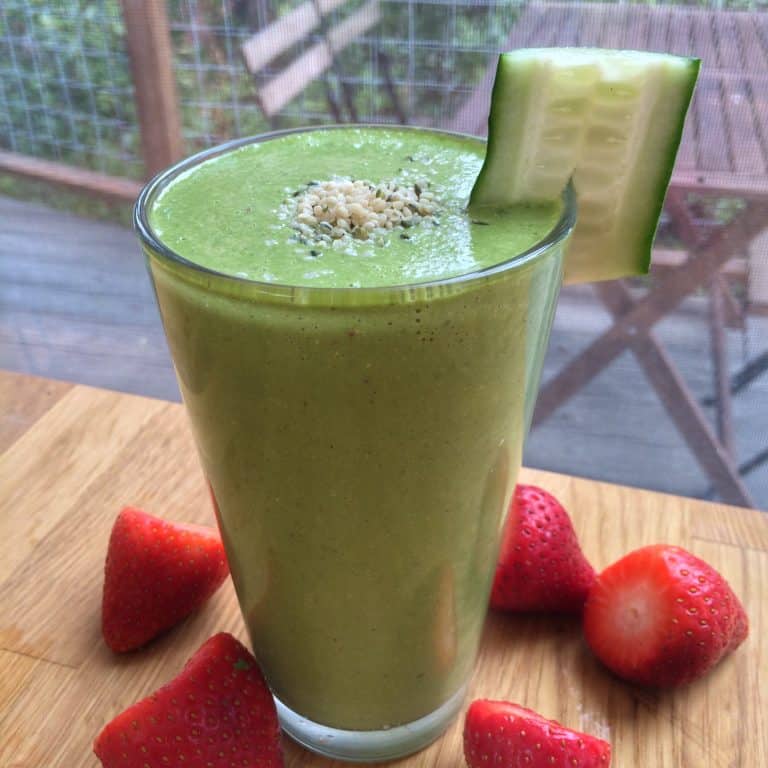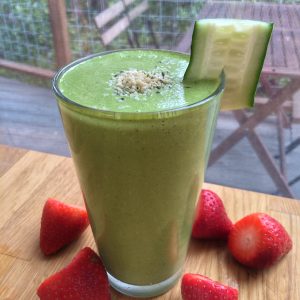 Always make your smoothies with love. You deserve to feel your best, and glow from the inside out – and that's what these greens do for us when they get inside our cells!
Have you ever wondered what a "serving" of a green smoothie was?
I often get asked if my recipes, which make more than a cup of smoothie are for one or two people.
I drink the entire amount that the recipe makes. Here's an easy way to think about it: if you put all the fruits and vegetables you added in your blender on a plate, you would have a decent sized salad.
Top it with a protein source, maybe some nuts or seeds, and then the nutrients from your liquid, you have a light meal. Definitely one serving. Cut that in half and you'd have an appetizer sized portion.
So just picture the raw ingredients on a plate, and if you could eat that in one serving your smoothie is also one serving.  It might take a couple pours to finish it up when you're drinking it but that's okay!
Today, I made you a green smoothie with extra love!
1-2 handfuls of mixed greens
1/4 cup fresh parsley
5 strawberries
1/2 Meyer lemon
1/4 cucumber
1 serving (30 grams) I ❤️ Vanilla Protein
1 cup (+/-) unsweetened plain almond milk
Add more fruit if you need to, try adding some spices like fresh or ground ginger, a 1/4 tsp of nutmeg or cacao.
If you have a low powered blender, start out with your greens and liquid, then add in the other ingredients.
I use a Blendtec blender, it's my absolute favorite, but you can do a lot with a little!
Did you have a green smoothie today? Tell me what was in yours!
Nutrition Facts
Calories per Serving:

257
---

Like this recipe? Check out my done-for you meal plans that include delicious Green Smoothie recipes – plus how to effectively include them in your day for your healthy lifestyle of awesome!