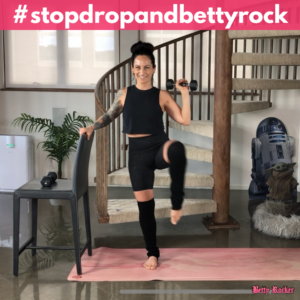 Build strength and balance with this amazing low-impact barre sculpting workout!
I get a lot of requests for this type of training in Rock Your Life, because barre workouts are so fun. But did you know that they also help strengthen the stabilizing muscles that give you power, balance, and alignment?
Not only does today's workout develop and strengthen your glutes and legs, it's also important for your day to day functional movements such as standing, walking and maintaining good posture. 
Check out the Free 14-day Foundations of Functional Fitness Workshop right here!
When it comes to posture and alignment, many movements in our day to day life use the muscles on the front side of the body (makes sense, we see in front of ourselves!) so it's important to actively balance out your body by working your "posterior chain" as well.
Your posterior chain is simply the chain of muscles along the back side of your body and Barre workouts like this help to isolate, activate and strengthen them. Since virtually every workout you do calls on your posterior chain, it makes good sense to focus on training those muscles. 
Follow along with me for form cues and modifications and remember low-impact doesn't mean low intensity or that this will be "easy" – you're going to feel this!
This workout will be sure to give you an awesome burn, so let's get right to it! 
---
---
Did you enjoy this workout? Then you will LOVE the Raise The Barre Challenge inside of Rock Your Life! The Raise The Barre challenge is a low-impact, high energy challenge that incorporates my favorite barre-style workouts with yoga flows. If you are looking for increased flexibility, booty building, core work and intensity without the impact, you will love this one!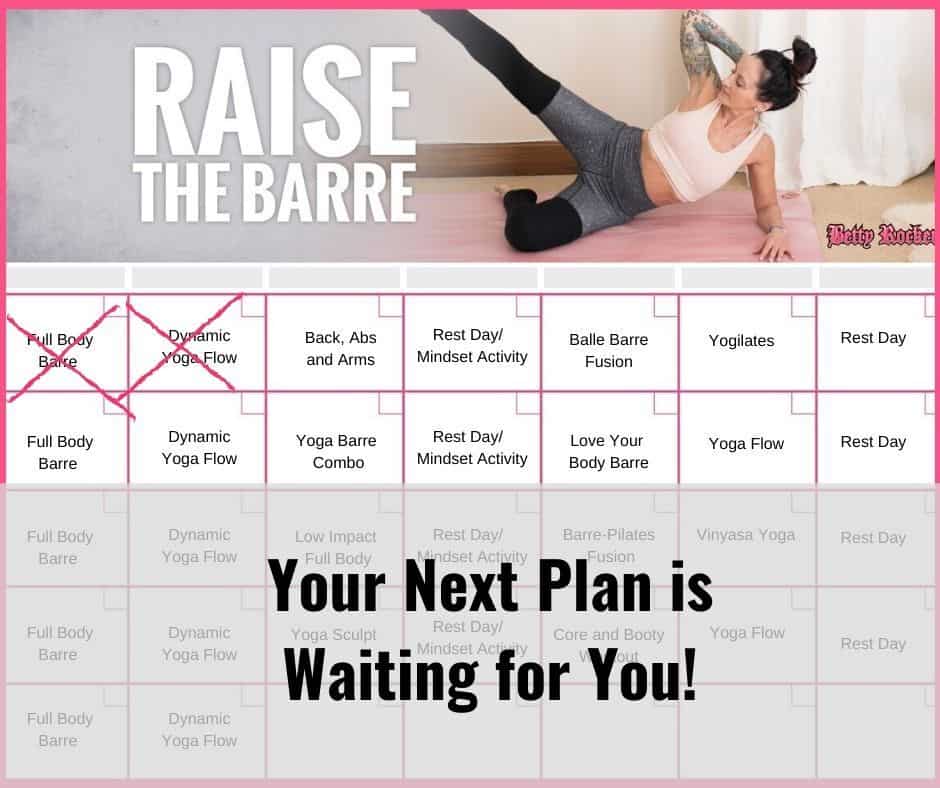 Barre Sculpt
Click to expand and see all workout move descriptions
Sequence 1
Down Dog Flow
5 Clams to 5 Lower Leg Raises (right)
5 Superwoman Lifts
5 Clams to 5 Lower Leg Raises (left)
Sequence 2
Slow Sumo Burpees with Double Plie Squat
Add on Side Knee Crunches
Calf Raise Series
45 Degree Leg Extensions
Wide Plie Jumps
---
Build lean muscle, recover faster, boost your immune system and improve cognitive function with Rock and Restore essential amino acid powder.

---
Sequence 3
Left Leg Lift, Flex and Extend
Airplane with Pulse Up
Hammer Curl and Back Row
Left Bent Leg Lateral Raise to Crescent Knee to Single Arm Press
Repeat on Right Side

"100 days of workouts and whole foods. I really don't think the photos do justice to the changes I can see and feel in my body. Bring on the next challenge!"
-Penny, Rock Your Life member
Sequence 4
Left Leg Lunge Pulses to Front Leg Calf Raise
Add on Back Pull Row
Left Leg Reverse Curtsy Pulses
Add on High Kick.
Repeat on Right Side
Sequence 5
Left Leg Assisted Squat to Bent Knee Extension
Add Heel Raise
Repeat on Right Side
Finisher
How was that for you? Check in below and let me know! Share this with a friend, and keep me posted on your progress!
---
One-off workouts are great, but having a PLAN to follow is even better!
Join my online home workout studio and women's fitness community, Rock Your Life, and get access to 30-day Challenges, a powerful support network unlike any other, new workout classes added every week you can do from the comfort of your own home – and share the journey while we help you reach your goals!