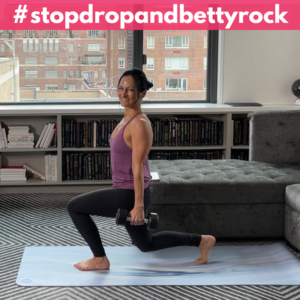 Let's build strength and work our lower body with this focused, low-impact (but highly effective) workout!
Don't let "low impact" fool you- this workout will challenge your muscles and leave you feeling strong and sculpted no matter your fitness level.
To up the intensity in any workout (even while moving at a steady pace) add more resistance. You can start with gravity and your own bodyweight, and then work your way up to using dumbbells or other weighted objects.
If you're ready to play around with weight, I'll be inviting you to try out different amounts of weight in this workout and challenge yourself within a rep range.
This is a fun way to build your confidence in how much you can lift and will help you increase your strength by challenging your muscles with a heavier load. This workout is just like the workouts in our ROCKSTAR STRONG CHALLENGE inside of Rock Your Life, so if you enjoy this style, check us out and grab a 30 day trial (that's enough time to take an ENTIRE challenge, on me!).
Let's get right into it!
---
---
If you enjoyed that workout and are looking for a sequenced plan that will make the most of your training time, the Rockstar Strong Challenge in Rock Your Life is perfect for you!
This challenge will progressively build strength and work your entire body, giving you balanced strength, complimented by energizing kickboxing classes, a quick core shred and a power yoga class. Follow it up with Rockstar Strong 2 to really build on the momentum and strength you've gained!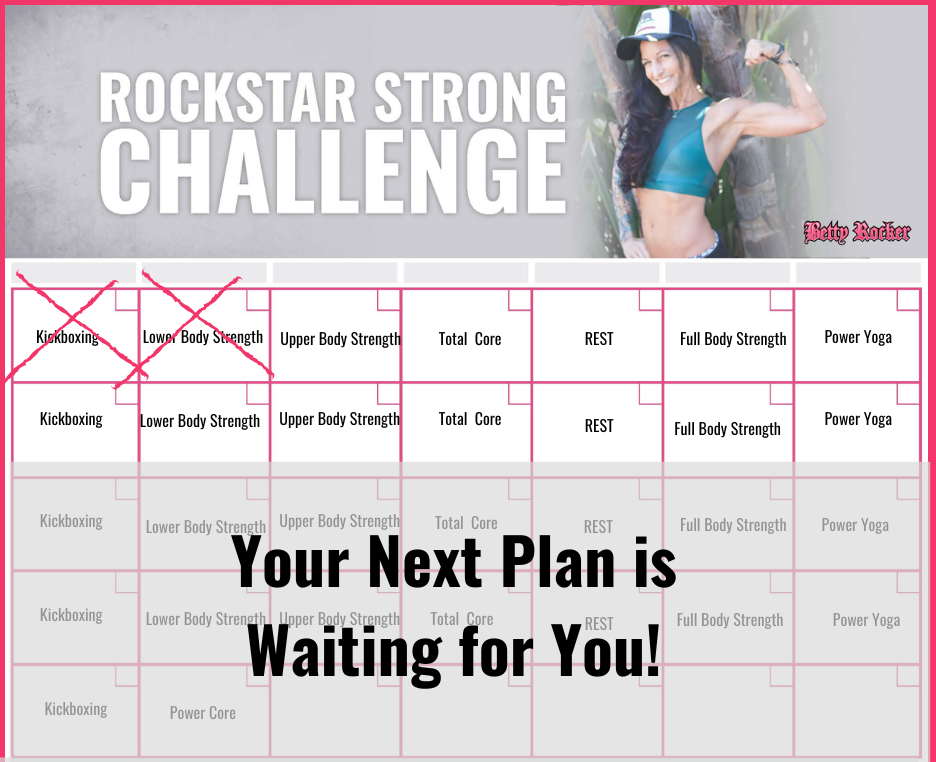 Low Impact Lower Body Strength
Click to expand and see all workout move descriptions
Equipment: weighted objects (dumbbells, water bottles, jugs or other), elevated surface
Format: 3 rounds of each circuit for prescribed time/reps.
Circuit 1:
Slow Squat Thrust to High Knees (1:00)
Begin standing at the top of your mat with your core braced and chest upright.
Bend your knees, plant your hands on the mat, and step your feet back into a tall plank position with shoulders stacked over wrists, braced core, back flat and neutral gaze (not looking up or down).
Step your feet up to your hands and drive through the heels to come back to standing.
Drive your right knee towards your chest using your core strength, then switch legs, driving your left knee up.
Repeat this sequence for the allotted time.

MOD: Perform this movement with your hands on an inclined surface, like a chair, couch or ottoman.
Sumo Squats (8-12)
Holding a weighted object in both hands, either hanging beside your hips or at your shoulders, begin standing with your feet wider than hip distance, allowing your feet to turn out naturally.
Engaging between your shoulder blades to keep the weights from rounding your shoulders, brace your core and send your hips back, keeping your chest up tall (don't bend forward), weight back in your heels and knees tracking in line with your toes.
Drive through your heels and squeeze your glutes as you power back to standing.
Repeat for allotted reps.

MOD: Remove the weighted objects and perform this exercise with bodyweight only.
Calf Raises 3 Ways (0:30 each way)
Stand with your feet parallel to each other and hip distance apart, core braced, chest up, shoulders back and down (as if they were against a wall), and holding two weighted objects at your sides
Lift your heels off of the mat as high as you can with control, then slowly lower them back down (be mindful that you're not shifting your weight side to side or leaning forward).
Repeat for 30 seconds then shift your heels together (keeping the balls of your feet apart), repeating this calf raise for 30 seconds.
Adjust your feet so that the big toes are touching and your heels are wide, and repeat the calf raises for another 30 seconds.

MOD: Remove the weighted objects and complete this move with bodyweight only.
Circuit 2:
Clamshell Openers (10-15 each side)
Begin by lying on the mat on your right side with your feet and hips stacked, your knees bent 90 degrees, and your right elbow stacked underneath your right shoulder, supporting your body.
Maintain a straight line from your head to your knees, being mindful that your hips remain stacked throughout this move (not shifting forwards or backwards).
Press your right knee into the mat to elevate your stacked hips while you open your left knee towards the ceiling, keeping your feet touching each other.
Lower yourself back to the starting position with control and repeat for allotted reps on each side.
Alt Forward Lunges (8-12 each side)
Begin by standing tall, core braced, and feet a little wider than hip distance, holding weighted objects by your sides or at your shoulders.
Step your right foot forward, maintaining an upright posture and braced core, bending the knees to 90 degrees.
Drive through the front heel to step your right foot back to meet your left.
Be mindful of keeping your front knee aligned over your ankles and with your big toe.
Repeat on the left side and continue alternating left and right lunges for allotted reps..

MOD: Remove the weighted objects and complete this move with bodyweight only.
Hip Thrusts (8-12)
Sit yourself on the mat in front of your bench (or couch/chair/ottoman) and place a weighted object on your hip creases.
Press yourself up with your elbows and feet to position your back against the elevated surface; the edge of the surface should be at the base of your shoulder blades. Your knees should be aligned over your ankles, with your feet planted on the mat.
Brace your core and drive through your heels to lift your hips and weighted objects towards the ceiling, knees tracking in line with the toes, squeezing your glutes.
Pause here for a moment then drop your hips back down toward the mat with control and repeat for your allotted reps.

MOD: Perform this exercise without weighted objects.
Amazing job Rockstar! I am so proud of you for showing up today! Check in and let me know how you liked the workout and anything else you want to share – I love hearing from you.
---
Check out these progress shots from Kamilla, a Rock Your Life member who has had amazing, sustainable results over the past 3 years from having a supportive community, and consistent access to workout classes and challenge programs.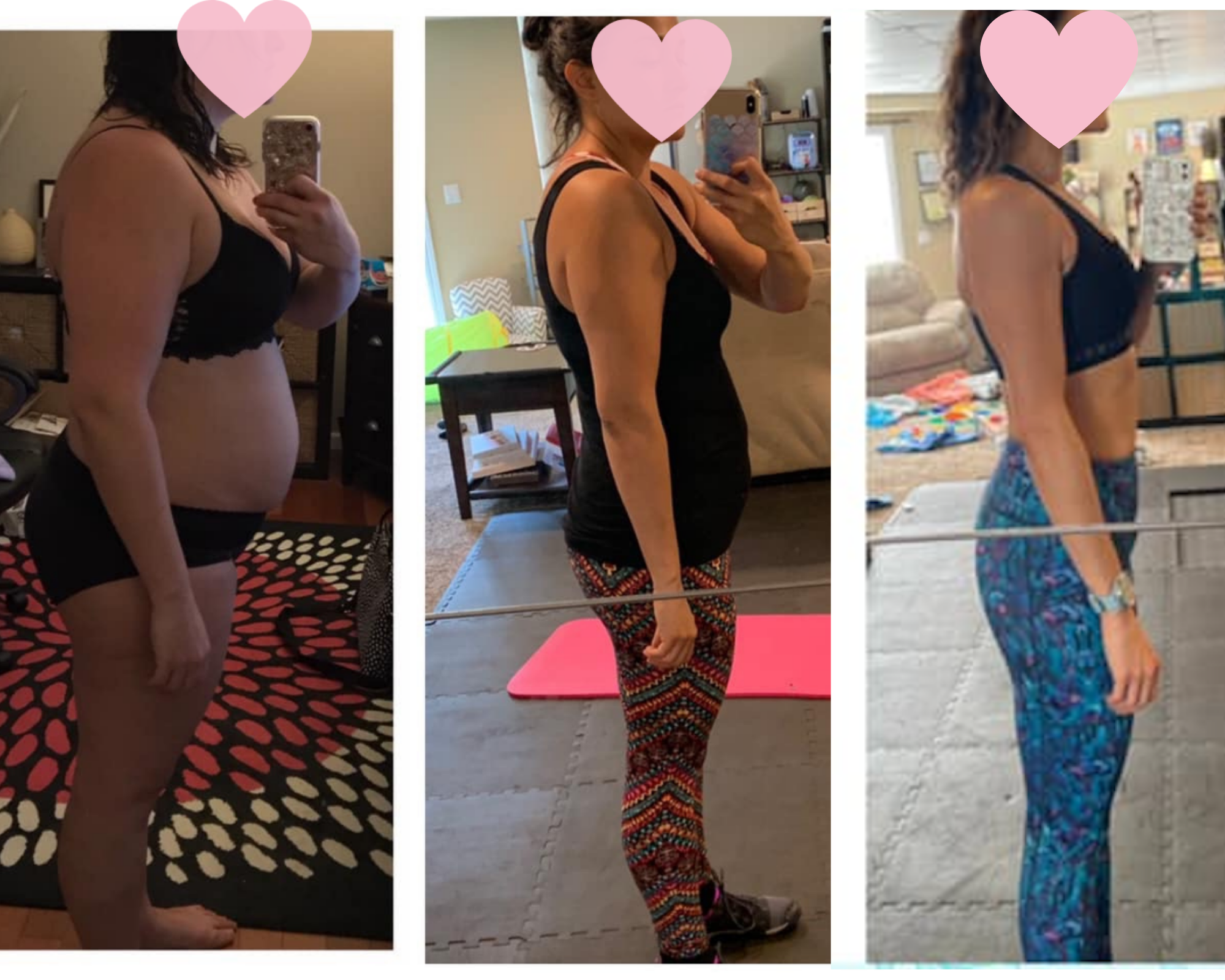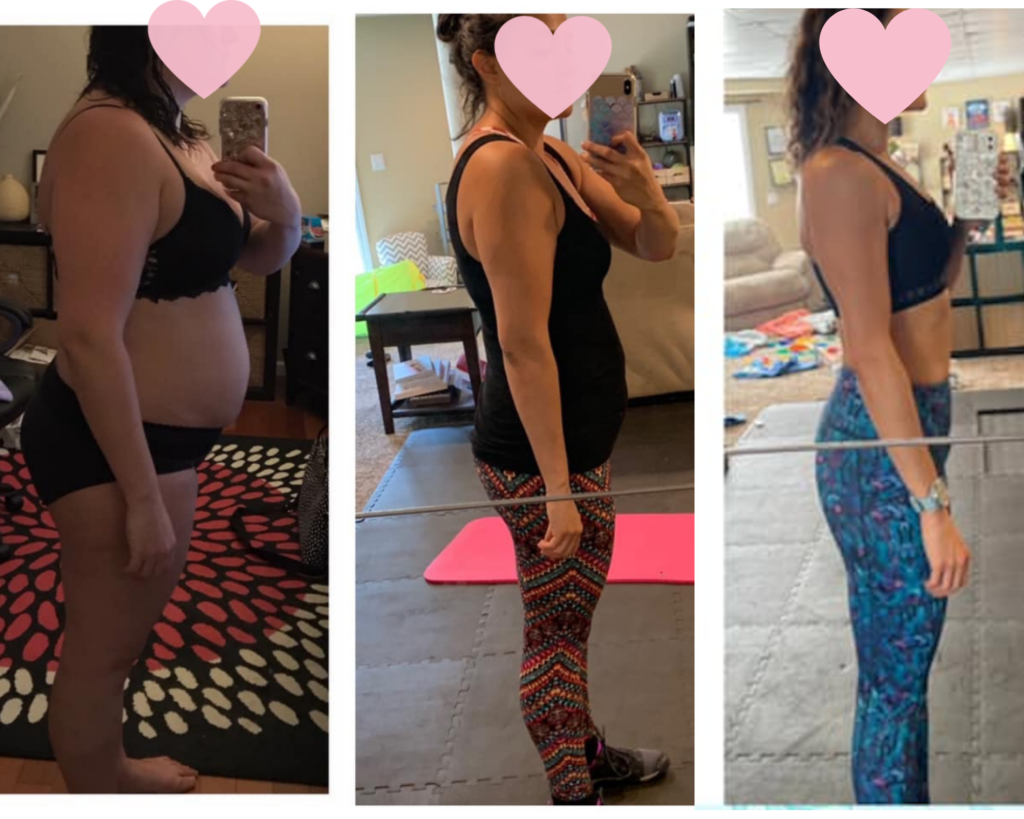 "I just took a look at my overall destination-less journey over 3 years yesterday and did new side by side comparisons from 3 years ago to this year. I owe it ALL to Betty Rocker. My muse, my voice of positivity, kindness and reason in my most difficult moments of commitment. All or something ladies, not all or nothing. Bree, without your slow, gentle, kind ways of eliciting sustainable behavior change that is driven from the inside out, I would not be who I am today."
Take YOUR fitness to the next level – without having to leave your house!
Grab a 30-day Trial to Rock Your Life and get access to….
Dozens of 30-day Challenge plans, complete with interactive calendars and daily email push to keep you on track – you can take a new challenge every month if you like, or go at your own pace and take as long as you like to do any challenge!
5 new workout classes a week that you can do from home for variety and fun! Drop in on your schedule – they're all loaded right into your workout library to use anytime in case you're not taking a challenge or just want to swap a workout around.
Choose any workout from the Class Library by body part you want to train, how much time you have and workout style – with over 1000 classes you'll never be short of motivation to get your workout in!
Support from me and the Team Betty Rocker coaches, plus the other amazing women in our community in our private support group so you can check in and share the journey, make new friends, and get your questions answered!