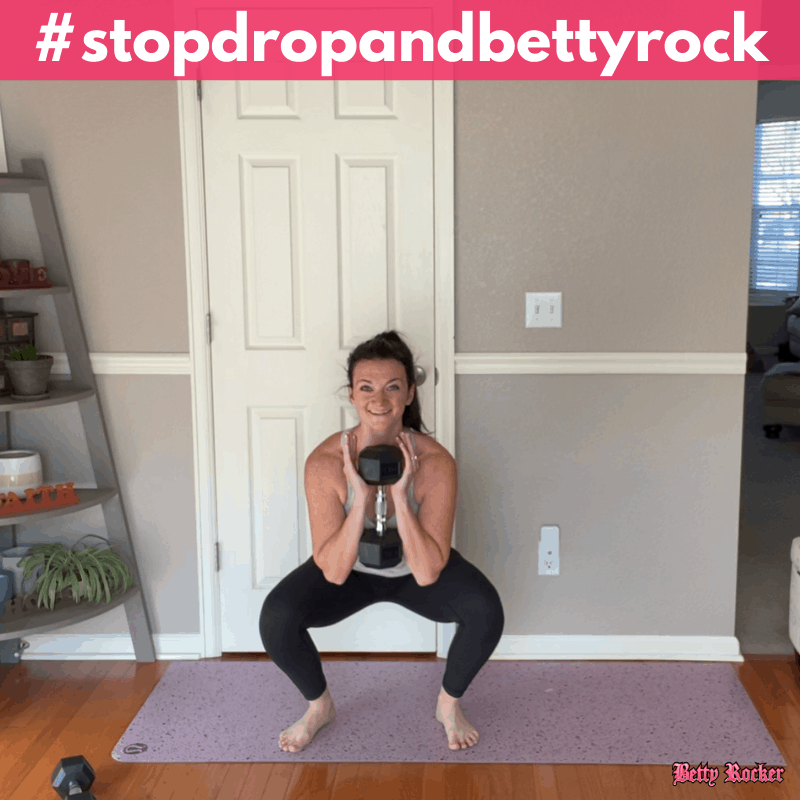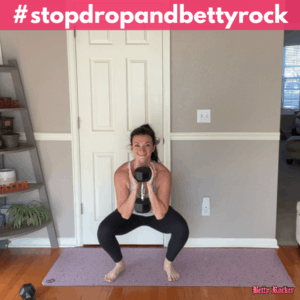 Make every moment count with this awesome Lower Body Strength workout! You'll be focusing on glute activation, building stability and sculpting lean muscle.
I invited the amazing Coach Amanda from Team Betty Rocker to teach today's workout. You may have seen her on the blog before or teaching and coaching in Rock Your Life.
Coach Amanda is a NASM and NESTA Certified Personal Trainer, Crossfit Level 1 Trainer, TRX Qualified Trainer and a Team Betty Rocker Coach. She teaches weekly classes in our online fitness studio and coaching community, Rock Your Life – and we'd both love to see you there!
No matter your goal, this workout will challenge you and have you feeling accomplished and powerful! Keep reading for a special message from Coach Amanda about the workout she has for you today.
---
Coach Amanda here and I am so excited for you to do this workout with me!
Today we are going to be working our larger lower body muscles like quads, glutes, and hamstrings but we will also focus a lot on stabilizer muscles that work in conjunction with those to help keep your body moving on the right path and with proper alignment.
Single side exercises (also known as unilateral exercises) help identify muscle imbalances in the body which effect balance, stability, strength, and posture. Stabilizer muscles help distribute the work involved in training, or movement, throughout the body rather than putting all the stress onto one or two primary movers.
Working to improve stability not only improves your balance, posture and alignment but it also allows us to move more efficiently and helps prevent injury. So join me for this workout so we can challenge ourselves and get strong! 
---
---
One-off workouts are great, but having a plan to follow is even better! Take a 30-day Challenge in Rock Your Life and have workouts like this formatted into a plan to follow!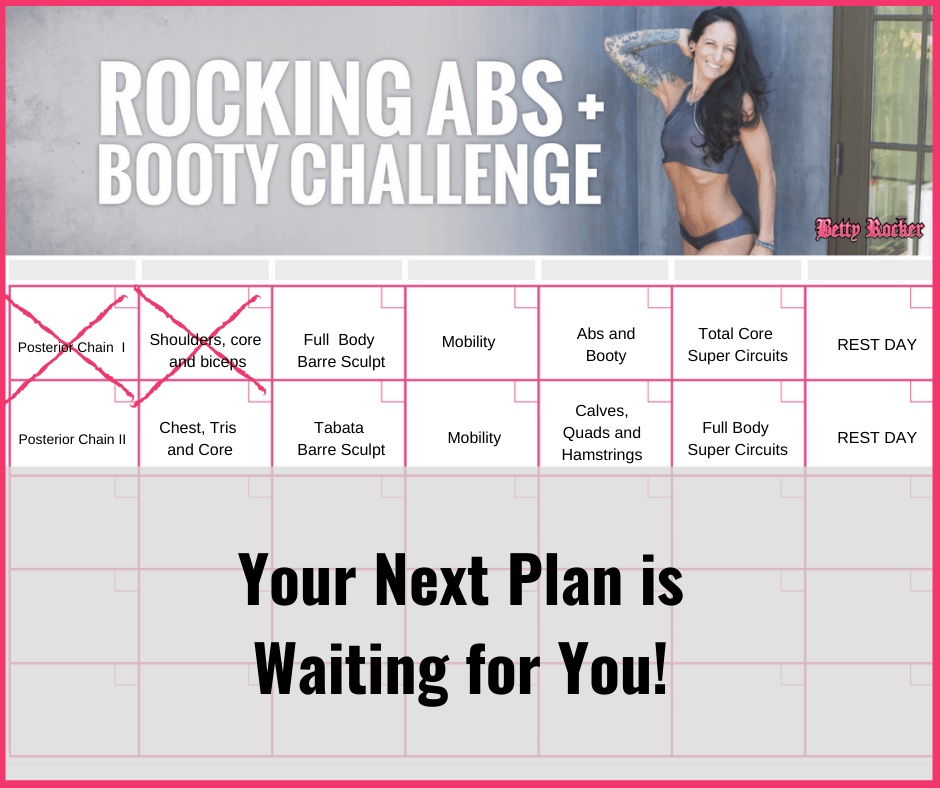 Lower Body Strength Circuits
Click to expand and see all workout move descriptions.
Equipment: None (optional weighted objects and elevated surface).
Format: Perform each movement for the prescribed repetitions and repeat for 3 rounds. 
Circuit 1:
Move 1: Bear Squat Thrust (10)
Stand tall with your feet slightly wider than hip distance apart and your core engaged.

Bend your knees and plant your hands on the ground in front of you.

Step or jump your feet back to a tabletop position with shoulders stacked over your hands, hips stacked over your knees and your knees hovering 1-2 inches off the ground. Keep your core tight and back flat as you hold this position and push away from the ground. 

Jump or step your feet back to your hands, loading your weight in your heels and power up to a low squat hold.

Jump or step back to your bear crawl position and repeat for the prescribed repetitions.

MOD: Perform this movement with your hands on an inclined surface, like a chair, couch or ottoman. You can also take the impact out entirely by stepping back and forth rather than jumping.
Move 2: Single Leg Lunge (10-12 each side)
Begin standing with your core engaged, chest upright and your right knee slightly bent so it's off the ground (stabilize with your left side).

Keeping your power in your left foot and your right foot staying bent slightly behind you, slowly lower down as far as you can while bringing your right shin and top of the foot to touch the ground. 

Trying not to assist with your right leg, power through your front heel to come back to standing and squeeze your glute as you come up. (Ensure your knees are tracking your toes and not buckling in or swaying out.)

Repeat all reps on one side and then repeat on the other. 

MOD: Hold on to a chair or wall to help stabilize or perform reverse lunges in place of this.
Move 3: Elevated Glute Bridges (15-20)
Lie on your back with your knees bent, heels on an elevated surface and core engaged.

Powering through your heels, drive your hips to the ceiling and squeeze your glutes at the top. Be sure to engage your core all the way to the top rather than arching your back.

Slowly lower your hips back down, one vertebrae at a time, lightly tapping your booty to the floor and repeat. 

Circuit 2:
Move 1: Single Leg RDL to Glute Kickback (10-12 each leg)
Begin standing on your left leg with your right leg lifted and slightly bent, shoulder blades pulled back and down and core engaged.

Slowly hinge forward at the waist while pressing through your front heel, pushing your hips back and letting your right knee float backward. Hinge forward as far as you can while maintaining a flat back and be sure you're not rounding your shoulders or locking out your knee.

When you reach the end of your range of motion, stabilize yourself with your left leg and perform a glute kickback with your right leg by pressing the sole of your foot to the ceiling.

Drive through your front heel to slowly bring yourself back to standing.

Repeat all reps on one side and then switch legs. 

MOD: Hold onto the wall and remove the glute kickback to focus more on stability and hamstring strength.

Optional: Hold a weighted object with both hands or one in each hand to add resistance to this movement.
Move 2: Split Squat Jumps (10-12 each leg)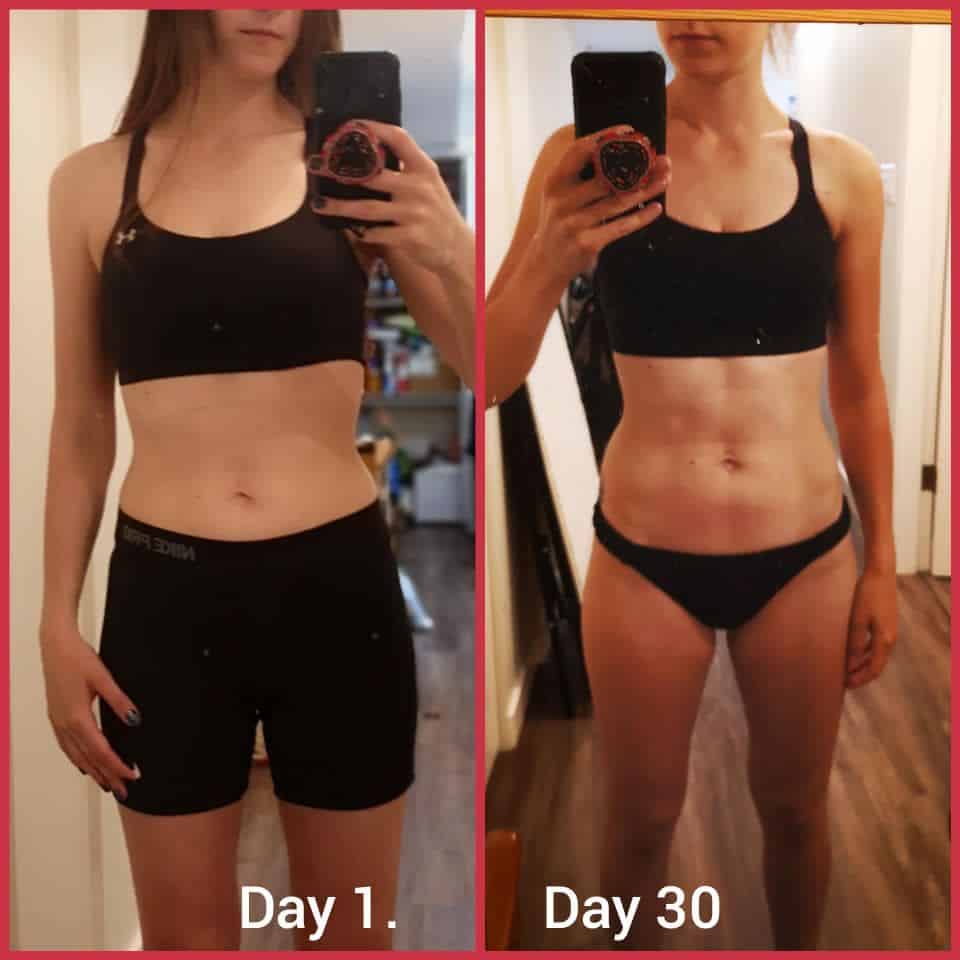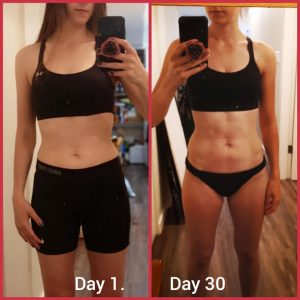 Begin in a forward lunge position, knees bent, chest upright and core engaged.

With your weight in your front foot and your knees tracking your toes, jump up and switch your front and back legs, landing lightly back in your lounge position. 

MOD: Perform alternating reverse lunges to make this low impact or hold onto the wall or back of a chair for help with balance. 
Move 3: Goblet Squat (15)
Stand with your feet slightly wider than hip distance apart, core engaged and hold a single dumbbell with both hands by one end.

Keeping your chest up tall and weight back in your heels, squat straight down and shoot your hips back slightly. Ensure your knees aren't buckling in and your chest is upright. 

Drive through your heels and power through your posterior chain to return to standing.

MOD: Sit down to an object (chair, ottoman, bench, etc) OR remove the weight and just perform a bodyweight squat.
Way to show up today Rockstar!
Leave Coach Amanda and me a comment below to let us know where you're working out from today, how you're doing with your fitness goals, and what we can do to help you reach them – we love hearing from you!
---
Wondering What To Do Next?
I've got a plan for you! In fact, I've got so many 30-day challenges you could take one every month of the year and still not do them all! You can find ALL of my amazing 30-day home workout challenges inside Rock Your Life – plus myself and the Team Betty Rocker coaches teach 5 new classes every week in case you want to just workout with us outside of a plan.
You'll have daily support in our Rock Your Life community, and you can make new friends while you get stronger, fitter, healthier and more confident than ever before.
It's all waiting for you inside Rock Your Life – take this special 30-day Trial and join us! We look forward to welcoming and supporting you!