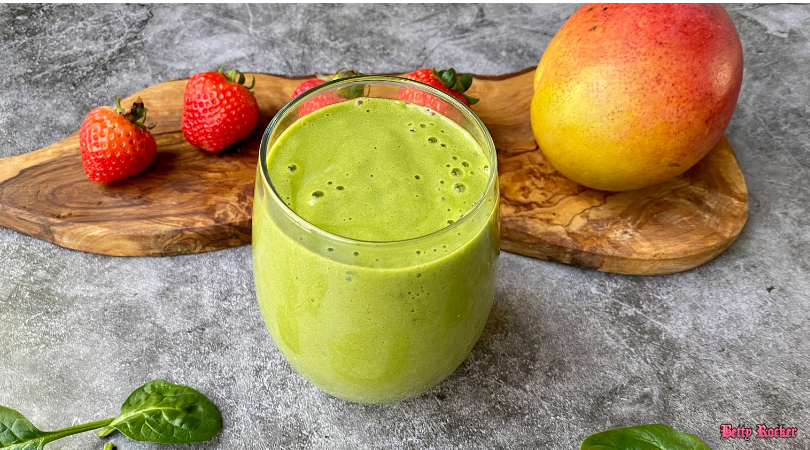 Start your day with a sunny, tropical immune-boosting smoothie. With mango, strawberries, coconut water and greens, this sweet and refreshing smoothie recipe is the perfect way to boost your health!
Just take a look at what's inside:
Strawberries are full of essential nutrients to keep you healthy like vitamin C, fiber, folic acid, calcium, manganese, and potassium. They have also been shown to help reduce your chance of diseases such as cancer, diabetes and heart disease (1).
Dark leafy greens – like the spinach I used in this smoothie – are an excellent source of both fiber and micronutrients, which of course give your body the vitamins and minerals it needs to promote both healthy body maintenance and muscle growth (2).
Mangos are packed with beta-carotene, which has protective effects against skin cancer. Mangos also contain vitamins A and C, folate and potassium, important for supporting your health (3).
So much goodness! While mangos are a tropical fruit and naturally higher in sugar than strawberries, pairing them helps balance things out so you can enjoy the sweetness without going overboard on the sugar. This is a strategy I often use when making smoothies: if I'm using a tropical fruit (mangos, bananas, pineapple, etc) I generally don't pair it with another tropical fruit. I pair it with a naturally lower sugar fruit like a berry, or enjoy it by itself.
Mango Strawberry Green Smoothie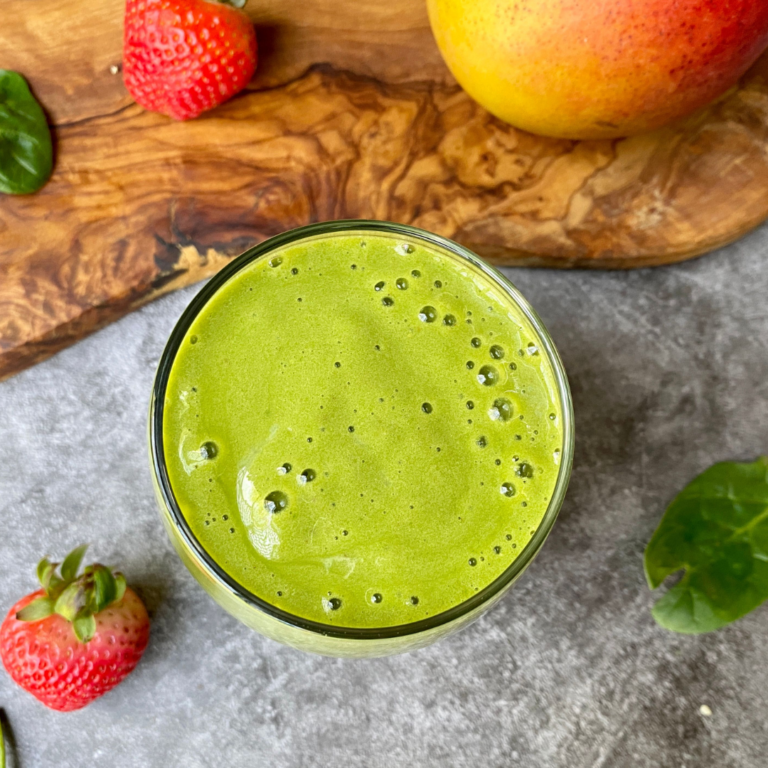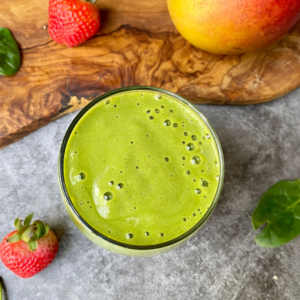 Yield: 1 serving
You will need: Blender, measuring cup, spoon , cutting board, knife
Key: T = Tablespoon; tsp = teaspoon
Ingredients:
1 cup/handful dark, leafy greens
1 cup coconut water or filtered water
1/2 cup mango (fresh or frozen), diced into pieces
1/2 cup strawberries, sliced in half
1 serving (34 grams) Berry Green Protein powder
Directions:
1. Add the liquid and greens to your blender and blend very well.
2. Add the mango and strawberries, blend again.
3. Add the protein powder and blend until smooth.
4. Serve and enjoy!
Nutrition Facts
Calories per Serving:

258
So delicious! Let me know if you make this and how you like it!
---
Berry Green Protein is a delicious plant-based vanilla strawberry blend that has 22g of highly absorbable protein per serving. It also has an impressive array of organic ingredients including barley grass, wheat grass, spirulina, chlorella, spinach, kale, tomatoes, carrots, beets, parsley, apple, blueberry, cranberry and raspberry.
If you are following a healthy lifestyle, seeking support for sustained energy, mental clarity and overall well-being, Berry Green Protein is a convenient, delicious and powerful nutrient-dense option for you!