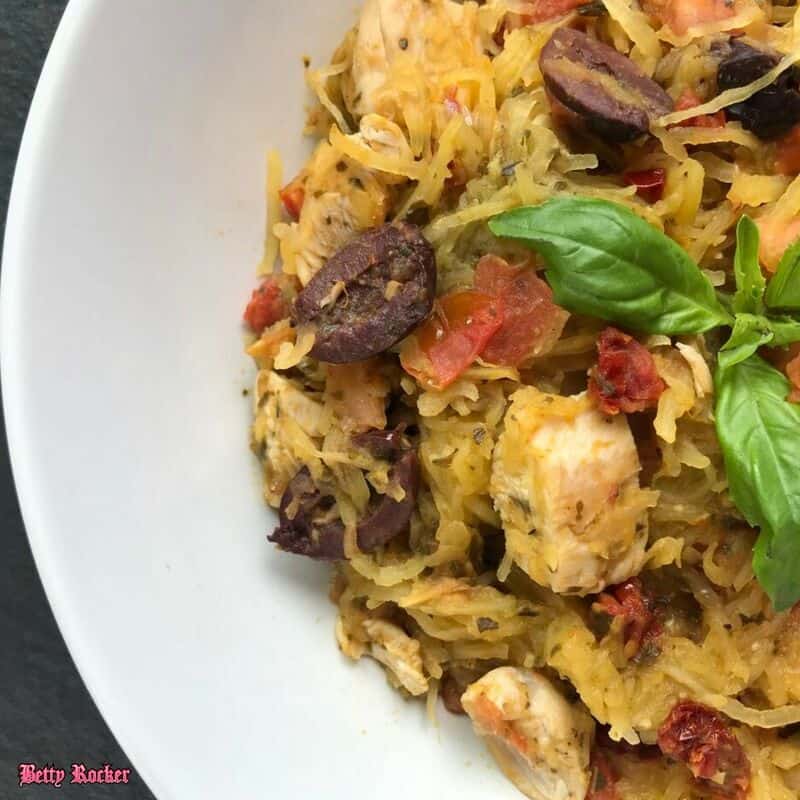 Welcome back to my kitchen!
We're taking our taste buds in an exciting direction today with a gluten-free, dairy-free, mouth-watering Mediterranean Chicken recipe. This dish is one burst of flavorful, whole-food nutrition after another, and super easy to also make Vegetarian.
Have you ever used spaghetti squash in place of pasta? If so, you know what a fabulous alternative it is, and if not, you're in for a real treat!
Whether you're looking to reduce your grain intake or just want to increase your vegetable consumption while still gaining the benefits of lasting energy from complex carbs, spaghetti squash is an awesome healthy variation that provides you solid doses of manganese, niacin, Omega-3, vitamin B6, and vitamin C.
Once the squash is cut and cooked, a fork will shred the softened meat into long, noodle-like pieces, hence the name. 🙂
You'll add in tomatoes, which increase your levels of vitamin C, potassium, folate and vitamin K, as well as kalamata olives, which boast antioxidants and vitamin E.
Chicken, of course, covers the always-important protein piece, and pesto – one of my favorites- not only boosts essential vitamins like A, C, E, K, and B6, and minerals such as copper, manganese, calcium, and iron, it also gives you the Omega-3 healthy fats you need. Plus, it's DELICIOUS!
---
Mediterranean Chicken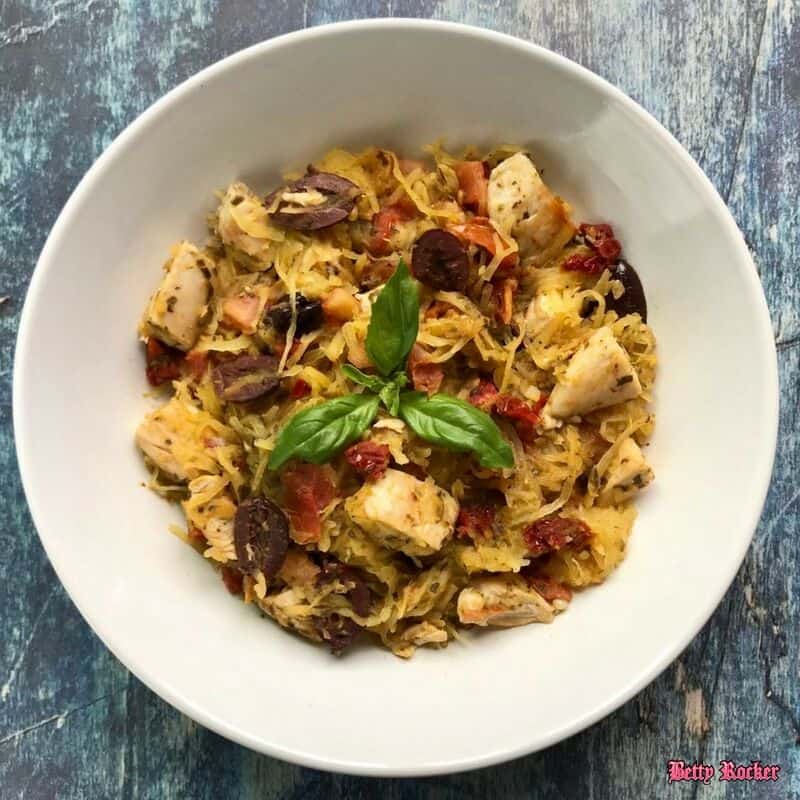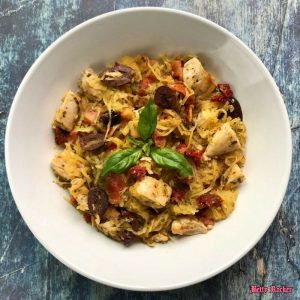 Yield: 4 Servings
You will need: baking sheet, parchment paper, large skillet, cooking spoon, cutting board and knife
KEY: T=Tablespoon; tsp=teaspoon 
Ingredients:
6 cups spaghetti squash
2 T olive oil
2 tsp salt (divided)
1 pound Chicken Breast or 2 (8oz) packages of tempeh
1/2 cup sun-dried tomatoes
4 small roma tomatoes, chopped
1/2 cup kalamata olives, chopped
1/2 cup Pesto (my recipe is dairy free, but feel free to use any kind you like)
Optional Topping: Fresh Basil 
Instructions:
Preheat your oven to 400 F.
Slice the spaghetti squash in half lengthwise and scoop out the seeds.
Drizzle each half with olive oil and season with 1 tsp salt. Place the squash cut-side down on a baking sheet and roast until tender, about 45-50 minutes.
Once cooked and cooled, use a fork to scrape out the "spaghetti" and set aside.
Heat a pan to medium. Add the chicken breasts (or tempeh) and 1 tsp salt to the pan with a little olive oil – and saute until cooked through.
Once the chicken is cooked, remove from the heat and let it cool completely.
Add the sun-dried tomatoes, Roma tomatoes, olives and 1/2 of the pesto to the same pan that the chicken was cooked in. Cook until warm.
 Dice the cooked chicken and add it, the spaghetti squash, and remaining pesto to the pan.
Mix it all together and cook for 1-2 minutes or until warm.
Top with basil and serve.
Nutrition Facts
Calories per Serving:

442
Leave me a comment below and let me know what variations you come up with for this tasty dish!
---
Remember, nutrition and exercise go hand in hand – take my workout quiz to find the right program for you!