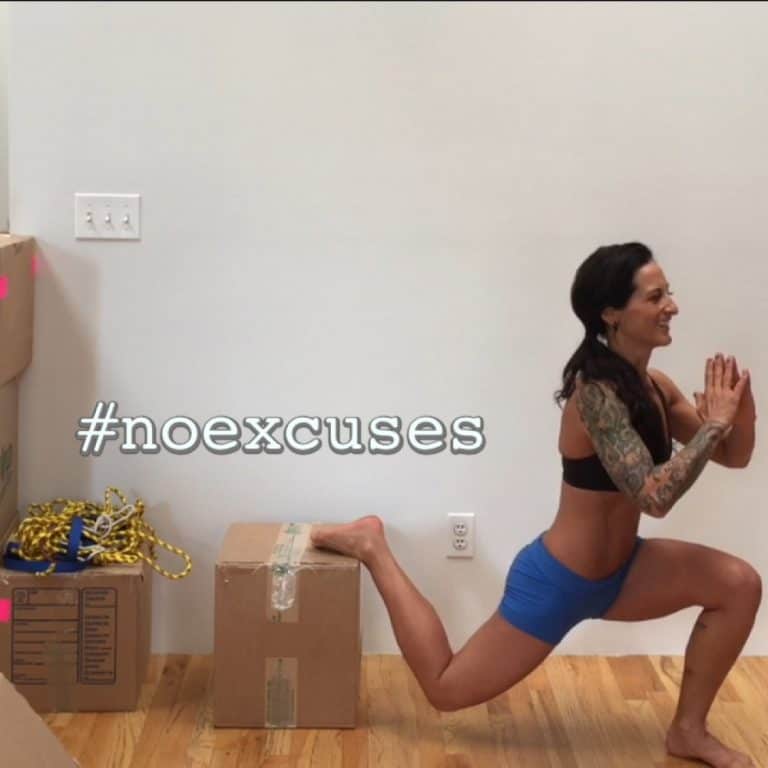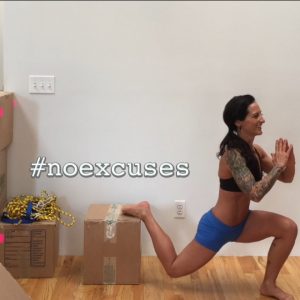 Oh yes, moving is ROUGH!
It's one of the easiest and most legit reasons to fall off track with your fitness routine.
But there is something very therapeutic about taking charge of a still messy space and moving your body – after all that's one vessel that you take with you no matter where you go.
I put this little circuit together before everything was even close to unpacked using just a moving box – and I invite you to sweat it out with me and get a great workout.
Whether your home is in a state of complete harmony or utter chaos, nothing can stop you from being in charge of your FITNESS!
Moving Box Full Body Shred Home Workout
Click to expand and see all workout move descriptions.
FORMAT: Moves for prescribed Reps. Repeat 3 Rounds total.
Move 1: Slow Paused Squat (10-15)
Use the box to aim for, as if you were going to sit down on it to help you keep your weight back.
Tap it with your butt, and pause, squeezing your glutes to come back up. Keep your chest lifted and your knees tracking in line with your toes.
Move 2: Single Leg Split Squat (10-12 each leg)
Elevate your right foot onto a box, step or bench. Step your left foot out enough so that as you squat down, your left knee lines up with your left toe and doesn't go beyond it.
Keep your chest up, core engaged and squat and extend, pressing through the heel.
Repeat on both legs.
Move 3: Split Squat Hop (10 each leg)
Using the same position as the single leg split squat, you'll add a little hop to the extension each time you come up. Land lightly on your foot each time you come down.
Move 4: Decline Push Up (10)
This is an advanced push up move that engages your chest, triceps, and core. Choose the right decline height for where you're starting at, and try doing a couple each round – switch to the floor or with your hands on the box, feet on the floor to build strength.
Really be mindful of keeping your core tight and engaged. The tendency will be for the lower back to arch – don't let that happen. Re-set yourself as needed. Keep your legs nice and straight and dip down as low as you can with your chest.
Maintain a neutral spine, not looking down or up with your head.
Move 5: In and Outs (20 fast, 10 slow)
Find a comfortable position on your sit bones, and lift your legs, placing your hands behind you for balance.
Lift your chest, and draw your knees in. Extend the legs, keeping your core engaged, and continue to bend and extend.
Move 6: Box Jumps (10)
Stand back from your box and set your weight back in your heels. Shoot your butt back, keeping your core engaged, chest lifted and using your arms to propel you, jump up onto the box.
Land lightly, and fully extend through the hips. Step or jump down and repeat. A great modification is to perform alternating box step ups.
Move 7: Triceps Dips (10-12)
Place your hands behind you on a box or bench. The farther out your legs are, the more challenging this move will be. Raise and lower yourself, keeping your elbows in and arms parallel.
Keep your chest open and don't let your shoulders roll forward.
As you start to get tired, walk your feet in close and continue to do your dips.
Hey, awesome job!! Leave me a comment below to check in, or let me know if you have a question.
---
What's the perfect workout system for you? Find out with my Fitness Type Quiz!