This past year was a big one for Betty Rocker.
I moved 5 (!!!!) times between 3 states (CO, TX, CA), hosted two 30-day challenges that over 27,000 people in 15 countries participated in, hosted 3 live meet-up workshops in November, completed 2 new cookbooks and a cooking tutorial video program, received and answered hundreds of awesome emails and messages from my incredible readers, and rang in the New Year in San Francisco with some dear friends who inspire me beyond belief.
I know I just gave you the warm fuzzies with that uplifting recap of last year, but New Year's day had some serious bumps in the road.
After working for 12 straight hours, I set out to make a recipe I wanted to bring to my friends for New Year's Eve.
But, I scorched the crust (new stove), made scrambled eggs in what was supposed to be the lemon pudding (twice) because I was trying to do too many things at once and the heat was too high – and after 45 minutes that were supposed to be spent power-prepping a gourmet confection I had nothing to show except some fresh pureed lemons, 6 partially scorched tartlet crusts (6 fully burned tartlet crusts) and a sink full of dirty dishes!
I was ready to call it quits. Seriously. But I can't leave a sink of dirty dishes, and as I was washing them my brain began taking inventory of what I did still have and what possibilities there might be to salvage the remains.
The result of what I came up with was so elegant, so easy, so delicious, so melt-in-your mouth awesome and the absolute perfect dessert for my very savvy, food connoisseur friends – I simply must share the recipe with you.
---
Lemon Filling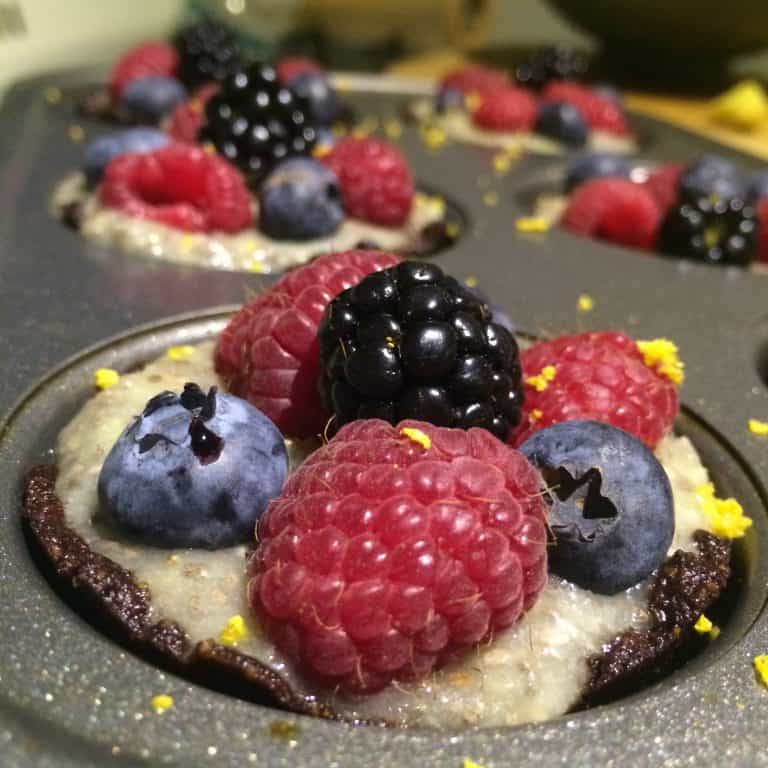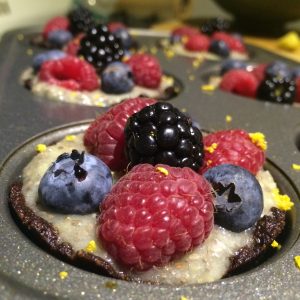 Yield: enough for 12 tartlets
You will need: knife, cutting board, food processor, measuring cups and spoons, mixing bowl and spoon
3 lemons, peeled and de-seeded
1 inch fresh ginger, de-skinned and chopped
1 tsp pure vanilla extract
1/2 cup honey  more or less to taste)
1/4 cup coconut milk (full fat)
1/3 cup chia seeds
Fresh berries – I used raspberries, blackberries, and blueberries
1. Prepare lemons. Puree in a food processor with ginger, vanilla, coconut milk and honey. I just added honey until I liked the taste and didn't measure it exactly so 1/2 cup is an estimate. I'd add half that amount and taste it, then add more as you like.
2. Remove from food processor and place in a bowl. Stir in chia seeds and allow it to sit for 15-20 minutes.
---
Perfect Nut Crust
Yield: 12 tartlet crusts
You will need: measuring cups and spoons, food processor, muffin tin
1 cup walnuts
1 cup pecans
1 tsp baking soda
1/2 tsp sea salt
2 T honey (You'll want a liquid honey here, if you have raw honey just melt it a bit. This helps the crust stick together. You can also use maple syrup or a combination of both as an alternative)
1. Add nuts, baking soda and salt to the food processor and run until it forms a fine, slightly sticky meal.
2. With it running, add your honey. Once it's combined, you can shut it off.
3. For tartlets, evenly divide the dough into muffin tins (makes 12) and bake at 350 for 10 minutes. For full tart crust, bake for 15 – but check it, oven temps vary and you don't want to burn half of them like I did last night!
Assemble
Once your tartlet shells have cooled, run a butter knife around their edges to pop them out of the tins and transfer them to a cookie sheet.
There is the perfect amount of lemon filling for all 12 (or if you only had 6 you could eat it like pudding for breakfast haha cheers!)
Top each tartlet with 3 raspberries, 1 blackberry and 3 blueberries.
Garnish with lemon zest.
Nutrition Facts
Calories per Serving:

231
I am glad I was able to start the New Year with a recipe that I invented after having what felt like a disaster. It reminded me once again that life's what you bake it and what you make it – and that if you can roll with the punches, you can turn your lemons into lemon tarts. 🙂
---