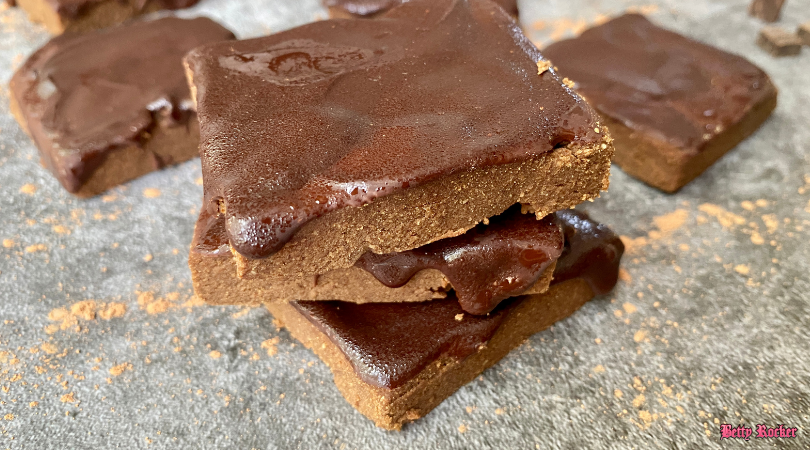 These easy no-bake protein bars make a delicious grab and go snack, and taste just like dessert!
Get an extra serving of protein in to help you feel more full and satisfied with these quick and delicious bars. Sweetened with just a small amount of maple syrup, they're low on the glycemic index, and contain a nice balance of energy-supporting ingredients.
When I'm making a "snack" (which I like to think of as a "mini meal") I always think about including nutrients that I'd put in a full meal, which is why I like including protein powder in a recipe like this.
Since the body doesn't have a "storage tank" for protein like it does for fat and carbs, including it with each meal opportunity ensures you'll have access to the amino acids protein contains that help fuel your muscle tissue, support your immune system (1), and support brain, hormone and enzyme function.
I included cacao in this recipe (that's raw, dark chocolate). Unlike cocoa powder, there's no added sugar or dairy, and raw cacao hasn't been roasted, processed or heat treated – all of which reduce some of the health benefits like antioxidants and flavonoids.
Cacao is rich in polyphenols which are naturally occurring antioxidants (2).  It has robust iron levels, contains magnesium (for a healthy heart and brain) and is a natural source of feel-good bliss chemicals that will elevate your mood. So don't hesitate to indulge in a chocolate craving when you've got this recipe on hand!
Be sure to read the food labels when you're looking for cacao, the point is to find it raw and organic to reap the benefit of all of the plants nutrients; so look for things like "cold pressed" and "milled at low temperatures," as well as the USDA Organic label. This is the one I use.
---
Chocolate Espresso Protein Bars
Yield: 6 servings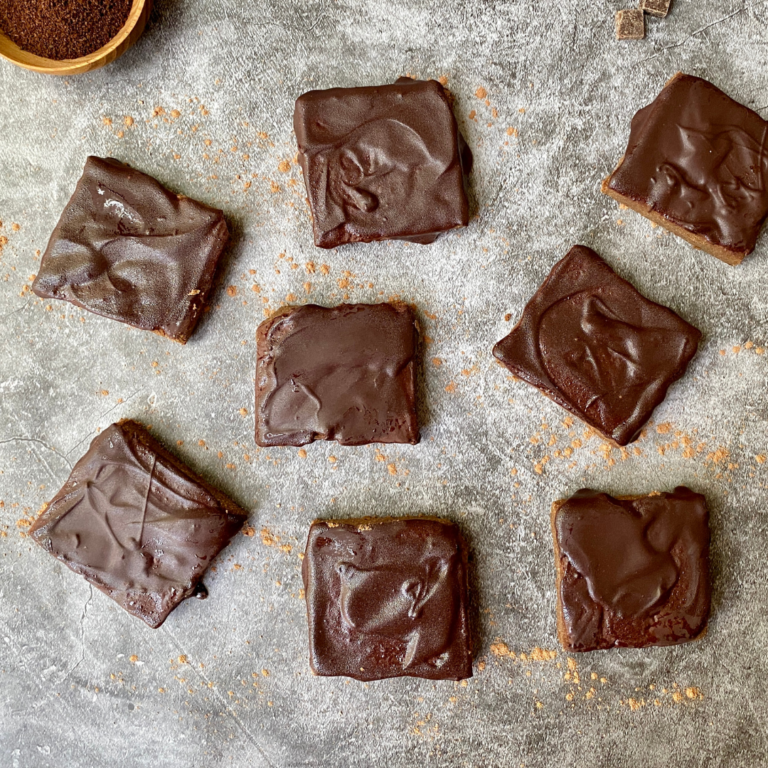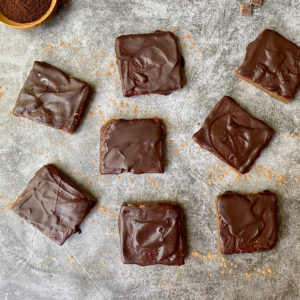 You will need: measuring cups and spoons, 8×8" square pan, spatula, mixing bowl, espresso or coffee maker
Key: T=Tablespoon; tsp=teaspoon
Ingredients
4 servings (136 grams) I ❤️ Chocolate Protein powder
1/2 cup coconut flour*
1/4 cup unsweetened cacao powder
1/4 tsp sea salt
4 T maple syrup
1/4 cup espresso, freshly brewed and cooled (can substitute strong coffee if needed)
3/4 cup almond milk
Optional: To make this more like a dessert add 3/4 cup dark chocolate pieces or chips, with 70% – 85% cacao (you can use more or less, as you desire)
*I don't recommend swapping out coconut flour for a different flour as it's very absorbent and you need a very small amount of it to make the recipe stick together. However you may add a little more coconut flour (try an additional tablespoon at a time) if you feel your batter isn't thickening up. 
Directions
Combine the dry ingredients in a mixing bowl, stirring to make sure there are no lumps.
Add the maple syrup, cooled espresso and almond milk. Mix until well combined.
Use a spatula to press the mixture flat into a 8″x8″ baking dish. Refrigerate until firm. Remove from the baking dish and cut into 6 equal size bars.
If using the chocolate chips, melt the chocolate in a microwave or in a heatproof bowl over hot water. Dip each bar into the chocolate to coat the base and sides. Drizzle a little chocolate over the top. Let it set at room temperature or refrigerate to set.
Store the bars in an airtight container in the refrigerator. They will last a week or two. Unless you eat them all first!
Nutrition Facts
Calories per Serving:

185
So delicious! I hope you enjoy them, let me know how they turn out – I love hearing from you!
---
I do a lot of baking with my own Betty Rocker protein powder because I know exactly what's in it (and what's not!). If you're looking for a clean, delicious protein powder that contains all the essential amino acids, is organic, and versatile enough to be baked with or simply shaken in a mixer bottle, you've found a winner!
I ❤️ Chocolate Protein is a 100% ORGANIC, high protein (21g per serving), nutrient-dense whole food protein powder combining 4 plant-based protein sources into a delicious chocolate shake to support an active lifestyle!
If you are following a healthy lifestyle, you'll love the energy and vitality you get each time you shake it, bake it, or blend it up with I ❤️ Chocolate Protein so you can easily boost your total daily protein intake!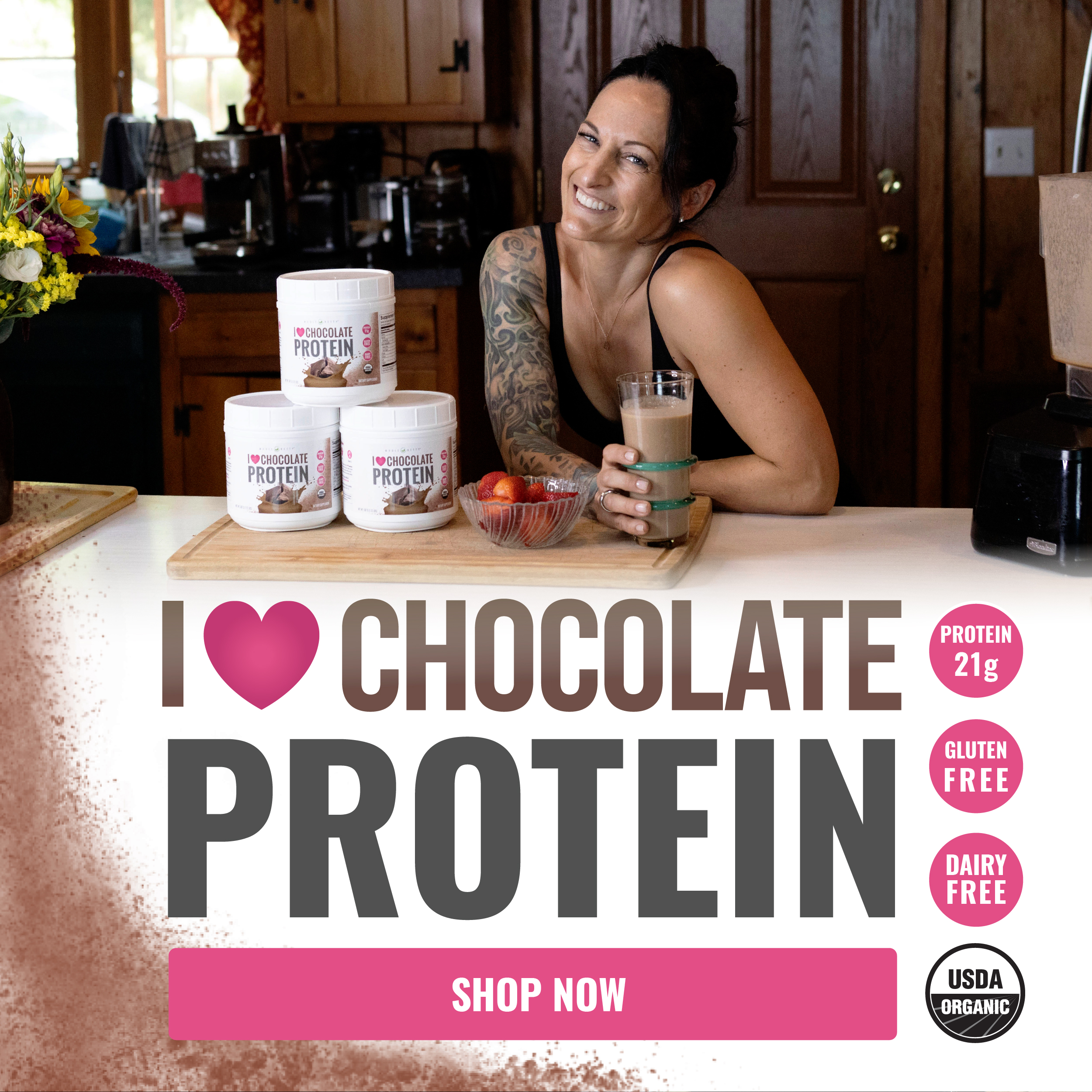 ---
Updated 9/12/2022: I recently tested this recipe again myself after hearing people had mixed results. I made it with varying amounts of almond milk and found that it worked in all cases, but adding a little more than the 1/2 cup previously listed gave it more fudge-like consistency so I have updated the recipe to reflect this as I think it's really nice.
Remember that substituting other ingredients, even other protein powders can change the consistency of your recipe and it will turn out differently. I have made it with both the vanilla protein and our chocolate protein and both come out perfectly. I also increased the serving size and left off the chocolate chip topping to make it a more protein dense mini-meal.
---