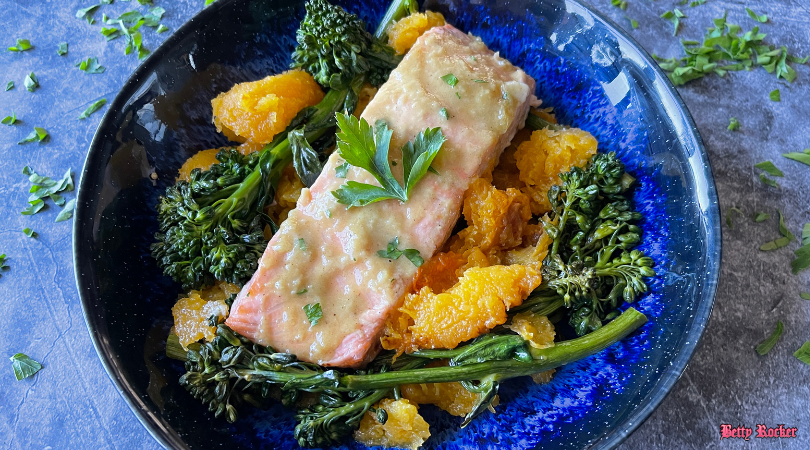 Looking for a time-saving, fast and delicious recipe to make? You're in luck! This One Pan Lemon Dijon Salmon and Veggies is so simple and can be served in a number of different ways – to make your life easier and healthier. I've included a Vegetarian option too!
This recipe consists of three main ingredients: salmon, butternut squash and broccolini, and is seasoned with a delicious, homemade lemon dijon sauce. I've also provided a vegetarian option if you prefer to not eat fish.
You'll get quality protein and healthy fat from the salmon, and lots of vitamins, micronutrients and healthy carbs from the vegetables.
I love including salmon in my diet regularly, as it's a great source of potassium, protein, B vitamins and Omega-3 fatty acids (1). Unlike most other fats, omega-3 fats are considered "essential," meaning your body can't make them so you must get them from your diet.
They play a critical role in your body by reducing inflammation, lowering blood pressure and decreasing your risk factor for diseases such as cardiovascular disease (including heart attack and stroke), dementia and alzheimer's (2,3,4,5,6).
Butternut squash is a complex carbohydrate high in fiber and loaded with vitamins A, C, E, and B vitamins, as well as minerals like potassium, zinc, and magnesium (7). Broccolini adds phytonutrients and fiber, rounding out the meal's nutrients, giving you everything you need for sustained energy throughout the day.
Bottom line, this is a one pan meal that's great for your taste buds and your health!
---
Recipe
Yield: 2 servings
You will need: Baking sheet tray, parchment paper, measuring cups and spoons, knife, cutting board, small whisk, small mixing bowl
Key: T=Tablespoon; tsp=teaspoon
Ingredients: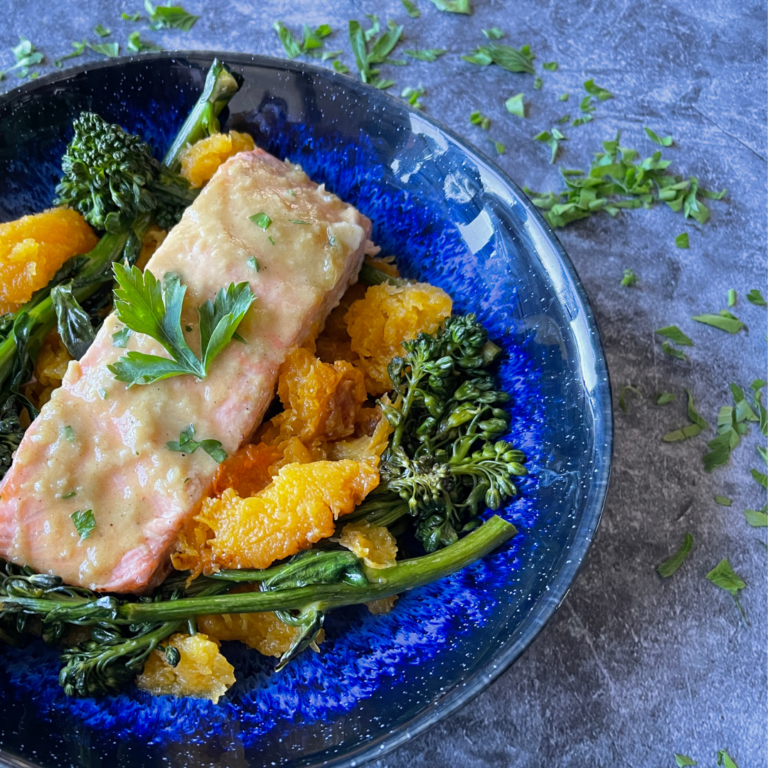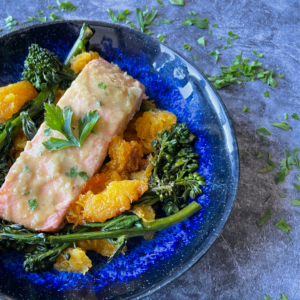 For The Lemon Dijon Salmon:
2 (5-6 oz) salmon filets, skin on (or 1 (14 oz) block extra firm tofu, cut into 6 equal steaks for a vegetarian option)
1 T dijon mustard
1 tsp honey
1 garlic cloves, minced
1/4 lemon, juice of
For the Squash and Broccolini:
1 lb butternut squash, halved lengthwise and seeded
1/2 lb broccolini, ends trimmed
1 tsp olive oil
1/2 tsp sea salt
1/4 tsp black pepper
1/4 lemon, cut into 2 wedges
Directions: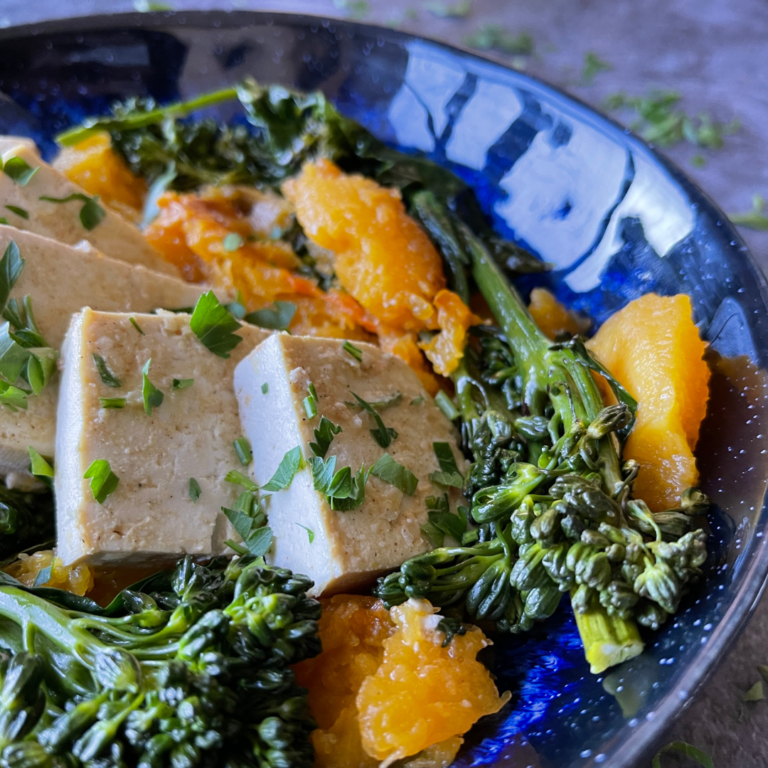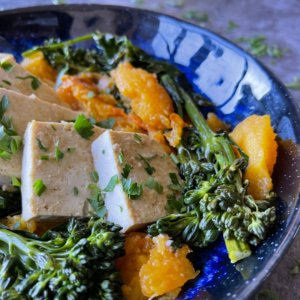 Preheat the oven to 400 F and line a baking sheet with parchment paper. In a small mixing bowl, whisk together dijon mustard, honey, garlic, and lemon juice. Set aside.
Place the butternut squash in the oven, cut side up, and bake for 20 minutes.
Remove from the oven and place salmon filets, skin side down, (or tofu steaks) and broccolini on the baking sheet. Drizzle squash and broccolini with olive oil and season with salt and pepper. Coat each salmon filet or tofu steak with lemon dijon sauce.
Bake for 15 minutes, until both squash and salmon are cooked through.
Serve salmon and squash with broccolini and lemon wedges.
Nutrition Facts
Servings per Recipe:

2 servings
Calories per Serving:

396
I hope you enjoy this recipe! Let me know in the comments below if you make it and how it turns out.
---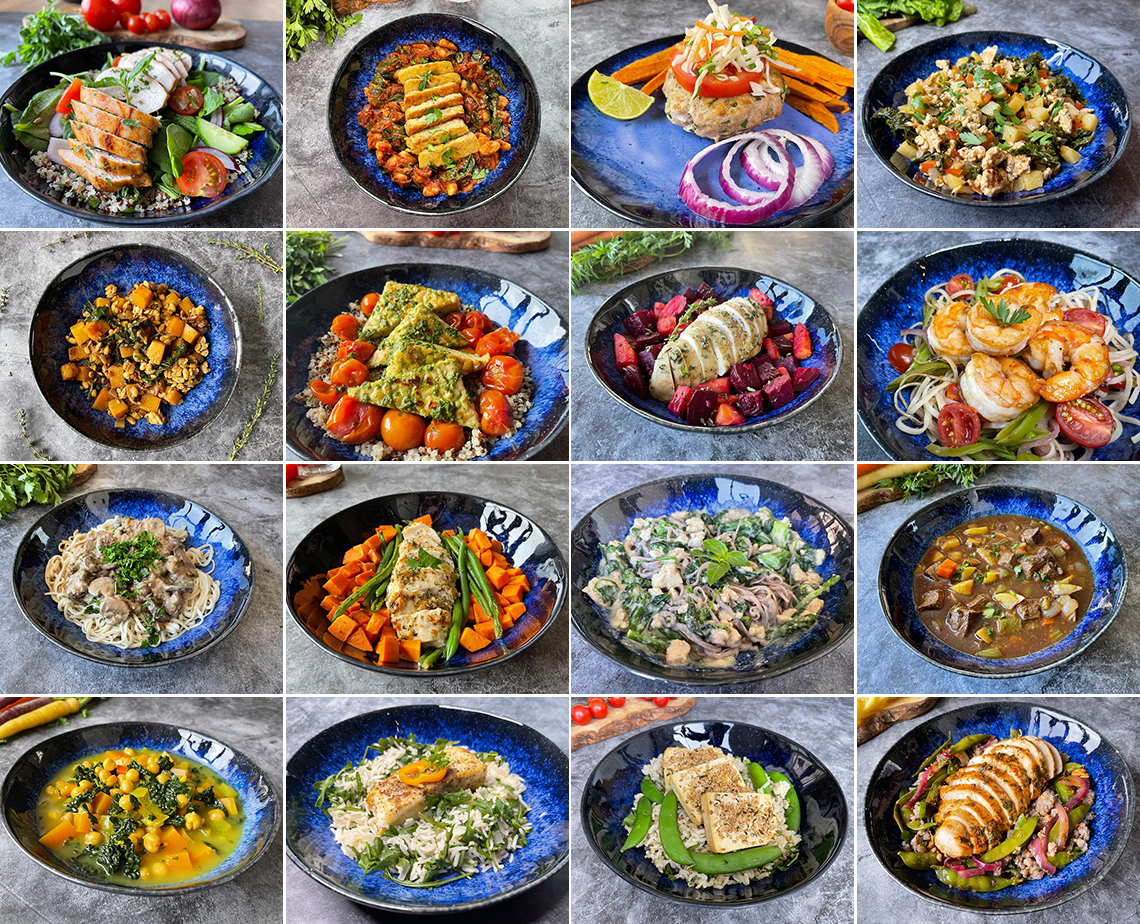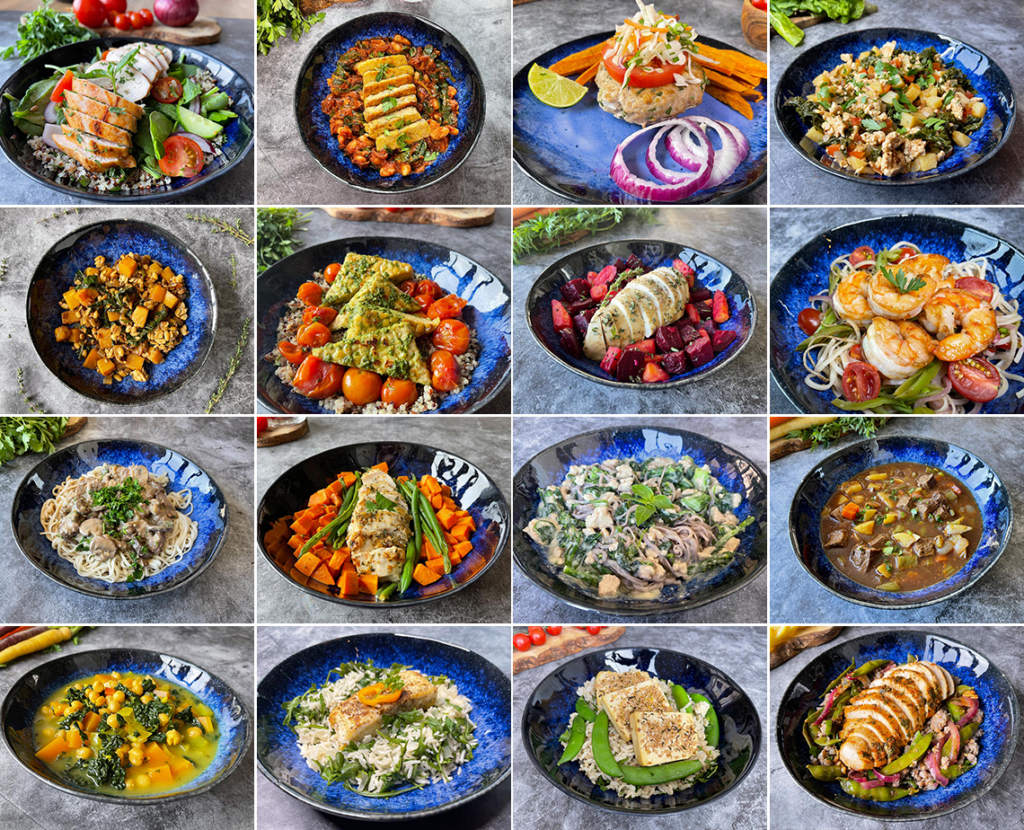 My Dinner Plan includes 6 months (that's 24 weeks worth) of menu plans, recipes and what I call "smart grocery lists" which you create with a click of a button from inside the recipes you want to make!
You'll save time on planning what to cook week after week, and save time spent at the store since you'll know exactly what you need.
You'll eat healthier with balanced and tasty meals (your choice of Omnivore or Vegetarian menu) that include all the nutrients you need to fuel your active lifestyle.
You'll save money on food costs with menus that have been strategically thought out in advance with complementary ingredients so you can avoid buying extra stuff you don't need – while still enjoying plenty of variety and flavorful dishes.