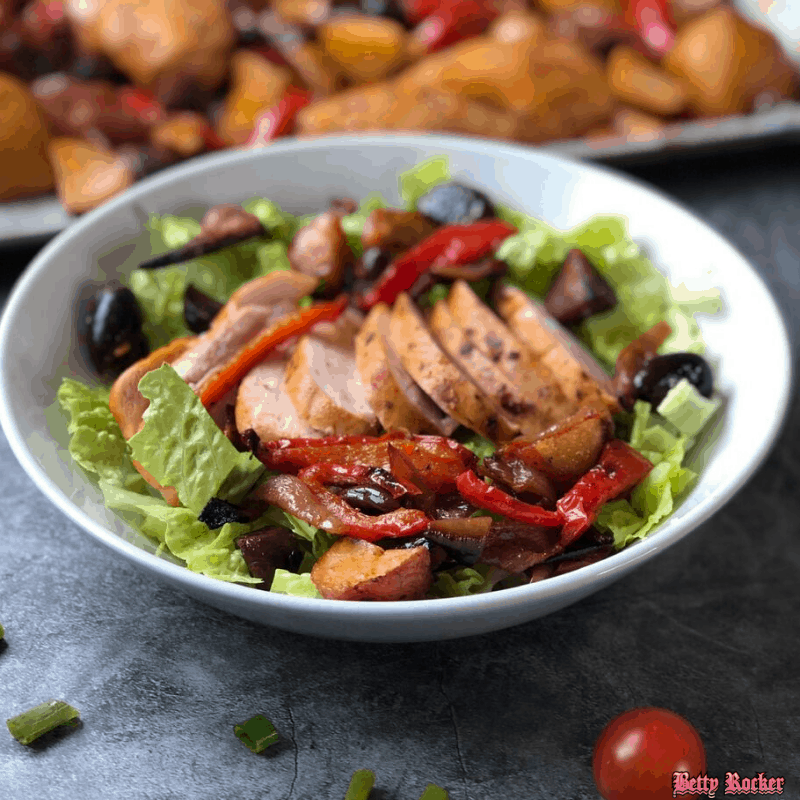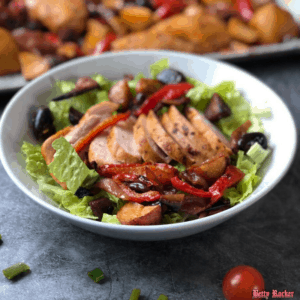 Looking for a time-saving, fast and delicious recipe to make? You're in luck! This One Pan Mediterranean Chicken is so simple and can be served in a number of different ways – to make your life easier and healthier. I've included Vegetarian options too!
This dish is bursting with flavor and packed with protein, complex carbs and healthy fats. Toss some chicken and fresh veggies in a simple marinade, spread it out on a sheet pan, and voila- you have a healthy dinner in 30 minutes or less!
This recipe does more than just taste good, it is also full of  healthy ingredients. Check out all this goodness:
Red peppers are packed with Folate, antioxidants, Vitamin A and Vitamin C (1). Folate is important for proper immune function, digestion, and mood irregularity (6). Antioxidants protect your cells from free radical damage and have also been shown to help prevent, and lower the risk of, chronic diseases like cardiovascular disease (7)
Lemons aid in digestion, detox the liver and the brain and have anti-inflammatory properties (2).
Kalamata olives are another great source of natural antioxidants, Calcium, Vitamin C, A, E, and K (3). As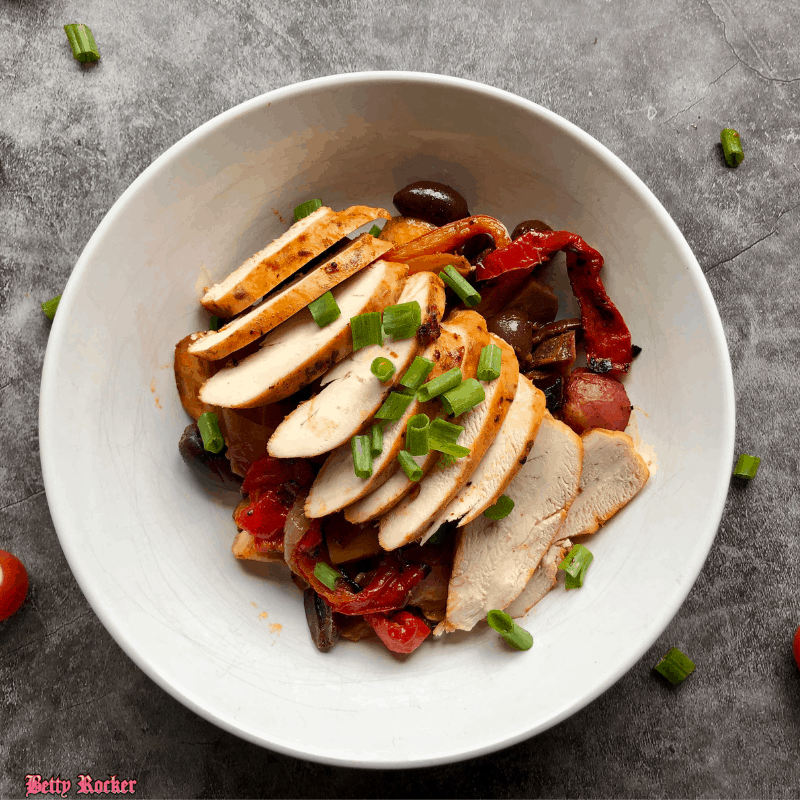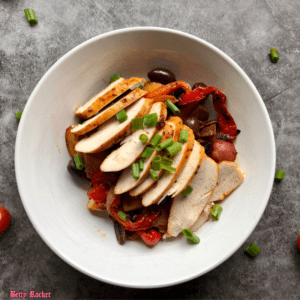 you probably know, Calcium is important for strong bones but so is Vitamin K (8). Kalamata olives are also an excellent source of healthy fats!
Chicken is your main source of protein in this recipe but it is also filled with vitamins and minerals. Chicken has also been shown to regulate cholesterol and blood pressure (4).
Baby Potatoes are another ingredient in this recipe that provide you with some awesome health benefits! Not only are they the main carb source, making this a well rounded meal, but they are high in Vitamin C, potassium and Iron. They have also been shown to reduce inflammation (5).
Delicious and nutritious! 
---
One Pan Mediterranean Chicken
Yield: 4 servings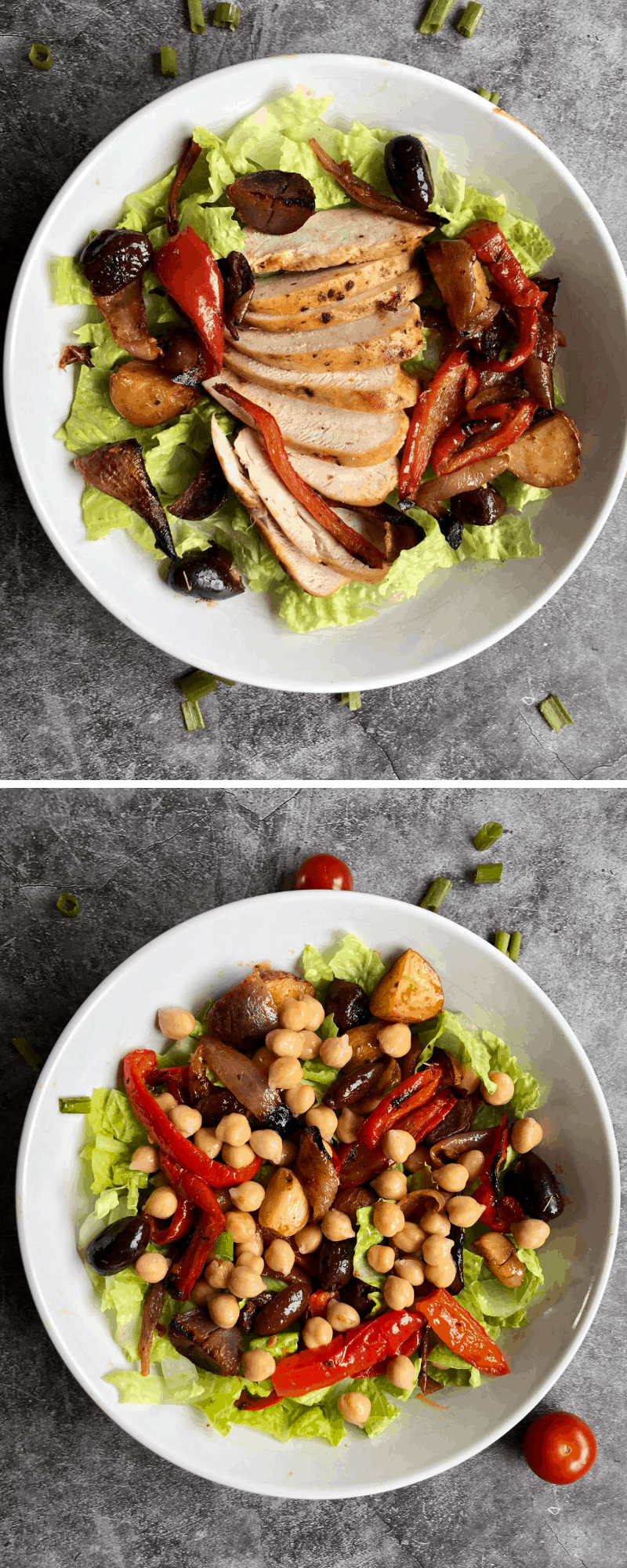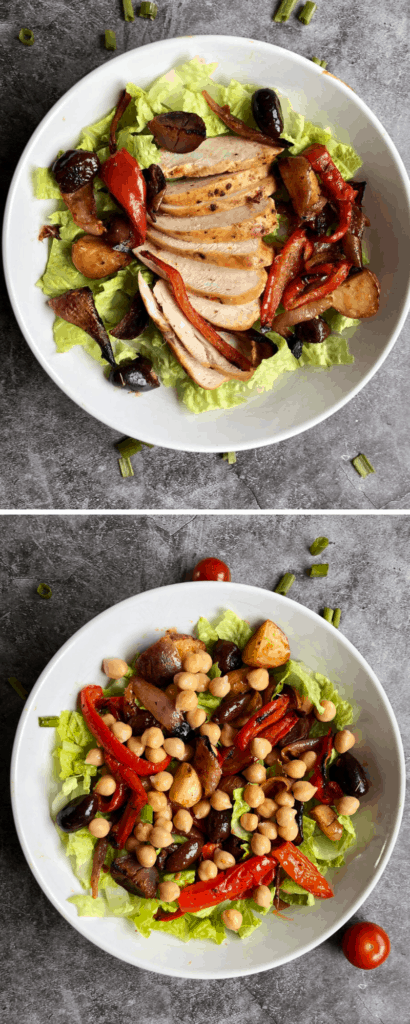 You will need: large sheet pan or baking dish, measuring spoons, small mixing bowl, knife, cutting board, parchment paper
Key: T=Tablespoon; tsp=teaspoon
Ingredients:
Marinade
3 T olive oil
2 T lemon juice, fresh squeezed from 1 lemon
2 garlic cloves, chopped
1/2 tsp sea salt
1/4 tsp pepper
2 tsp paprika
2 tsp oregano, dried
Veggies and Chicken
4 Chicken breasts, boneless* (see below for Vegetarian options)
2 red bell pepper, sliced, keep slices thick
1 red onion, diced
6-8 whole garlic cloves
1 pound baby potatoes, quartered
1/4 cup pitted kalamata olives, halved
2 whole lemons cut in half **
Instructions:
Preheat oven to 400 F.
Combine all of the marinade ingredients in a small bowl and mix together.
Place all of the veggies, except for the olives, onto a piece of parchment paper on top of a large sheet pan.
Place the chicken on the sheet pan, in between and around the vegetables
Pour marinade all over veggies and chicken.
Add the lemons to the mixture, placing them evenly around the other ingredients.
Place in oven and roast for 35-40 minutes or until veggies are slightly brown and chicken is cooked.***
Remove from the oven and let cool.
Top with kalamata olives and serve.
*to make this Vegetarian, leave out the chicken and add in a protein source of your choice: white beans (1, 15oz can), tempeh (2, 8oz packages), or just simply double the vegetables!
**you will need three total lemons- one for the marinade and two for the chicken and veggies. Cooking the lemons with all of the ingredients adds an amazing flavor to the recipe!
***oven temps vary so you may need to cook this longer or shorter depending on how hot your oven gets.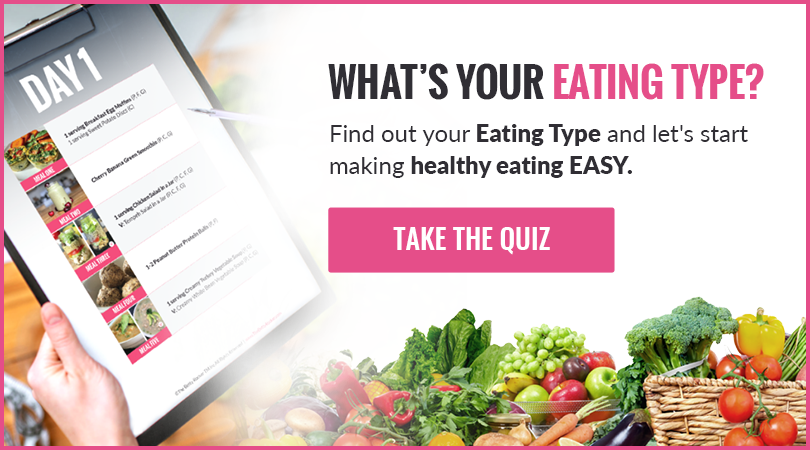 Nutrition Facts
Calories per Serving:

296
---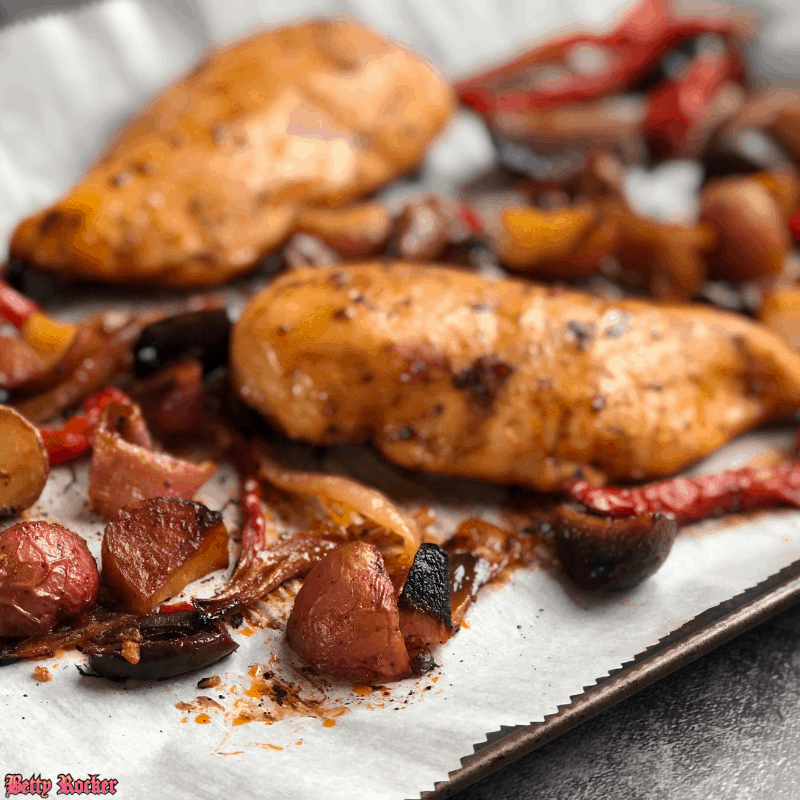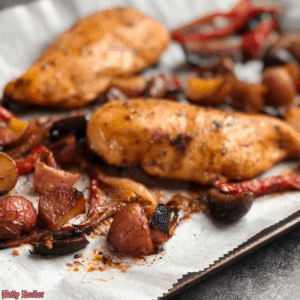 So much flavor for a healthy and quick meal! This recipe is great for meal prep and the leftovers make for a delicious lunch or another dinner later in the week. Feel free to experiment with different ways to serve this dish and let me know if you come up with any other ideas as well!
1. Over fresh greens for a salad
2. In a wrap- lettuce, gluten free tortilla, etc.
3. Over spaghetti squash
---
Leave me a comment below and let me know how it turns out and how you end up serving it – I love hearing from you!
---
Get yourself set up for healthy eating success week after week with my proven eating system, the Body Fuel System!

Enjoy healthy, delicious easy-to-make recipes and a weekly plan to use as a guideline or to follow along with. The information provided in the eating guide is practical, easy to understand and is about sustainable, healthy eating to support an active lifestyle.
Recipes like….
This is my signature eating system and it contains 6 weeks of done-for-you meal planning and recipe guides! You will not only learn the strategies that have given me long-term success, but also enjoy the time-saving benefits of having it all planned out for you!