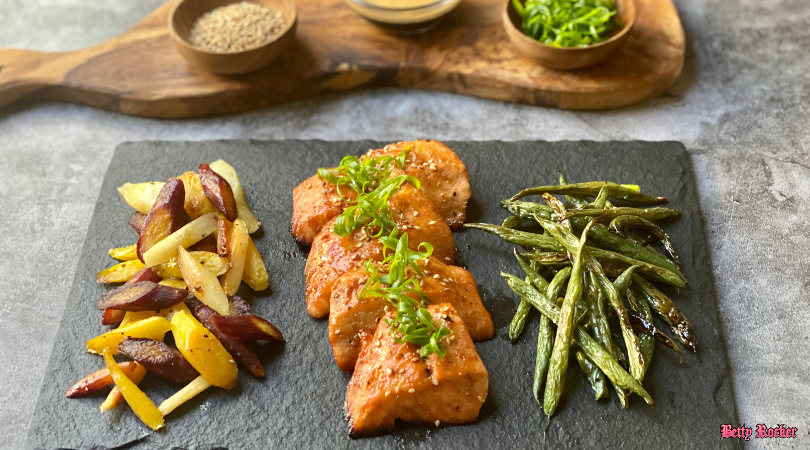 When you're short on time and dinner ideas, this one pan teriyaki salmon with vegetables is fast, balanced, and delicious! You'll get quality protein and healthy fat from the salmon, and lots of vitamins, micronutrients and healthy carbs from the vegetables.
This recipe consists of three main ingredients: salmon, carrots and green beans. All of which are roasted in a delicious, homemade gluten free teriyaki sauce. I've also provided a vegetarian option if you prefer to not eat fish.
I love including salmon in my diet regularly, as it's one of the most nutrient-dense foods you can eat! It's a great source of potassium, protein, B vitamins and Omega-3 fatty acids (1). Unlike most other fats, omega-3 fats are considered "essential," meaning your body can't make them so you must get them from your diet.
They play a critical role in your body by reducing inflammation, lowering blood pressure and decreasing your risk factor for diseases such as cardiovascular disease (including heart attack and stroke), dementia and alzheimer's (2,3,4,5,6).
Bottom line, this is a one pan meal that's great for your taste buds and your health!
One Pan Teryiaki Salmon
Yield: 4 servings
You will need: cutting board, knife, measuring spoons, baking sheet, parchment paper, small bowl, whisk
Key: T=Tablespoon; tsp=teaspooon
Ingredients: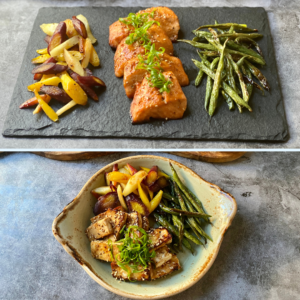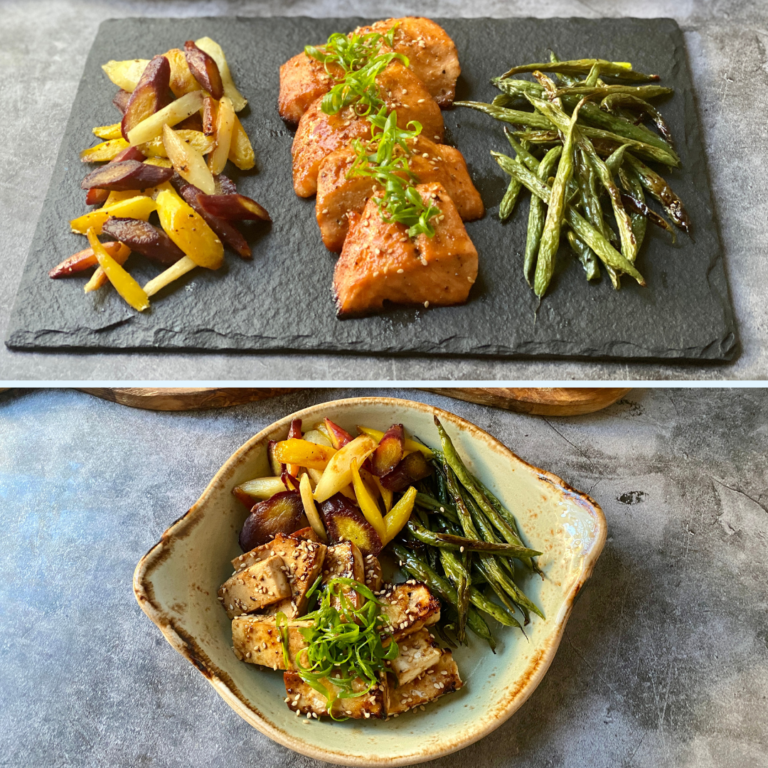 1 1/2 lbs salmon fillets or 1 1/2 lbs organic tofu, cut into 1/2 inch strips
16 oz green beans, trimmed
2 carrots, peeled and cut in 1/4-inch diagonal slices
1 T olive oil
1/2 tsp sea salt
1/4 tsp black pepper
2 green onions, thinly sliced (optional garnish)
1/2 tsp sesame seeds (optional garnish)
Teriyaki sauce:
2 T tamari or coconut aminos
1 T honey
2 T water
1/2 tsp ground ginger
1/4 tsp garlic powder or 2 garlic cloves, minced
Directions: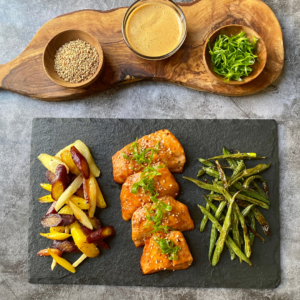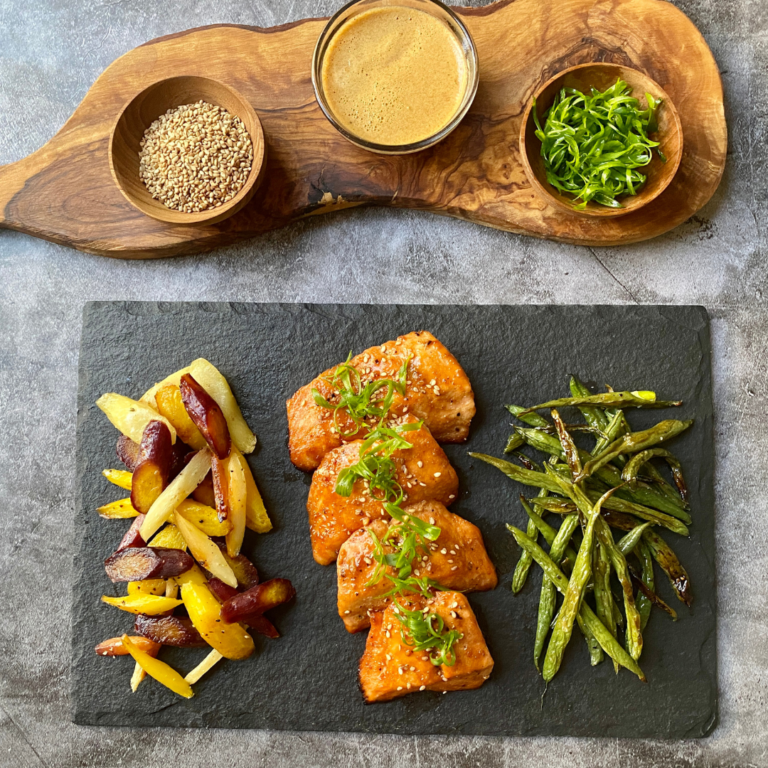 1. Preheat oven to 400 F and cover a baking sheet with parchment paper.
2. Prepare teriyaki sauce in a small bowl and whisk ingredients and set aside.
3. Place salmon, green beans and carrots in a single layer on the baking sheet.
4. Cover salmon with teriyaki sauce and drizzle olive oil over green beans and carrots, seasoning both with salt and pepper.
5. Cook until the salmon flakes easily with a fork, about 16-18 minutes.
6. Garnish with green onions and sesame seeds.
Nutrition Facts
Calories per Serving:

327
I hope you enjoy this recipe! Let me know in the comments below if you make it and how it turns out.
---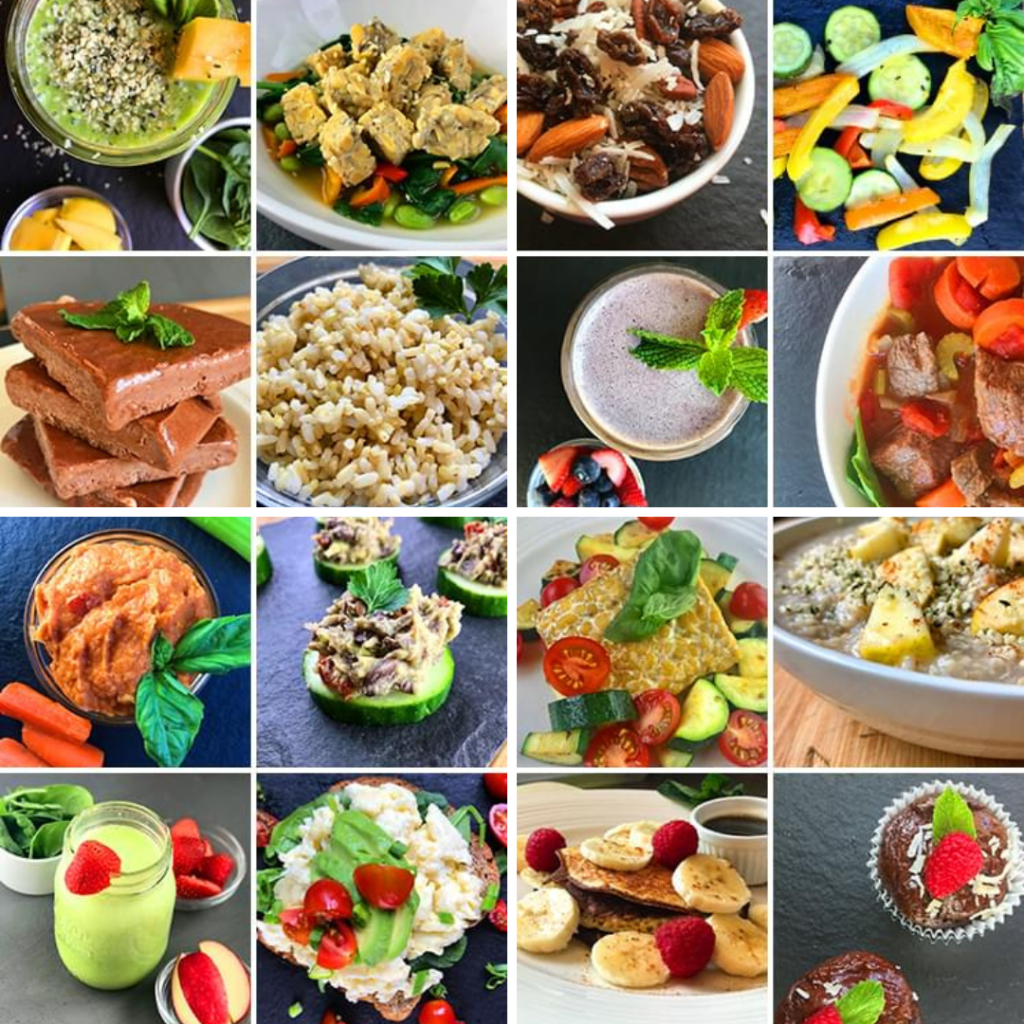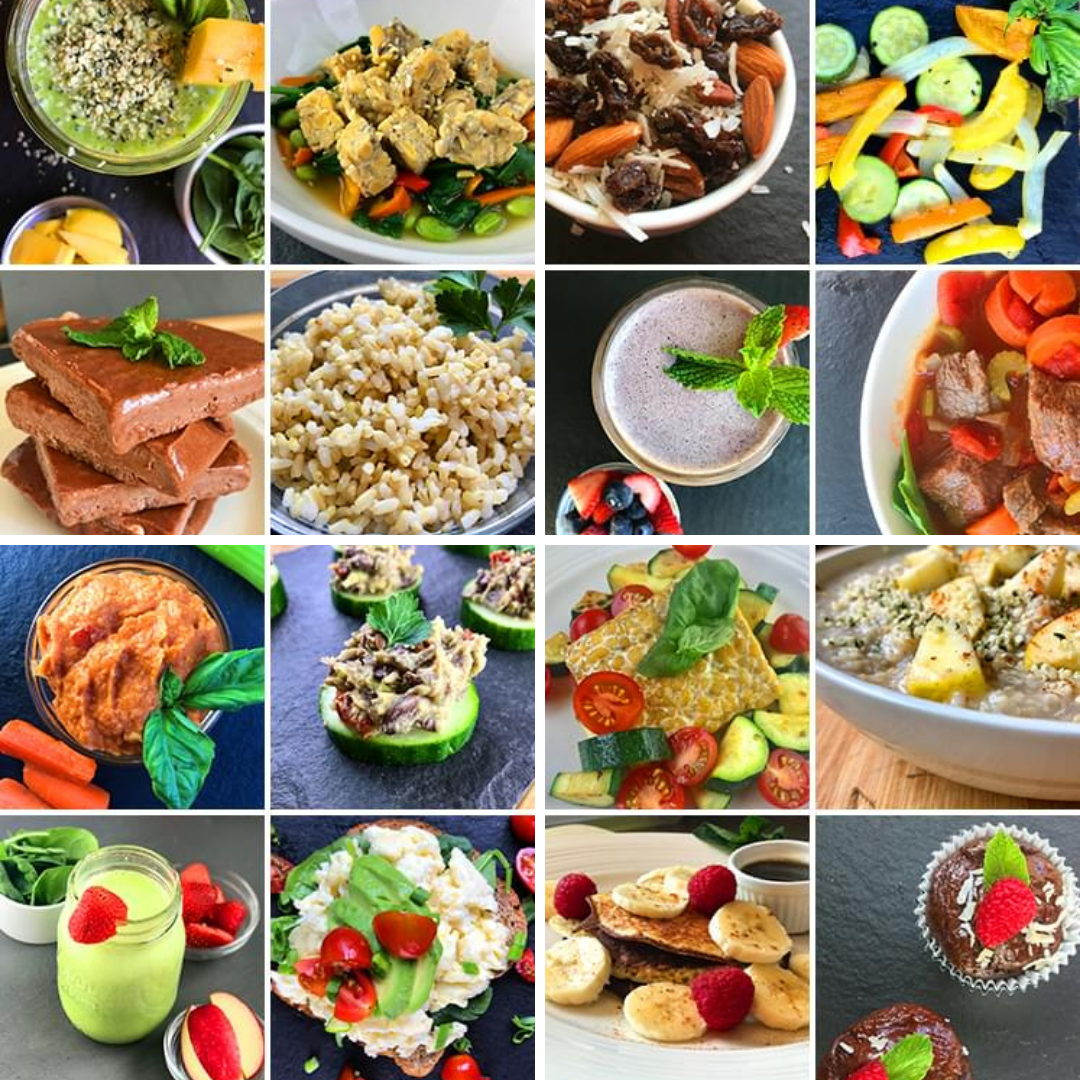 The 30 Day Challenge Meal Plan includes all the recipes and grocery lists for breakfasts, smoothies, sides, snacks and entrees for 4 full weeks – with plenty of delicious options and structure to help you eat right for YOUR life!