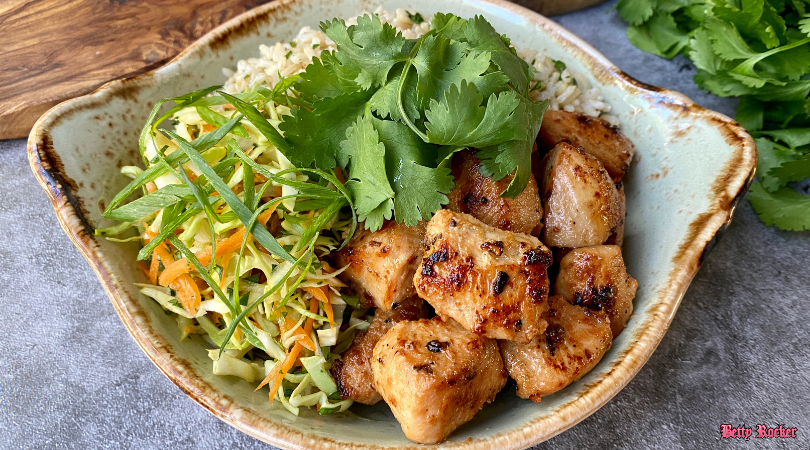 If you enjoy Chinese takeout, you will love this 30 minute Orange Chicken recipe. Classic orange chicken is deep-fried and coated in a sugary orange sauce which while tasty, isn't always the healthiest option to help us reach our goals.
The good news is that you can make a healthier, delicious version at home. I wanted to keep the same flavors and textures, but really lighten things up with whole foods and an amazing healthy orange chicken sauce. I've also included a vegetarian option for you using tempeh in case you would like to experiment with a different protein or prefer not to eat meat.
Lets take a look at how the ingredients in this recipe support your body: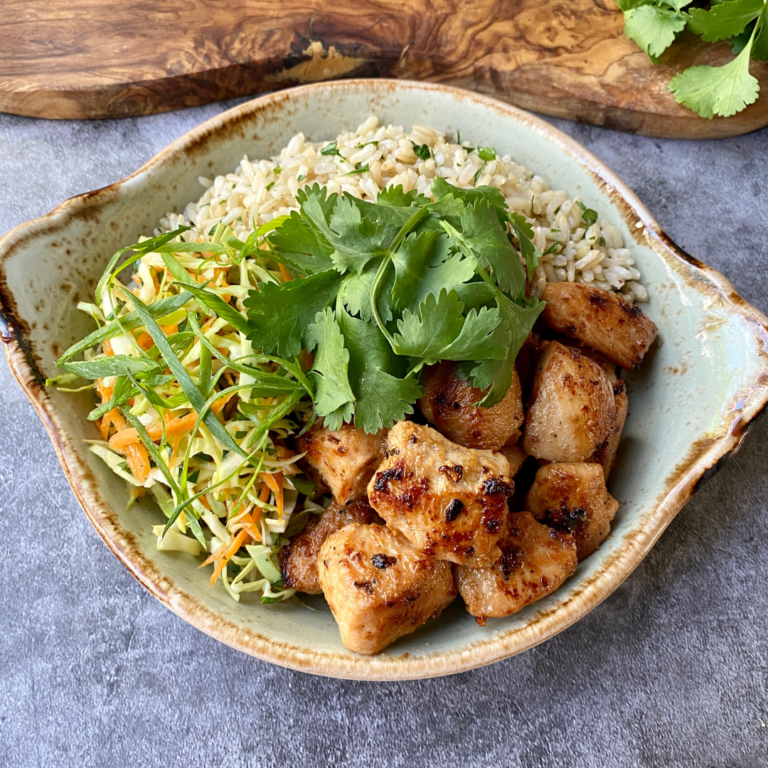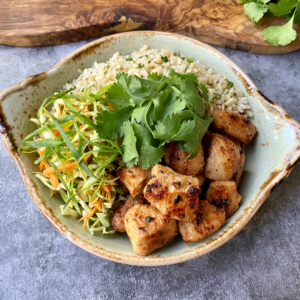 Garlic, especially raw, is rich in sulfur compounds. Sulfur compounds are important in our diet as they help regulate our blood pressure (1). Garlic can help improve your iron metabolism, and may help regulate fat cell production (2).
Ginger is well known as an anti-inflammatory food, and its volitale oils are powerful scavengers of free radicals. It has been valued for centuries for its herbal medicinal properties, and has proven antiparsite, antimicrobial and antifungal capacity (3).
Oranges are packed with vitamin C which protects your cells from damage and boosts your immune system. It can also lower your levels of the stress hormone cortisol – your body's flight or fight response – reducing stress and anxiety (5).
You can serve the chicken with cauliflower rice, rice, quinoa, or even a side of vegetables, such as seasoned cabbage and carrots.
Interested? I don't blame you. This delicious chicken tastes great and is good for you too!
Orange Chicken Bites
Yield: 4 servings
You will need: cutting board, knife, measuring spoons, skillet, large bowl
Key: T = Tablespoon; tsp = teaspoon
Ingredients: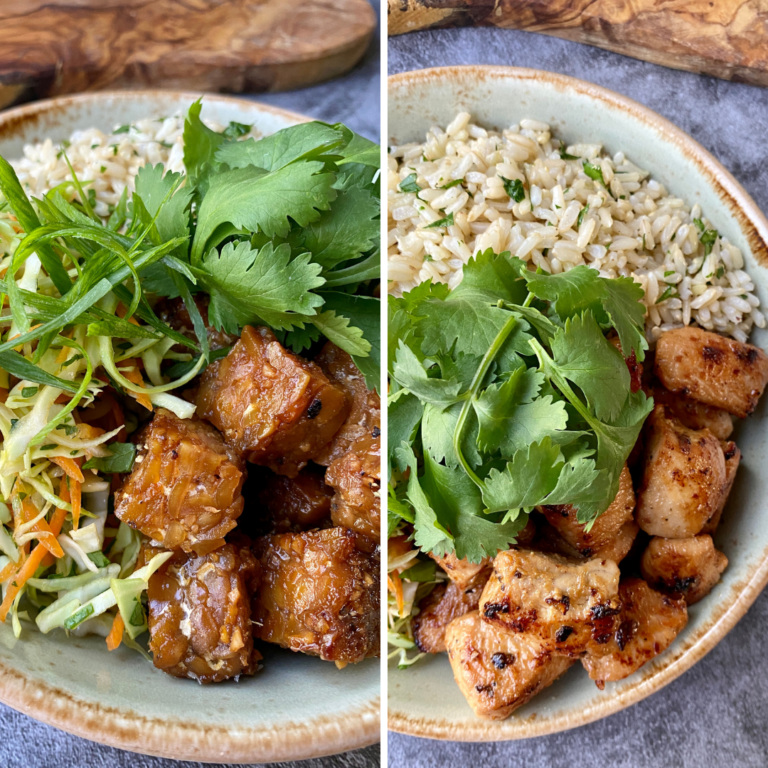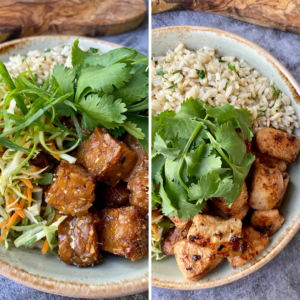 1 1/2 lbs boneless, skinless chicken breast or 16oz tempeh cut into bite-size pieces
1 orange, juice of
2 T tamari or low sodium soy sauce
1 T fresh ginger, grated
3 cloves garlic, minced
1/2 tsp sea salt
1/4 tsp black pepper
3 T fresh cilantro leaves, chopped
Directions:
1. Combine chicken, orange juice, tamari, ginger, garlic, salt and pepper into a mixing bowl and stir to cover all the chicken pieces.
2. Cook in a large skillet over medium-high heat until the juices have mostly evaporated, and the chicken is cooked through. This will take about 10 -15 minutes, but cook times may vary.
3. Remove from heat and optionally garnish with chopped cilantro. Serve with any sides you like. I used wild rice and a side salad.
Nutrition Facts
Calories per Serving:

225
Enjoy Rockstar! Let me know if you make this and how you serve it. I always love hearing any recipe variations you make and how you enjoyed it.
---
Want more delicious recipes?
Boost your metabolism, burn fat and infuse your system with amazing delicious food with the Body Fuel System!