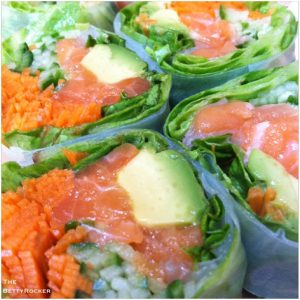 Last week I was on the road to teach a Whole Foods cooking class, and an Anatomy lecture Saturday at my favorite Denver gym, Qi.
Traveling present some unique challenges, especially when we're sticking to our clean-eating lifestyle – which is why I always look for healthy grocery stores to pick up a few clean eats.
Sticking to the Body Fuel System travel guidelines, I ate these delicious Pacific Salad Rolls for lunch at Whole Foods. They're so delicious – and easy to make at home.
Yield: 2-3 servings
You will need: bowl, knife, cutting board
2-4 Rice paper rounds/spring roll wrappers (find with noodles in an Asian market, or with Asian foods in your grocery store)
1 medium sized carrot
1 daikon radish
1 Cucumber
1 Avocado
4 oz Sushi grade salmon or tuna
Shredded Romaine or leafy dark green of choice
1. Fill a bowl with warm water.
3. Remove from water and place on a cutting board or clean work surface. Let it rest for 15-20 seconds.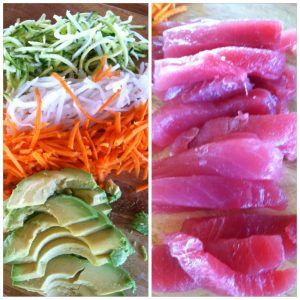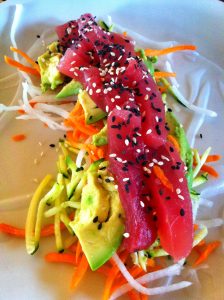 7. If there is space at the ends of your filling, wrap them up like a burrito, then roll the entire thing together. If the paper is a little dry, you can add a little more water, working it on with your fingers.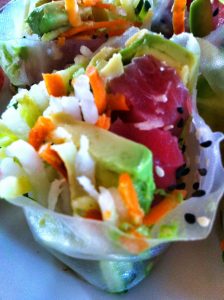 9. Eat immediately, or within the day – especially if using sushi grade raw fish.
**You could easily make this vegetarian using tofu, or leaving out the fish. Get creative with your fillings, add pesto or hummus.