Paleo Friendly Gingerbread Protein Donuts with (optional) Dark Chocolate Maple Glaze
YES. Fall is here and I am CRAVING gingerbread!!
These protein donuts make a delicious family-pleasing treat that's actually pretty darn good for us!
I made these babies in our live Challenge Class Tuesday night – we did our fat burning, body sculpting challenge workout and talked about all the health benefits of the ingredients in these fabulous donuts while I was baking them! ️
Here is the recipe – and I want to thank Lexi from Lexi's Clean Kitchen for the inspiration for this recipe – check her out, she's adorable and has great recipes!
Donuts
3/4 cup almond meal flour
1/4 cup (about 2 scoops) protein powder – or leave it out and use an additional 1/4 cup of almond meal
1/4 tsp baking soda
1/3 cup unsweetened applesauce
3 T honey
pinch sea salt
3 egg
1/4 tsp vanilla extract
3 T coconut oil
2 T organic, unsulphured blackstrap molasses
Betty Rocker signature Spice blend (I usually double or triple this recipe and keep it on hand to add to a variety of Fall recipes):
1 tsp cinnamon
1/2 tsp cardamom (sub nutmeg if you don't have cardamom)
1/2 tsp ginger
1/2 tsp cacao powder
1/4 tsp cloves
1/4 tsp allspice
1. Preheat oven to 350.
2. Combine dry ingredients.
3. Combine wet ingredients and add to dry. Mix well.
4. Spray donut pans (you could easily use muffin tins if you don't have a donut tin yet) with a little cooking oil spray, and spoon batter in to about 1/2 – 3/4 of the way full.
5. Bake for 15 minutes and cool on a cooling rack.
6. Optionally add glaze.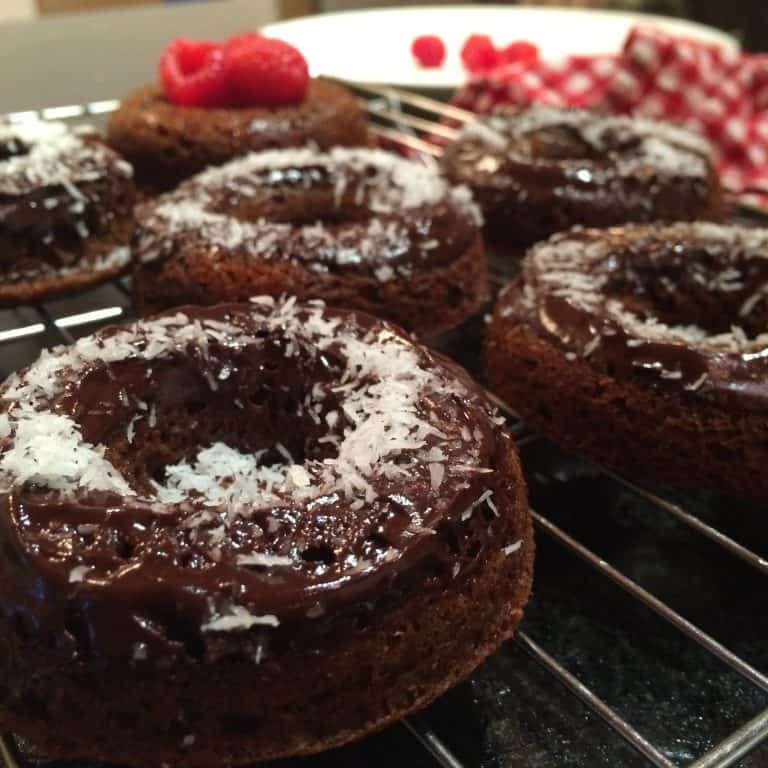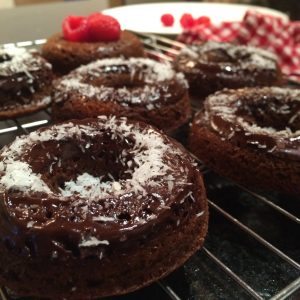 Glaze
1/4 cup dark chocolate pieces (70% or higher recommended)
1 T coconut oil
1 T maple syrup
1 T blackstrap molasses
1. Melt together over low heat. Use a double boiler for best results.
2. Dip donuts.
3. Optional toppings – coconut flakes, cacao nibs, fresh berries
Check out some of the highlights from this week's Challenge Class –
We made these awesome donuts, did our workout as a group, and talked about how we are finding balance between our work, workouts, families and life!