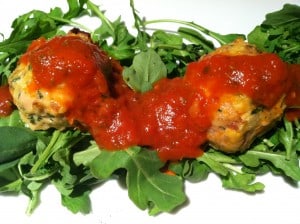 I have to share with you the turkey meatball recipe I've been working on (and noshing on, like weekly).
I'm a big fan of turkey because:
It's a member of a group of high-protein foods (that also includes tuna and eggs) that can help regulate post-meal insulin levels.
It's an excellent source of selenium and Vitamins B3 and B6
It's high in protein
Certified Organic turkey is my top pick, because the turkeys have been raised on organic feed, and the meat is far less likely to contain contaminants
Right now the top 3 lean proteins I'm including in my diet include buffalo, fish (almost any kind) and turkey. I'd been making buffalo burgers with a version of this recipe, and then got inspired to tweak it a little and make meatballs.  Let me know how you like them by commenting below!
---
Turkey Meatballs
Yield: 16 meatballs
Servings: 4 meatballs
You will need: Grater (or food processor), garlic press (optional), medium-sized mixing bowl, knife and cutting board, measuring cups, cookie sheet, olive oil cooking spray
1 lb ground turkey (I get half breast and half thigh ground mixed)
1/2 cup almond flour
1 egg
1 small yellow onion
1/2 cup baby carrots, grated
3-4 cloves garlic, peeled and pressed (or minced)
1/2 cup parsley
1/2 cup fresh basil
1/4 tsp salt
Fresh black pepper to taste
1. Preheat oven to 350.
2. Prepare vegetables: peel the onions and grate them. Grate the carrots. Finely chop parsley and basil. Peel and press (or mince) garlic.
3. Add ground turkey to a medium sized bowl, and add in the onions, carrots, parsley, basil and garlic. Season with fresh ground pepper and a little salt.
4. Beat the egg in a separate bowl and add it to the meat mixture.
5. Add the almond flour, and mix everything together.
6. Form meat mixture into 16 evenly sized meatballs with your hands.
**hot tip: be very aware when handling raw meat to use either a separate cutting board that's just for meat, or be sure to thoroughly wash everything with soap and water.
7. Spray a cookie sheet with olive oil cooking spray and evenly distribute meat balls.
8. Bake for 35-40 minutes.
I serve my meatballs over a bed of mixed greens, and top them with Organic Tomato Basil Pasta Sauce. Delicious!
Nutrition Facts
Serving Size:

4 meatballs
Calories per Serving:

280
---