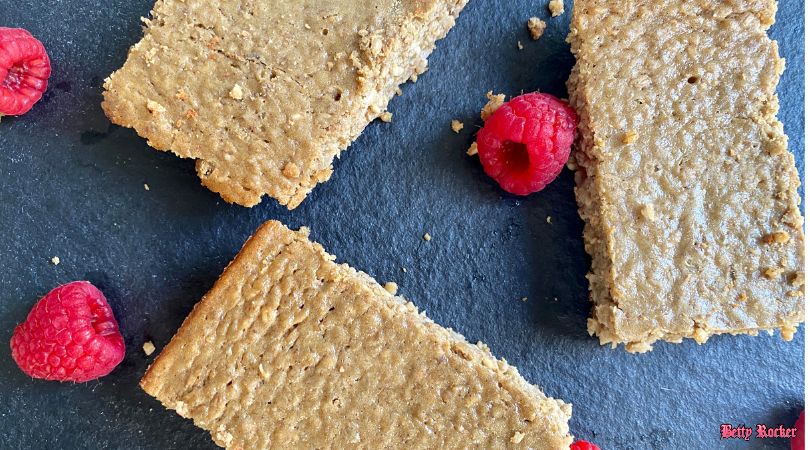 These peanut butter baked oatmeal bars are easy to make, delicious and packed with all of the nutrients you need to start your day! They are perfect for a grab and go breakfast or a quick and healthy snack.
Peanut Butter Baked Oatmeal
Yield: 4 servings
You need: measuring cups and spoons, square baking dish, cooking oil spray, mixing bowl, mixing spoon
Key: T = Tablespoon; tsp = teaspoon
Ingredients: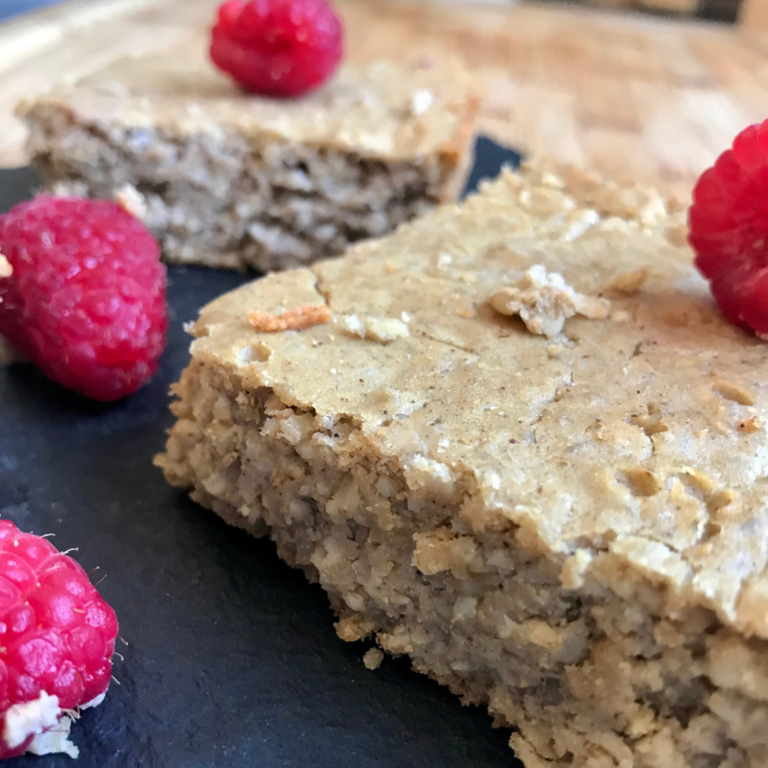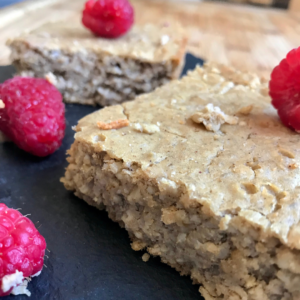 1 cup steel cut oats, pre soaked and drained (or use regular rolled oats) – my method for overnight oatmeal*
1/4 cup peanut butter (or any other nut butter or sunbutter)
1/2 banana, mashed
2 servings (60 grams) I ❤️ Vanilla protein powder
1 T coconut oil (melted)
1 tsp cinnamon
1 tsp baking powder
1 egg
2 T maple syrup or honey (taste it, see if it's ok with this amount or if it needs more)
pinch of sea salt
1 cup unsweetened almond milk (or milk of choice)
Instructions:
Preheat oven to 375 F. Coat an 8×8" baking dish with oil.
In a large bowl, combine the soaked oats, peanut butter, protein powder, banana, coconut oil, cinnamon, baking powder, egg, maple syrup and salt. Stir until smooth.
Add almond milk and stir. (The mixture might be quite liquid) Pour mixture into the baking dish.
Bake for 40-50 minutes or until oatmeal is set and the center is fully cooked. Allow to cool before slicing.
Top with additional nut butter, fresh fruit, or Greek yogurt (if you can tolerate dairy).
* "Overnight Oatmeal" refers to soaking steel-cut oat (groats) in water overnight with an acidic medium like lemon juice, apple cider vinegar or yogurt.
The ratio is 2 cups water to 1 cup oats, and approximately 1 T of acidic medium per cup of water. This helps to slightly break down the grain's natural external coating, making it easier to digest and faster to cook. You would strain this water off before cooking, and also rinse the oats. Then cook in fresh water, with a 1:2 ratio of water to oats.
For this recipe, you would not get to that "cooking" step, instead simply draining off the soaking water and rinsing the oats, and then using that to make this recipe.
Nutrition Facts
Calories per Serving:

401
Enjoy! Let me know if you make this and what you topped it with – I love hearing from you!
---
I ❤️ Vanilla Protein is a 100% ORGANIC, high protein (20g per serving), nutrient-dense whole food protein powder combining 4 plant-based protein sources into a delicious vanilla shake to support an active lifestyle!
If you are following a healthy lifestyle, you'll love the energy and vitality you get each time you shake it, bake it, or blend it up with I ❤️ Vanilla Protein!