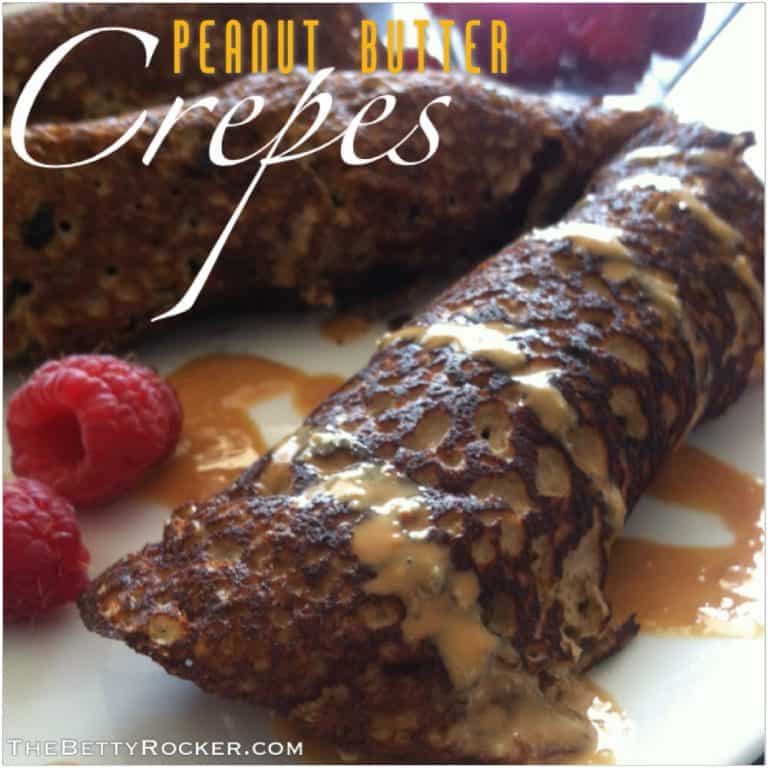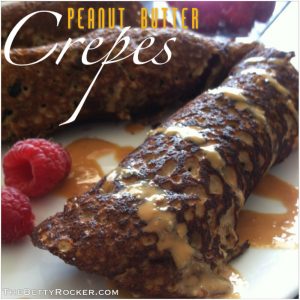 I was totally craving peanut butter the other day, and decided to try my hand at a variation of one my favorite breakfast foods growing up: crepes!
My recipe has some protein powder to make these extra nutrient-dense (and extra delicious in my opinion), and while I was initially worried that they might not roll up well you can see the texture is perfect.
I used to be afraid to eat fat, because I thought it would "make me fat" but that is a total fallacy – there are some types of fat that are pretty bad for us, like the trans fats and hydrogenated oils that come in processed, frozen and many packaged foods – but the whole foods that contain fat are important to our bodies for many reasons.
(Read my Healthy Fat 101 Post right here for more about how fat supports your body, the best sources of it, and how to avoid thinking you need to eat "low fat" all the time)
Good fats, like the ones found in coconut oil and nut butter (and nuts, fatty fish, avocados and many other whole foods) help us feel full, preventing over eating and promoting healthy food intake. Fats increase our body's ability to absorb nutrients and vitamins from other foods, and form an important component of many body processes – not the least of which is our cell membrane.
Nut Butter: You could swap peanut butter out in this recipe for another kind of nut butter or even sunbutter if you're nut-free. Be sure to read your labels when buying any nut butter – the ONLY thing that should be listed on the ingredients is the nuts, and optionally a little salt.
Coconut oil – the other healthy fat found in this recipe – contains a type of saturated fat composed of medium chain triglycerides (MCT) which are more quickly broken down and metabolized by the liver than long chain tryglycerieds.  Studies have found that consuming this type of fatty acid reduces appetite – which can help prevent weight gain from overeating.
Enjoy the recipe, and let me know if you make it!!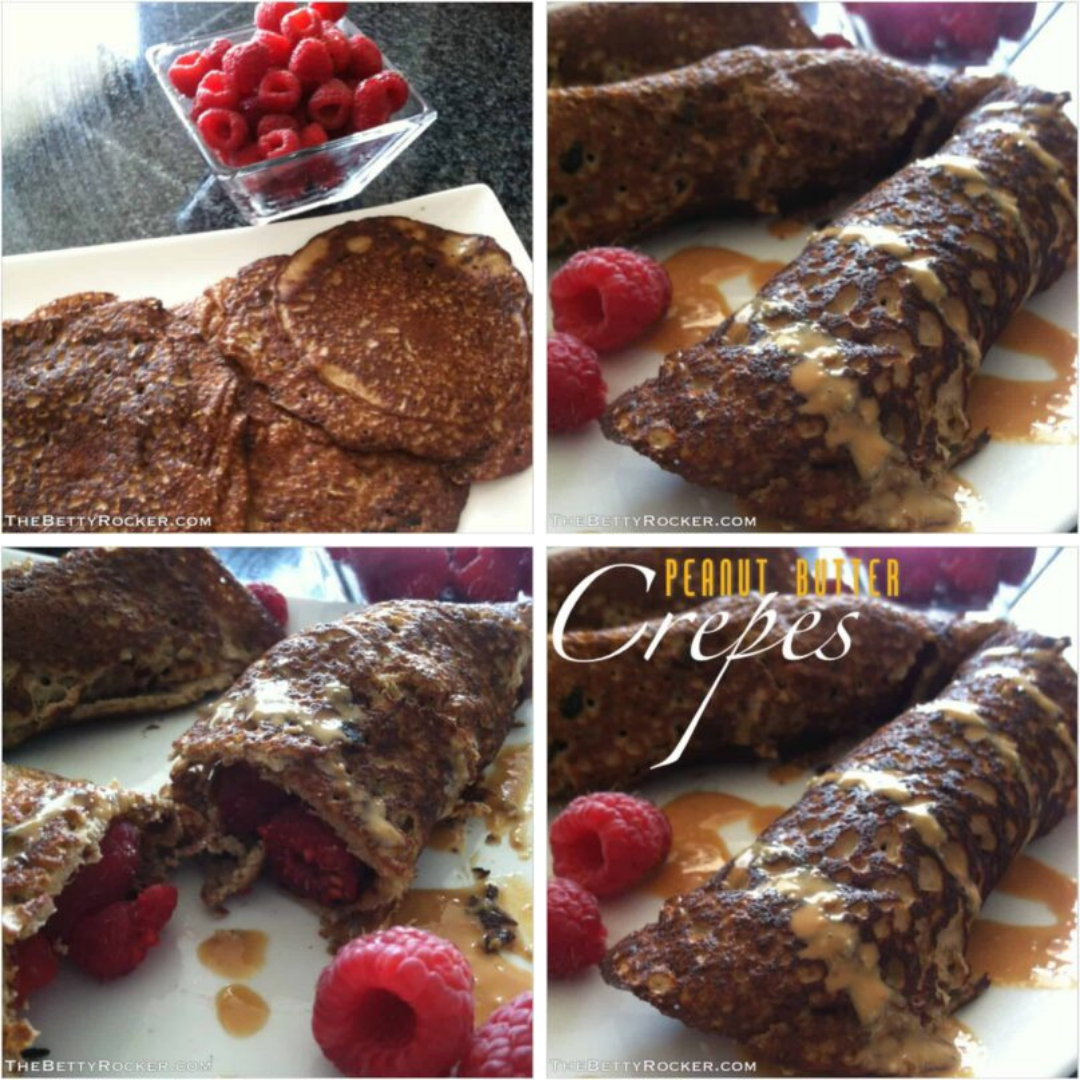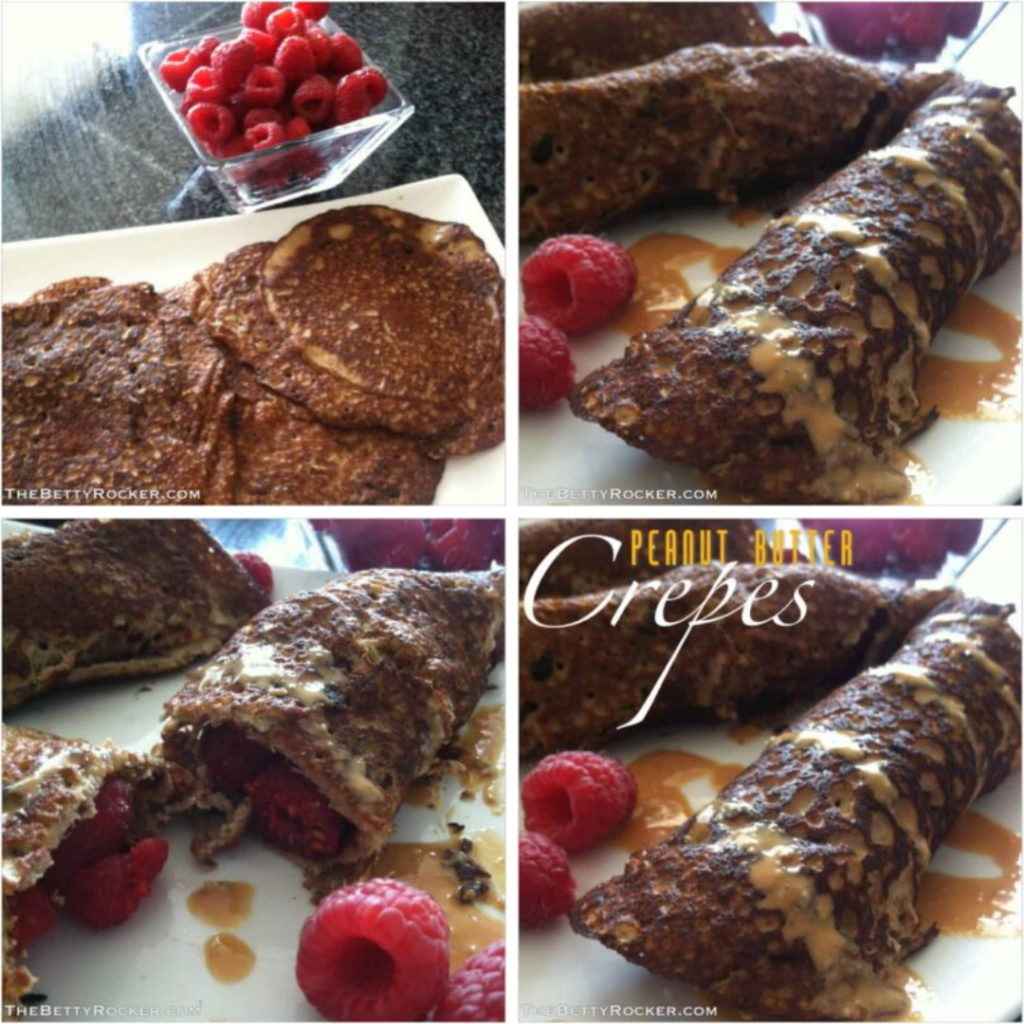 ---
Peanut Butter Protein Crepes
Yield: 1 serving
You will need: measuring cup and spoons, mixing bowl, whisk, skillet, spatula
1 T peanut butter (or other nut butter)
1 tsp coconut oil
1/4 cup egg whites
1 tsp vanilla
1 serving (30 grams) I ❤️ Vanilla Protein
1 banana
1/4 tsp salt
1/4 tsp cinnamon
Nutrition Facts
Calories per Serving:

411
Peanut Butter Topping
1 T peanut butter
1 tsp coconut oil
1. Combine peanut butter and coconut oil in a glass measuring cup or bowl and microwave for 15-20 seconds. Stir together.
2. Add peanut butter and coconut mixture to a blender or food processor, and add egg whites, vanilla, protein powder, banana, salt and cinnamon. Blend until an even batter forms.
3. Heat a medium-sized skillet to medium and coat lightly with coconut oil. Pour about 1/4 cup batter into the center of the pan, and tilt to spread the batter evenly into a circle.
4. When bubbles begin to form in the surface of your crepe, slide a metal spatula beneath it and turn to cook quickly on the other side. This recipe makes approximately 4 crepes.
5. Prepare peanut butter topping following the same method as step one.
6. Layer berries down the center of a crepe and roll up around it, drizzling a little of your topping over all. Serve and enjoy!
Garnish with fresh berries.
---
Love having healthy meals ready to go so you can enjoy great energy, stable blood sugar, support your immune system and sustainably burn fat off? Get the support of a healthy eating meal plan, and enjoy weeks of done-for-you meal planning, healthy recipes, grocery lists and prep steps.