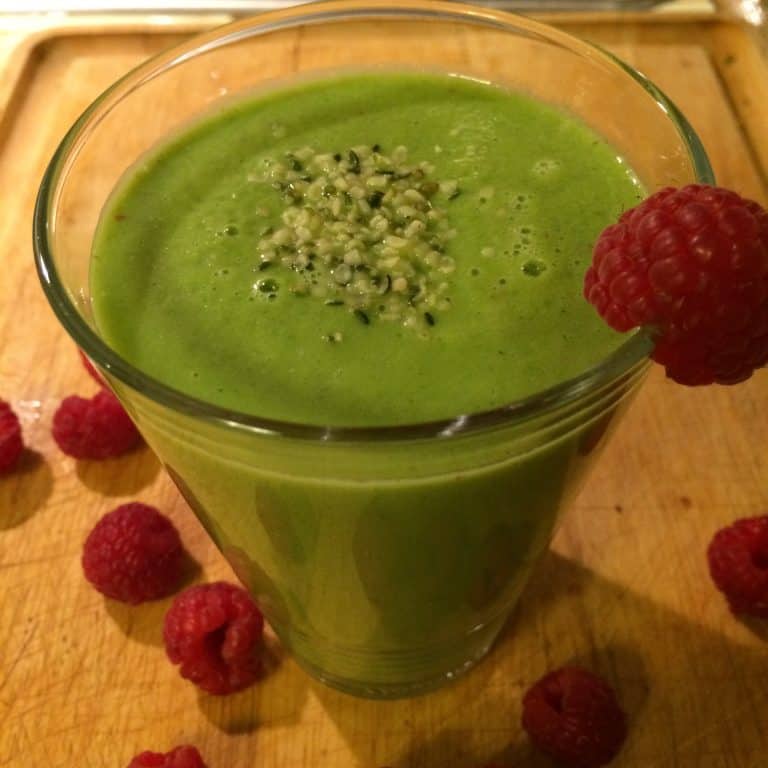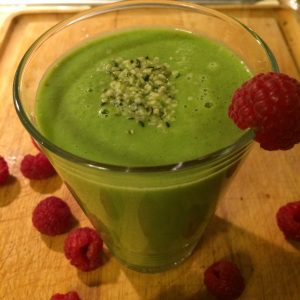 Drinking green smoothies is an excellent way to get a dose of healthy fiber.
This particular recipe will give you a combination of soluble and insoluble fiber – both an important part of a healthy digestive system.
Fiber will help you:
Maintain healthy and regular bowel movements – including fiber in your diet will decrease constipation and improve your bowel health and function.
Lower cholesterol levels – and check out my post about eating whole eggs. If you are worried about your cholesterol, that's a good post to read!Soluble fiber – found in apples, citrus, oats, peas, beans, barley, psyllium, and carrots  – can help lower our total blood cholesterol levels by lowering low-density lipoprotein (the LDL, or bad cholesterol) levels.
 Improve your heart health: fiber consumption has been shown to reduce blood pressure and inflammation. I want a healthy heart!
Control blood sugar levels by slowing down how quickly your body absorbs the sugar. A healthy diet that includes fiber can help reduce the risk of developing Type 2 Diabetes. This is so important to know – because controlling your blood sugar is a great way to prevent unnecessary weight gain. Knowing that including fiber in your diet daily can help maintain blood sugar levels and prevent sneaky weight gain is an awesome motivator for getting that daily green smoothie in!
Maintain and achieve a healthy weight: this is kind of  awesome. And when I say "healthy weight" that's totally subjective to your goals. It will help you dump excess fat from your body.
Here's how that works: your green smoothies are just bursting with healthy nutrients and fiber, and will make you feel full longer. The energy from them will last longer and be more steady than drinking espresso.
A lot of people ask me "is your recipe for one serving or two?" It's for ONE.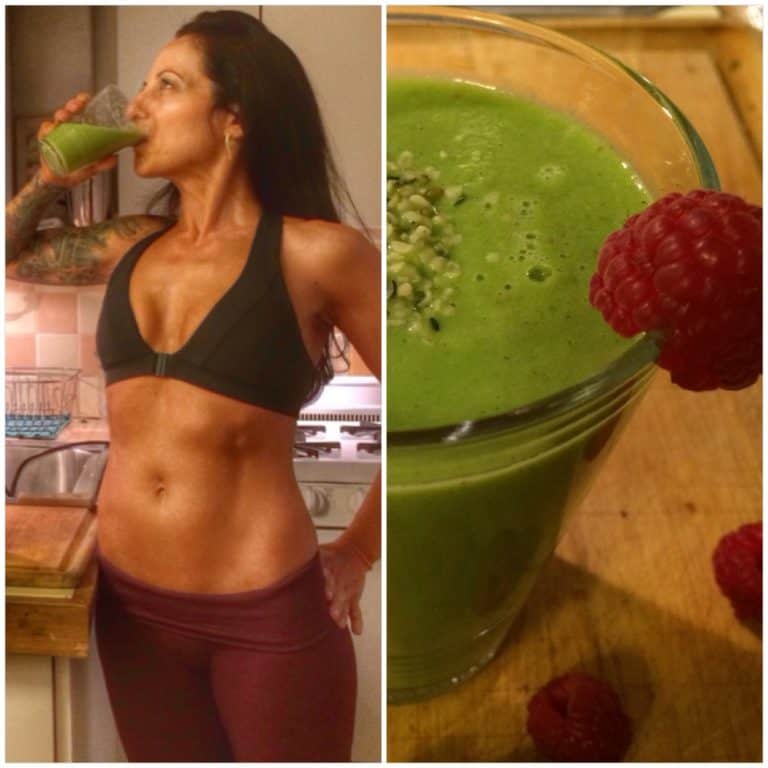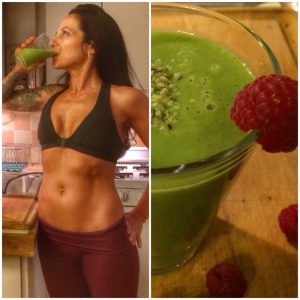 If you dumped all the smoothie ingredients on a  plate, you'd have a decent sized salad, right? Add a scoop of protein powder and you've got a complete (albeit small) meal that represents important macronutrients (protein, carbohydrates, fat) you need to support your activity levels. Eat half of it, and you've got half the energy.
Another note about high-fiber smoothies – they're going to help you reduce your overall total nutrient intake (if you're trying to lose body fat) without having to worry about the calorie count because they have fewer calories for the same volume of food – since their composition is made up largely of fiber.
Blending your greens and whole fruit helps pulverize the stalks, leaves, and skin of the plants so you can get all the benefits of fiber in your system,  but still enjoy the texture and taste of your smoothie – win, win, win!
So for today's smoothie, if you love pears and apples and Fall and Winter flavors, you are going to love this green smoothie.
---
Pear Crisp Green Smoothie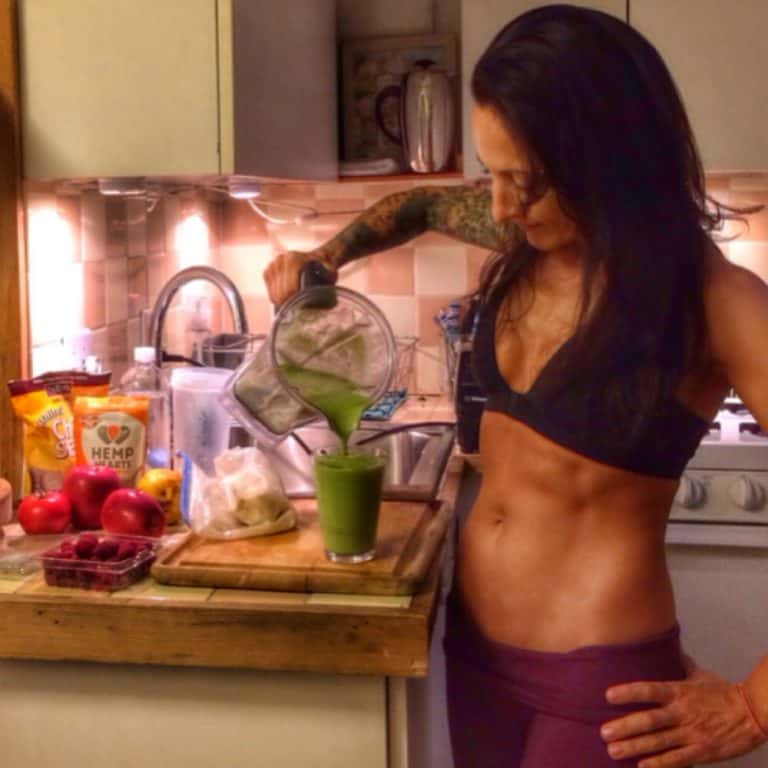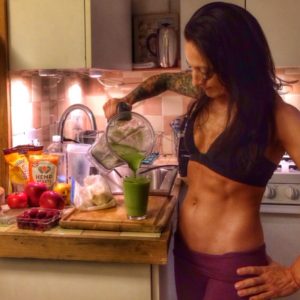 Yield: 1 serving
You will need: blender, knife, cutting board, measuring cups and spoons
2 cups mixed dark, leafy greens
1 pear
1 apple
1/4 cup fresh parsley
1/4 cup fresh mint
1 serving (30 grams) I ❤️ Vanilla Protein
1/2 lemon, juice of
1 – 1/2 cups almond milk – plain, unsweetened
Garnish: hemp seeds and raspberries
Nutrition Facts
Calories per Serving:

394
---
Need some help with healthy eating?
When planning for the week, I think about:
2-3 breakfast options I like 

A few entrees that could double as dinner or lunch 

A couple smoothie ideas that have complimentary ingredients to give you variety with your greens

A snack option like homemade protein muffins or an easy to make trail mix for days you're just hungrier and want a little more to eat.

Round out your plan with a couple of staple sides that you would like to have on hand daily like a big mixed greens salad and some rice, quinoa or easy to grab sweet potato chunks…
……and then make your grocery list around that.  
Or, you can let me make the whole plan for you, with so many delicious, easy and healthy recipes!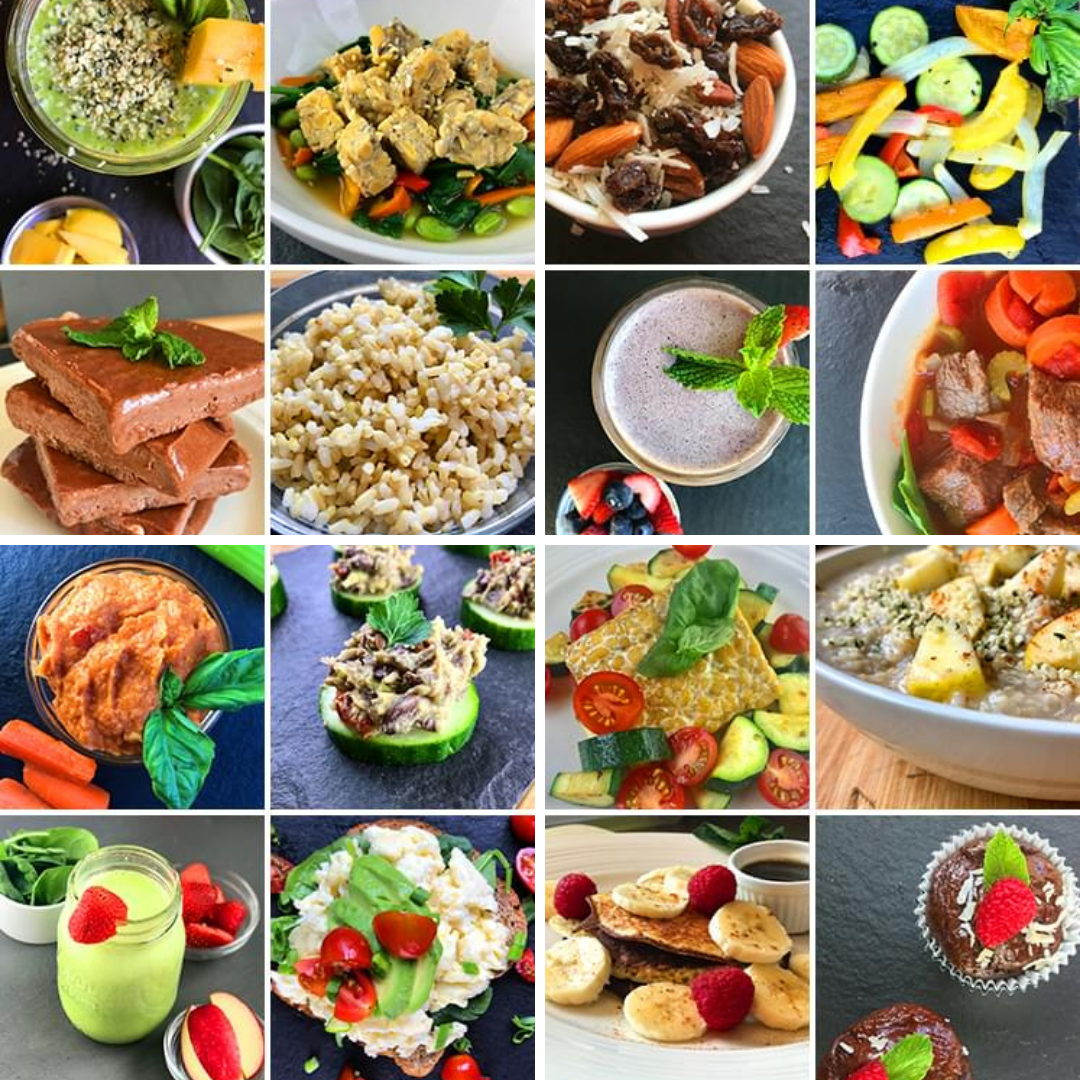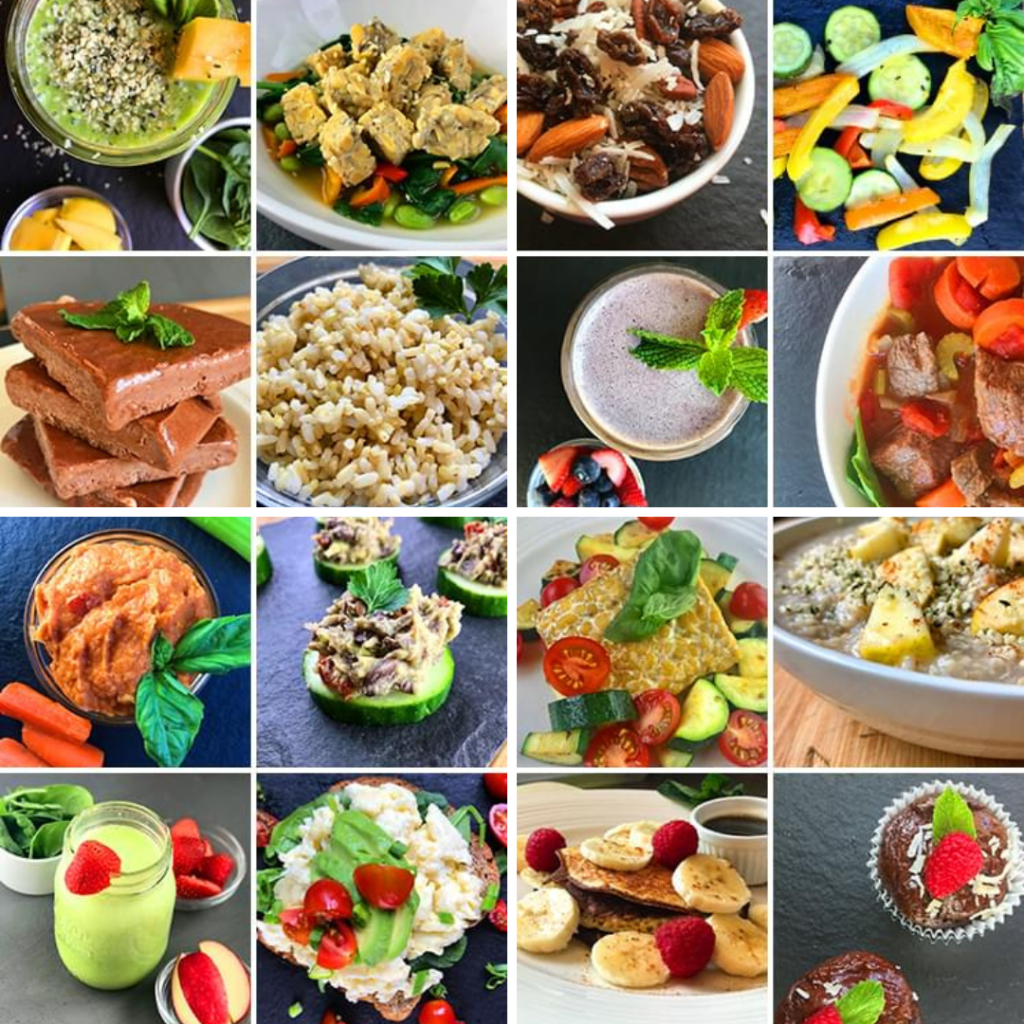 The 30 Day Challenge Meal Plan includes all the recipes and grocery lists for breakfasts, smoothies, sides, snacks and entrees for 4 full weeks – with plenty of delicious options and structure to help you eat right for YOUR life!