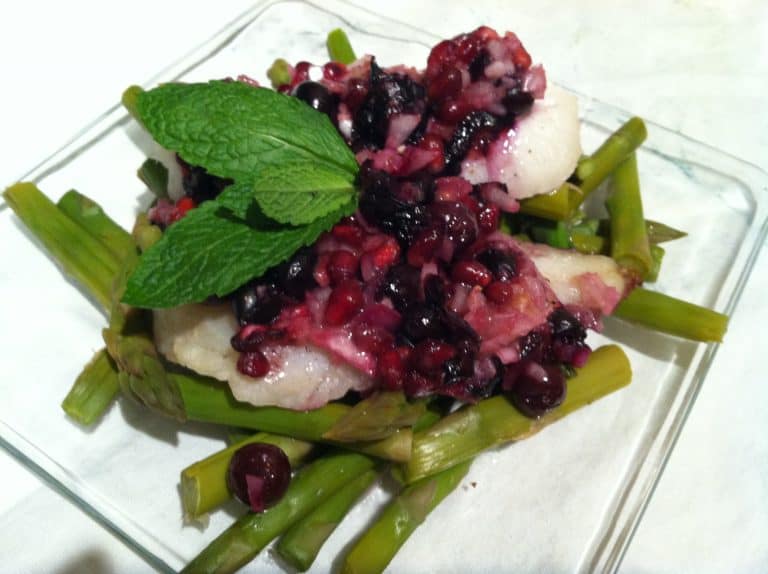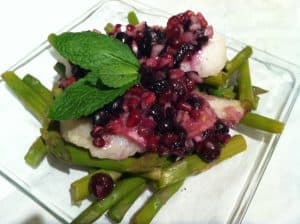 If you're looking for some inspiration for dinner that's high in protein, fiber – includes healthy fat – AND satisfies your sweet tooth, this is your season!
With an abundance of fresh fish, berries and vegetables, coming up with delicious and light concoctions that are packed with health benefits is as breezy as a Spring day.
For a great selection of fresh fish to have on hand anytime the mood strikes you, check out Vital Choice Seafood – you can order it straight to your house, frozen fresh. It's some of the highest quality and best tasting fish – and you can save 10% it using my link – or use ROCKER at checkout!
I really love pairing tart fruit with fresh fish – it's a great combo especially when you have fresh fruit in season.
Give this super easy recipe a try.
---
Pomegranate-Blueberry Baked Cod
Yield: 2 servings
You will need: measuring cups and spoons, baking sheet, knife, cutting board, mixing bowl, fork
2/3-1 lb cod
coconut oil
1 lemon
1/2 cup fresh blueberries
1/3 cup pomegranate seeds
1 medium shallot
freshly ground black pepper
1. Preheat oven to 350.
2. Spread a little coconut oil on a baking sheet and lay the cod on top. Rub some additional coconut oil onto the fish, and squeeze the juice of half the lemon over the top.
3. Finely chop the shallot.
4. In a small bowl, mash the blueberries. Add the shallot, pomegranate seeds, fresh ground pepper and squeeze in the remaining half of the lemon juice.
5. Spoon the mixture over the fish and bake for 12-15 minutes.
Serve over a bed of steamed asparagus.
Nutrition Facts
Calories per Serving:

237
---