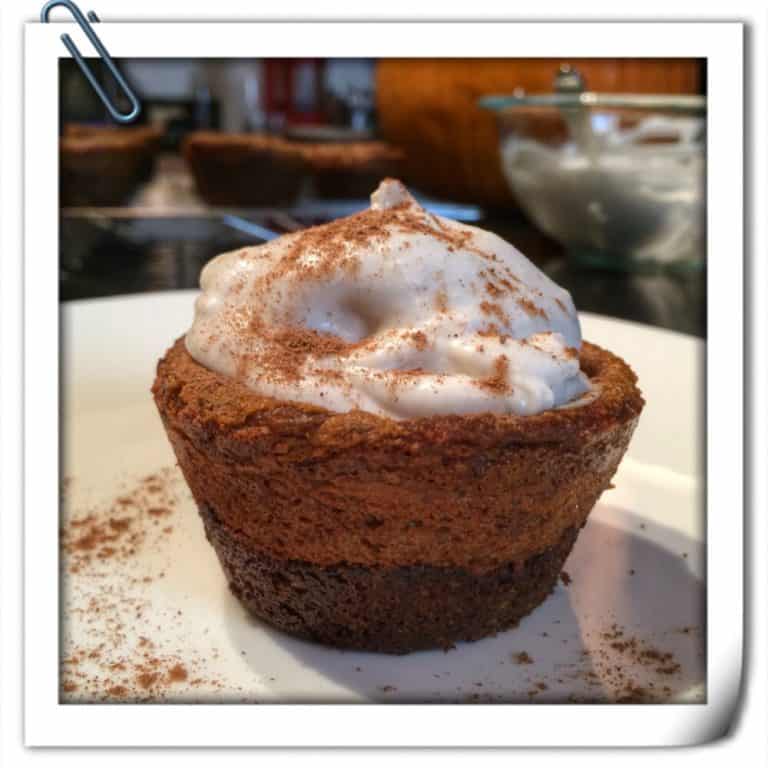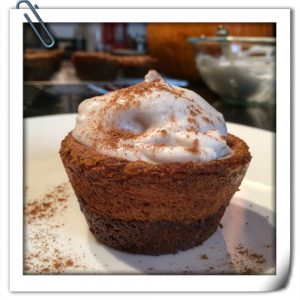 Do you have a favorite holiday dessert?
Mine has ALWAYS been pumpkin pie!
I've definitely made some changes to the recipe we had as kids…but it still tastes just as amazing as always.
This year, I wanted to do something creative with my pumpkin pie, so I turned it into tartlets.
You're going to absolutely LOVE this variation – it basically means MORE crust…and this crust is a variation of my famous Perfect Nut Crust that friends tell me they could just eat by itself over and over.
I could have stopped there – they're basically perfect – but I thought why not add just a dollop of coconut cream?
Why not indeed….
I've posted the recipe for all 3 layers of this tremendous and easy holiday dessert below for you – please comment and let me know if you try it, and how everyone liked it!
5 Ingredients in this Recipe that BOOST YOUR METABOLISM and KEEP YOU HEALTHY: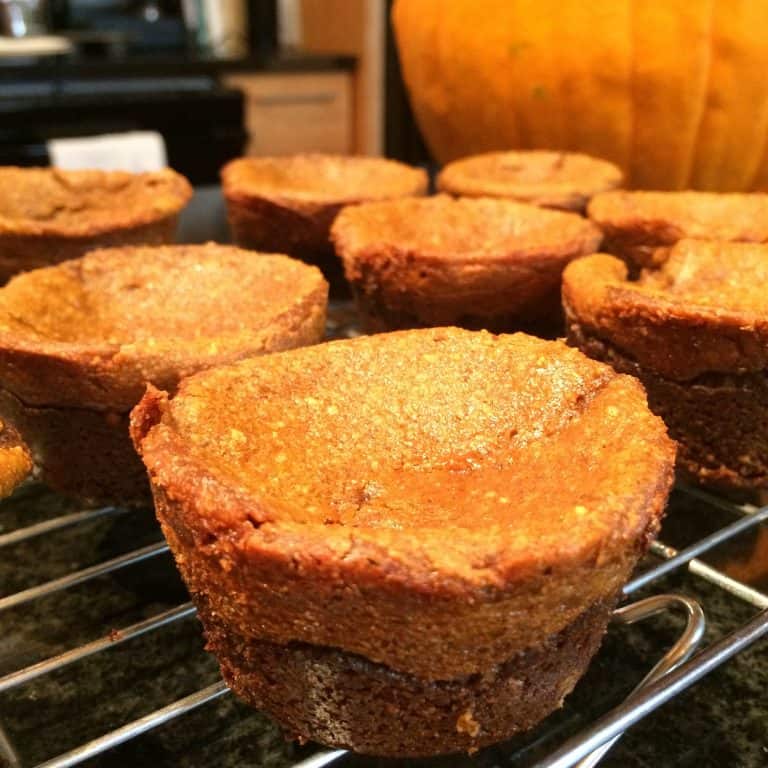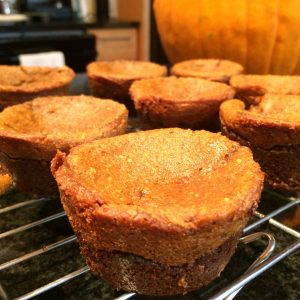 Pumpkins: pumpkin is an excellent source of dietary fiber, that keeps our blood sugar stable by slowing how quickly food gets digested. When our blood sugar spikes too rapidly, like when we eat a sugar-laced dessert, it triggers an insulin response that signals the body to store extra fat. Pumpkin is also an excellent source of Vitamins A, C and E – all powerful antioxidants that help keep us from getting sick.
Blackstrap Molasses: your mom may have told you that molasses is a good source of iron – and she was right! Iron supports our immune system, aids our energy production, and assists in brain and muscle function. But it's also an amazing source of potassium, which supports carbohydrate metabolism, improves bone density and helps regulate our blood pressure.
I take a tablespoon daily!
Cashews: cashews, like most nuts are high in antioxidants those scourges of free radicals that cause damage to our cells. But cashews also contain a ton of copper, an essential component in many enzymes which helps the body use iron helps the development of bone and connective tissue. It's also a great source of magnesium, an important mineral that balances calcium and helps regulate nerve and muscle tone.
I like them chopped up on my oatmeal!
Cinnamon: cinnamon slows the rate at which the stomach empties after meals, helping to keep our blood sugar stable. This is GOOD news around the holidays when so many foods are laced with added sugar that spike our insulin response, causing our bodies to store more body fat.
Add cinnamon to your coffee for a delicious natural flavor!
Walnuts: packed with antioxidants and healthy monounsaturated Omega 3 fat, walnuts will help you feel full faster, have 7g of protein per ounce, curb overeating and aid in brain function. They'll provide you with long-lasting energy that burns off fast!
Include these ingredients in your holiday baking and reap the rewards – and try today's recipe for maximum benefit!
Perfect Nut Crust Ingredients
Yield: 12 mini crusts
You will need: food processor, measuring cups and spoons, muffin tin
1 cup pecans
1 cup walnuts
1 tsp baking soda
1/4 tsp sea salt
1 T honey*
1 T maple syrup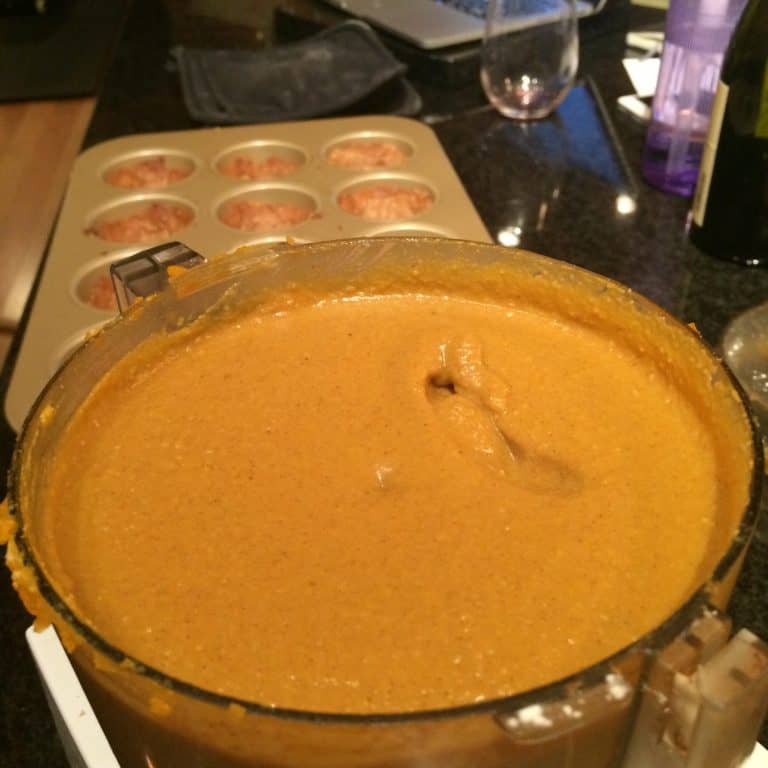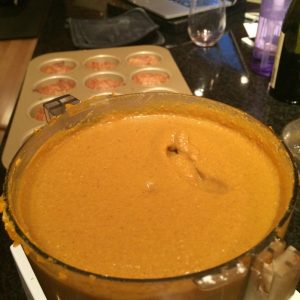 Pumpkin Pie Filling Ingredients
Yield: 12 tartlets
You will need: measuring cups and spoons, food processor, can opener, mixing bowl, whisk
2 1/4 cups pumpkin puree (1 15 oz can)
1 cup cashews, soaked for about 3 hours, then drained and rinsed
1/2 cup maple syrup
2 T tapioca starch
1 T blackstrap molasses
2 T almond milk
2 tsp vanilla
Betty Rocker Signature Spice Blend (make a double or triple batch and keep it around for smoothies, to add to lattes, add to your cereal, anything you think of!)
1 tsp cinnamon
1/2 tsp cardamom
1/2 tsp ginger
1/2 tsp cacao powder
1/4 tsp cloves
1/4 tsp allspice
Coconut Whipped Cream Ingredients:
Yield: 12 servings
You will need: can opener, whisk, measuring spoons, mixing bowl
1 can coconut cream, refrigerated for at least 4 hours (or freeze it for an hour or so!)
1-2 T honey
1/4 tsp nutmeg
Full Assembly Instructions: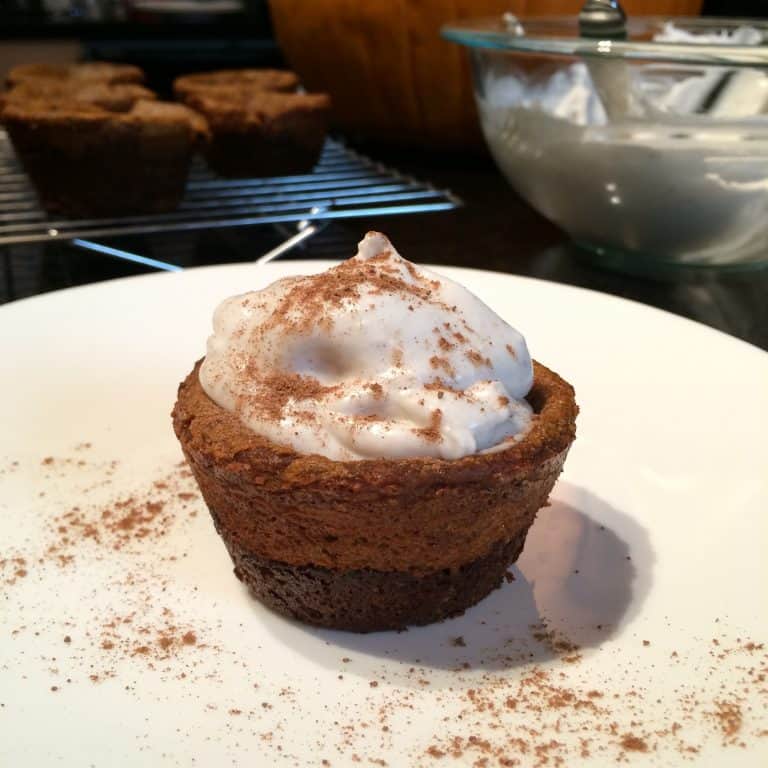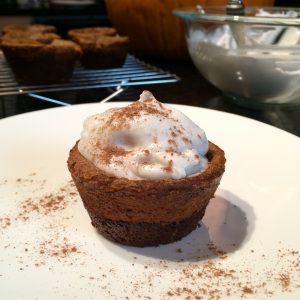 1. Turn your oven on to 350F.
2. To make the crust, place the pecans, walnuts, baking soda, and salt in your food processor and grind to a fine consistency.
3. With the processor running, add the honey and maple syrup and allow the mixture to form a dough.
4. Remove from the mixer and divide evenly between the 12 muffin tins. Press into each muffin tin so it goes up the sides.
5. Bake for 10 minutes, then remove to cool slightly while you make the filling.
6. For the filling, blend the cashews in the food processor until semi-smooth.
7. Add in pumpkin, maple syrup, tapioca starch, molasses, almond milk, and vanilla and blend well.
8. Add in the spices and blend again. Scoop by the 1/4 cup into the muffin tin.
9. Bake for 30 minutes, check with a cake tester, and bake for an extra 5-7 minutes if necessary.
10. Let them cool slightly and then remove from the tins to cool on a cooling rack.
11. To make the coconut whipped cream, take the coconut milk out of the fridge and open the can.
12. Scoop the thick cream off of the top and place it into a bowl. Be careful not to get the liquid at the bottom.
13. Whisk the cream and then add in the honey and nutmeg. Stir well.
14. Top the cooled pumpkin pie tartlets with the coconut cream.
Nutrition Facts
Calories per Serving:

369
---