Healthy Breakfast of Awesome!
I woke up craving something I have never had, how the heck does that even happen?
Started mixing things in a bowl and ended up with this totally delicious end result. I was so pleased at the taste and texture of this recipe I couldn't wait to share it with you!
If you're like me you've got a half used can of pumpkin in the fridge this time of year haha and it's fun to come up with recipes to use it!
This recipe is a great way to start your day, kefir and eggs are both excellent sources of protein and the cinnamon raisin bread is a low-glycemic complex carb that is sprouted, meaning some of those tough-to-digest proteins in the grains are partially broken down making it easier for your body to assimilate the nutrients it contains.
Pumpkin Spice French Toast
Yield: 1 serving
You will need: can opener, shallow dish, skillet, spatula, whisk, measuring cups and spoons
1/4 cup pumpkin (canned or puréed cooked fresh)
1 egg
1/4 cup egg whites
1/4 cup Kefir (Greek yogurt would also work but add a little water to thin it out, or use a non-dairy milk like almond or hemp milk)
1/2 tsp pumpkin pie spice
2 slices GF or Sprouted Grain bread
Mix.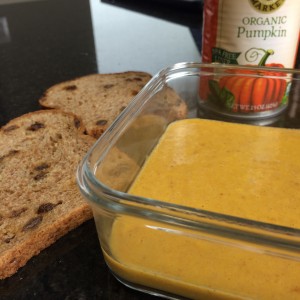 2 slices Ezekial cinnamon raisin bread (the batter makes enough for 2 servings, so 4 slices total)
Soak your bread on both sides, and cook in a preheated skillet until golden brown on each side.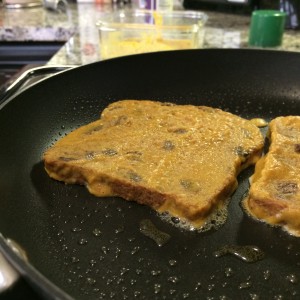 Topping:
Chopped nuts (optional)
2 tsp honey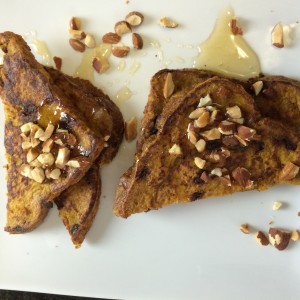 Be sure to check out my other Pumpkin spice Fall Recipes!