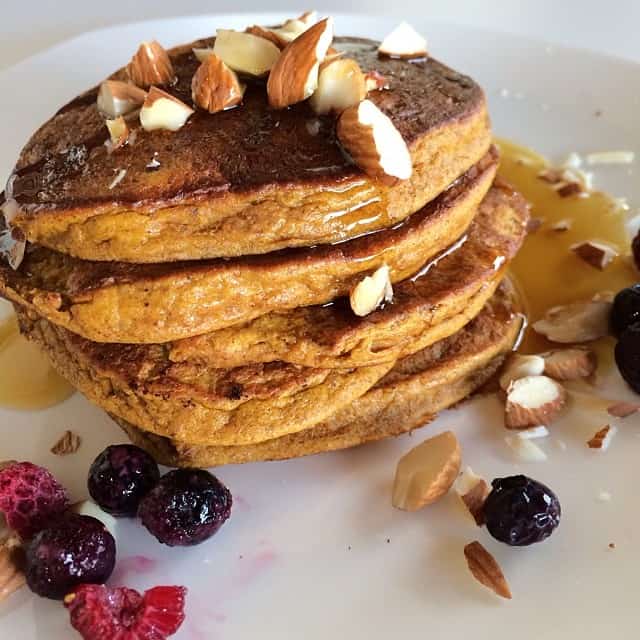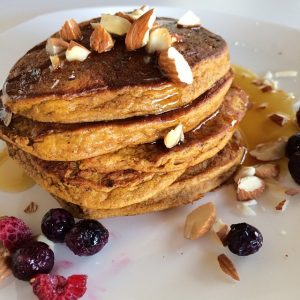 This week, I'm in beautiful Mill Valley on the edge of Muir Woods visiting my best friend for her birthday and for breakfast I raided her pantry and threw these delicious pumpkin pancakes together.
This recipe makes a tender, moist and delicious pancake –  and while I will continue to play with this recipe you should definitely try it out.
I love using pumpkin as a base for its nourishing complex carbohydrates that have plenty of fiber. And warm spices like cinnamon and cloves just seem to add the perfect compliment to any pumpkin dish – pancakes being no exception!
---
Pumpkin Spice Pancakes
gluten free, dairy free, grain free
Yield: 8-9 small/medium pancakes (2 servings)
You will need: mixing bowl, whisk, measuring cups and spoons, skillet, spatula, cooking oil
3 eggs
3/4 cup pumpkin purée
4 T flax seed meal
1/2 tsp baking powder
3/4 tsp cinnamon
1/2 tsp ground cloves
1/2 tsp ginger
1 T demerara sugar or coconut sugar or other natural sugar
2-3 tsp maple syrup (taste the batter til it's just sweet enough to balance the pumpkins and spice)
2 T almond milk
sprinkle sea salt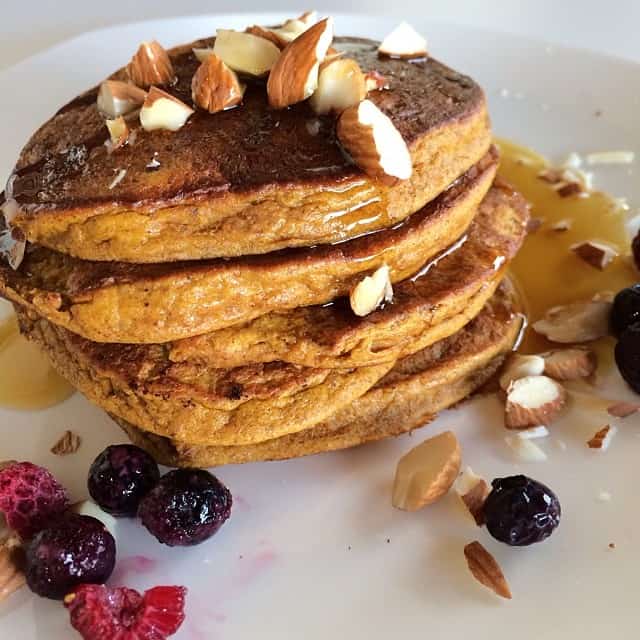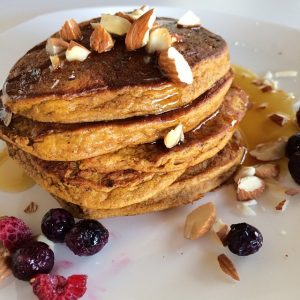 1. Blend everything in a small bowl or blender.
2. Add the sugar/syrup close to last to taste your batter and achieve desired sweetness.
3. You may add a bit more almond milk if the batter seems too thick, the eggs and the flax will really make a nice sticky blend.
4. Cook on a heated skillet (I used a bit of coconut oil) evenly on both sides – medium heat and keep an eye on them they are dense from the pumpkin but will cook.
5. Serve with berries (we had frozen) a bit of chopped almonds and some pure maple syrup or honey if you like.
Nutrition Facts
Calories per Serving:

260
---