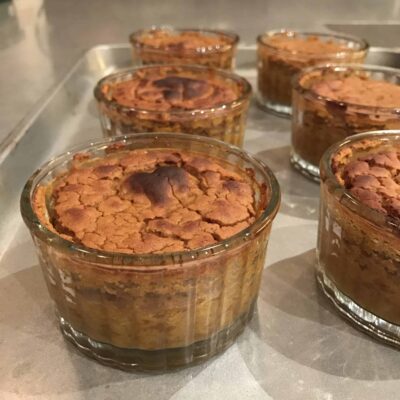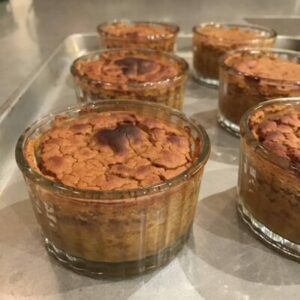 I got inspired to try making this recipe after having something similar as a dessert at a friend's house recently.
I've made it a few times now to test it, and it just keeps coming out amazing!
I'm excited to hear how you like it, so please leave me a comment and tag me on social with your pictures!
My recipe is gluten and dairy free, and you can vary things up a bit with different ingredients (I've noted them below), cook it in ramekins or a brownie pan and you'll have a well-balanced, delicious breakfast dish with all the flavors of Fall ready to go!
Pumpkin Spice Protein Breakfast Pudding
You will need: blender or food processor, measuring cups and spoons, 6-6-10 oz ramekins or a brownie pan
Yield: 6 servings
KEY: T = Tablespoon; tsp=teaspoon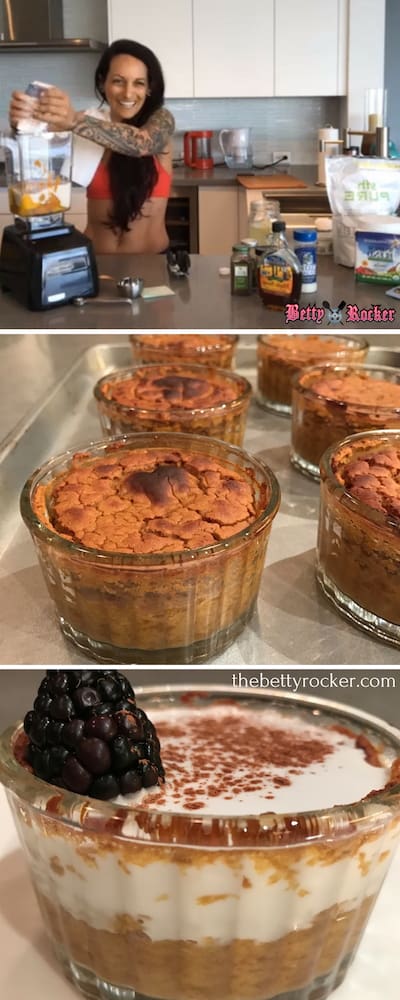 Ingredients:
1 15-oz can pumpkin puree (canned pumpkin)
2 eggs (if you don't eat eggs, make flax eggs. One flax egg is 1 T flaxseed meal + 3 T water)
1 can (13.5 oz) lite coconut milk
4 servings (120g) I ❤️ Vanilla Protein Powder
1/4 cup maple syrup – taste the batter and add more if needed – the amount will depend on how sweet your protein powder is
(you can also try honey, brown rice syrup, stevia, or other sweeteners of your choice – I won't be able to tell you the perfect equivalent amount as I have not tried making it with anything else yet – I would suggest adding conservatively and tasting your batter as you go)
1 tsp cinnamon
1/4 tsp ground ginger
1/4 tsp ground cloves
1/2 tsp sea salt
*this ingredient is optional, I just like to start my day with a well-balanced meal that includes healthy protein
1- Preheat oven to 350 F.
2- Add all ingredients to the blender and blend.
3- Pour into ramekins (I used 6- 6oz ramekins filled with the batter – you could also use 10 oz) or a brownie pan and bake for 40-45 min or until a toothpick inserted comes out clean.
TOPPINGS: I've used a few different toppings – things I like include coconut cream and berries, hemp seeds and Greek yogurt.
Nutrition Facts
Calories per Serving:

227
These are just SO delicious!! Please post a photo if you make them and let me know how you like them, what variations you made and who else at your house is enjoying them!
---
Looking for some healthy, easy recipes and a plan to make your life easier week by week?
Check out my meal plans for done-for-you planning that includes grocery lists, daily eating guides, options for prep and healthy cookbooks!