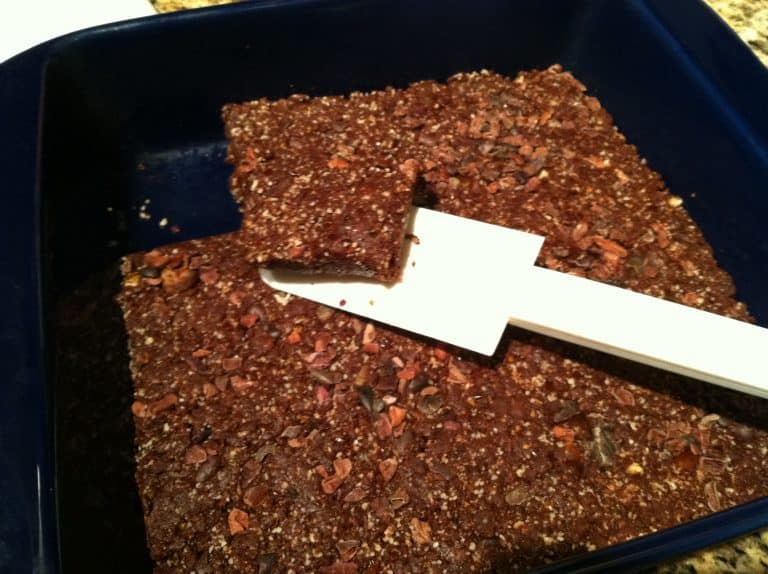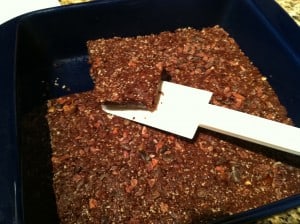 This easy recipe comes together quickly, and has just 3 main ingredients that have lots of energy-boosting nutrients.
I've adapted this recipe several different ways by changing the nuts I use. For this version, I used almonds because I love their flavor with the dark chocolate cacao – but you could also try out a combination of half walnuts, half almonds, or walnuts and pecans, or even cashews.
Cacao powder – and cacao nibs – are pretty easy to find these days at natural foods stores (I get mine in the bulk section or find them prepackaged in the specialty foods aisle).
Almond Cacao Energy Bars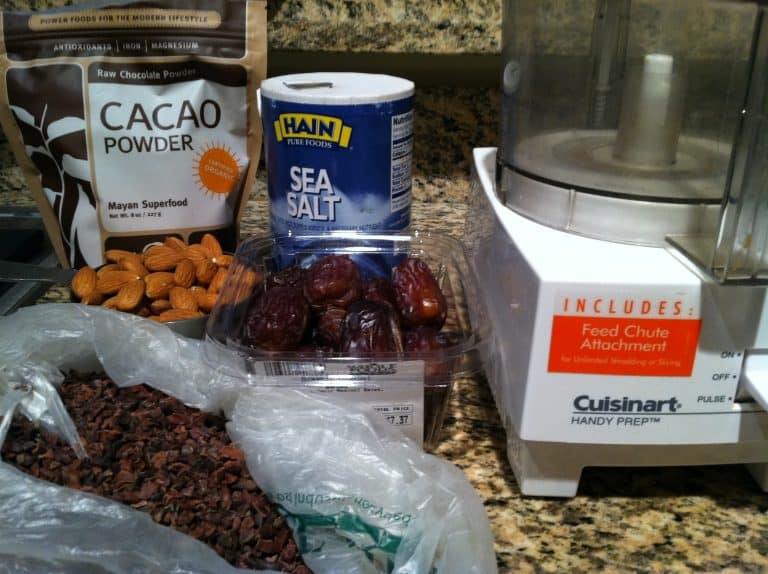 Yield: 12 energy bars
You will need: food processor, measuring cups and spoons, 9×9″ or 8×8″ baking dish
1 cup almonds (walnuts or other nut of your choice – try to find sprouted nuts if you can)1/2 cup raw cacao powder
1- 1 1/2 cup pitted dates (I use medjools)
1/2 tsp sea salt
1/4 cup cacao nibs
1. In the food processor, grind the almonds to a fine powder.
2. Add the cacao powder and sea salt and blend until well mixed.
3. Add the pitted dates, a few at a time. I say 1 to 1 1/2  cups of dates because you're looking for the mixture to cling together and different climates will make it act differently.
4. Your mixture should have a sticky, tar-like consistency when it's ready. If it seems really dry, you may add a few drops of water (or try espresso…it's awesome!).
5. Turn it out into an ungreased 9×9 baking dish and press the mixture down with your hands to distribute it evenly.
6. Sprinkle with cacao nips and press everything together with a spatula.
I keep them in the refrigerator as they are a bit easier to cut when they're chilled.
Nutrition Facts
Calories per Serving:

146
Ingredients Health Benefits:
Cacao: the raw, unrefined cacao bean in powdered form. Cocoa powder for baking and chocolate are all derivatives of the cacao bean.
Cacao is a rich source of antioxidants, magnesium, and fiber and moderate amounts of caffeine. Read the food labels when you're looking for cacao, the point is to find it raw and organic to reap the benefit of all of the plants nutrients; so look for things like "cold pressed" and "milled at low temperatures," as well as the USDA Organic label.
Dates give this recipe its sweetness, and are a good energy source. They are also a fiber-rich food, and contain vitamin-A, tannins and antioxidants like beta-carotene.
Almonds are a source of protein, calcium, healthy mono-unsaturated fat (which means minus the cholesterol), high doses of Vitamin E (again, more antioxidant benefits) and taste incredible.
If you're more of a fan of walnuts, this recipe is equally delicious with that alternative. Walnuts also contain Vitamin E, are a healthy mono-unsaturated fat and protein source.
---