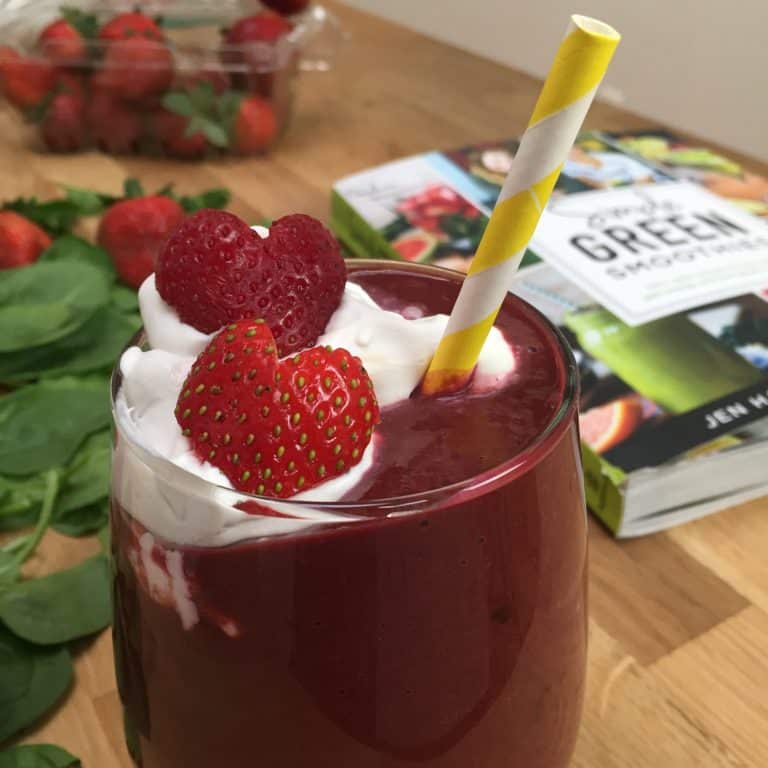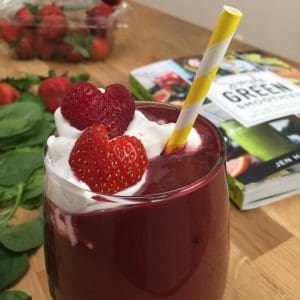 Today I want to share a delicious recipe with you from the brand new Simple Green Smoothies recipe book!
I couldn't be more excited to tell you about this cookbook – the authors are 2 good friends of mine, Jadah Sellner and Jen Hansard.
We met through Instagram 3 years ago and became instant friends over our shared love of smoothies, and our passion to get great, easily accessible health information into the hands of everyone we could reach.
If you want to check them out online, their instagram has a huge following and they post awesome photos and recipes! Here's a link to their BLOG too, with even more goodies!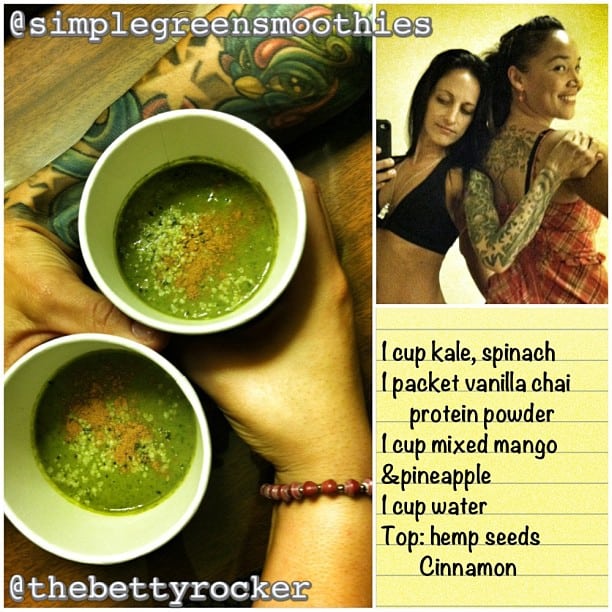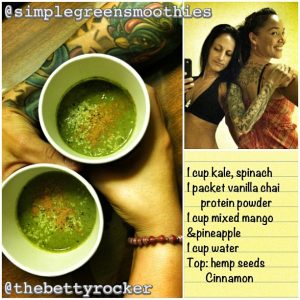 We've gotten to hang out in person and meet up at business events – I'll never forget the first time I met Jadah we were staying in a hotel in San Diego (pic on the right) and she brought her blender with her so we could make smoothies in our room!
The New Simple Green Smoothies Cookbook….
This amazing smoothie recipe book has been a long time in the making, and in it you will find incredible recipes for every kind of smoothie – including Energy Boosting , Natural Beauty, Kid-Friendly, Fitness Fuel, Healing and Immunity Boosting, Lean and Green, Smoothie Bowls, DIY Recipes and of course my personal favorite, the Dessert Smoothies….which is where today's incredible Red Velvet Smoothie recipe is from.
I actually made this for breakfast this morning and it was so incredibly delicious and satisfying I was fueled for over an hour and did my workout too!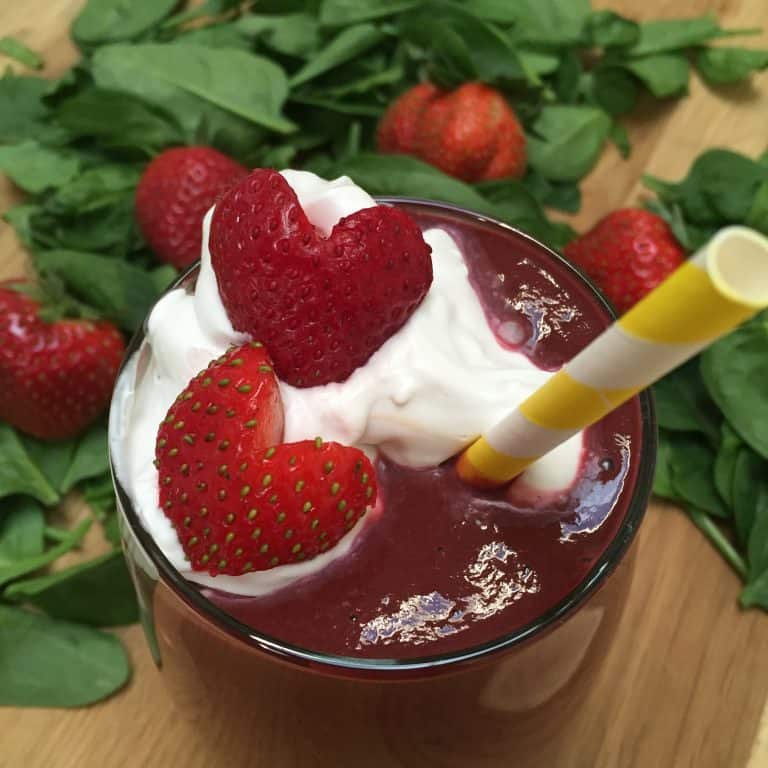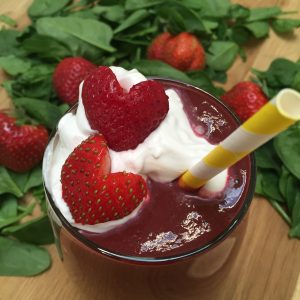 Having a convenient way to get superfood nutrients in our bodies in a quick, easy and family-friendly way is just AWESOME. Jen and Jadah include the BEST ingredients in the smoothies in their cookbook.
Here's some of the health benefits of what you'll be getting when you make THIS recipe:
Spinach: high in Vitamins K and A, Manganese and a good vegetarian source of Iron. Phytonutrients known for anti-inflammatory and anti-cancer properties. High in antioxidants (flavonoids and carotenoids). Vitamin K is great for bone health.
Coconut milk: full of medium-chain fatty acids, which are great for fat burning (adipose tissue). Balances your thyroid and normalizes cholesterol levels.
Strawberries: Full of antioxidants (especially Vitamin C) that help fight and prevent cancer. They also contain neurological disease-fighting and anti-aging compounds.
Dates: Easily digested and contain a lot of fiber, which helps remove LDL (bad) cholesterol from your colon. Also has a lot of Iron, Potassium, and B-Vitamins.
Beet: Naturally occurring nitrates in beets are converted to nitric oxide in the body, which helps lower blood pressure in a matter of hours. They are full of betaine, which helps fight inflammation in the body. They are also a powerful detoxifier.
Cacao: Raw cacao has more than 4 times the amount of antioxidants than dark chocolate and 20 times more than the amount in blueberries!
Red Velvet Smoothie
(makes 2 servings)
2 cups spinach
2 cups unsweetened coconut milk
2 cups strawberries
4 dates, pitted
1/4 cup peeled and chopped raw or cooked beet
1 T cacao powder
1/2 tsp vanilla extract (optional)
Homemade Coconut Whipped Cream (recipe below)
Blend the spinach and coconut milk until smooth.
Add the strawberries, dates, beet, cacao powder and vanilla and blend again. Pour into 2 glasses and top with coconut whipped cream.
Coconut Whipped Cream (bonus)
1/2 cup coconut cream
2 tsp maple syrup
1 tsp vanilla extract
Place a mixing bowl and whisk in the freezer for 5 minutes to chill.
Pour the coconut cream into the chilled bowl and whip until light and fluffy (peaks will form).
Add the maple syrup and vanilla and whip again.
What does it taste like?
Looking forward to trying this out and wondering about the flavor? I found this really nicely balanced. The beets add a rich flavor that really balance the sweetness out – this smoothie is not overly sweet, though it is definitely sweet, and it's not beety. I loved the addition of the coconut cream and strawberries on top.
I made a half recipe for myself (1 serving) and it filled me up perfectly. I can't wait to make it again…and try more of the delicious recipes in their book!
Nutrition Facts
Calories per Serving:

376
The smoothie cookbook became an Amazon bestseller this week – you can read reviews and get your own copy (hardcover) right here.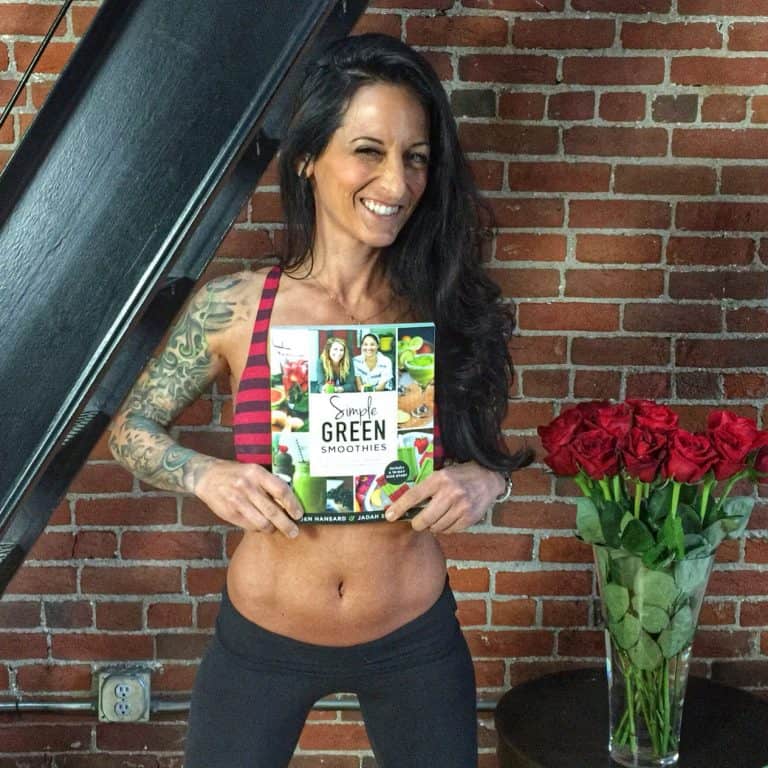 Be sure to comment below and let me know when you get it, and share your pictures too! 
---
References for Food Facts: