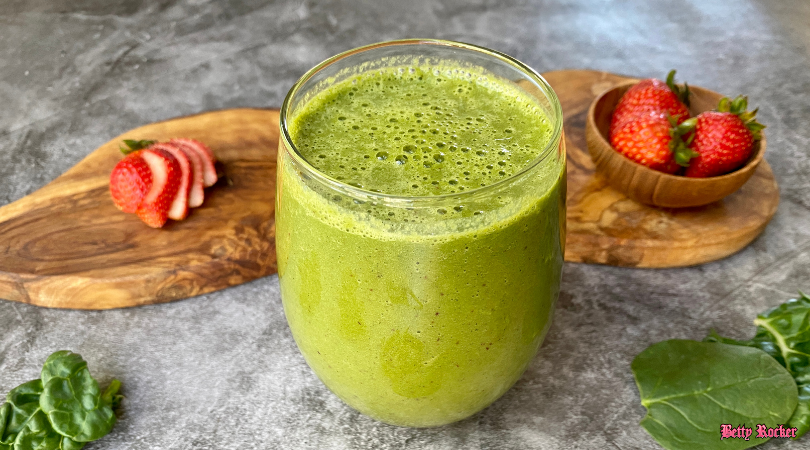 What we eat can truly transform our bodies and our lives in powerful ways and smoothies are one of the simplest options to add more fruits, vegetables, protein and fiber to our diet.
This Revive Green Smoothie recipe is full of many essential vitamins, minerals and good ingredients to help us thrive. Just take a look at what's inside:
Strawberries contain high amounts of antioxidants such as anthocyanins, that keep your heart healthy by improving HDL (good) cholesterol and blood pressure, reducing your risk of heart disease (1).
Strawberries are also high in Vitamin C and manganese which both play an important role in boosting your immune system, lowering oxidative stress and reducing inflammation in the body (2, 3).
Apples are high in dietary fiber which is important for improving your digestive health and feeding the friendly bacteria in your gut (4, 5). Fiber also helps you feel fuller longer leading to less cravings (6)!
This smoothie will boost your immune system, naturally energize you and provide you with an excellent source of fiber. Plus it's delicious.
Grab your blender and drink up!
Revive Green Smoothie
Yield
: 1 serving
You will need: Blender, measuring cup, cutting board, knife
Key
: T = Tablespoon; tsp = teaspoon
Ingredients: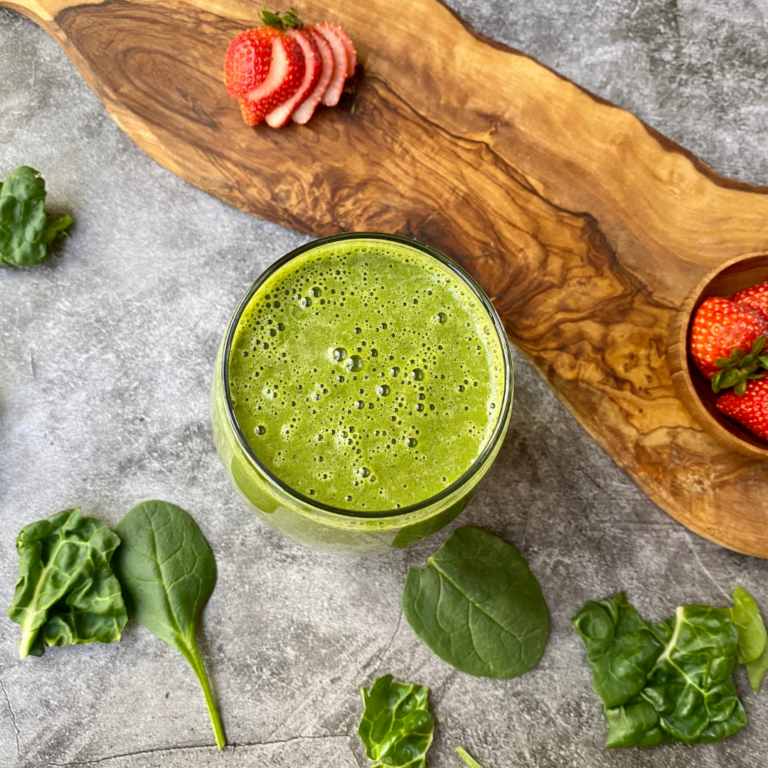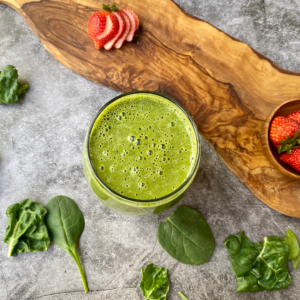 1 cup/handful dark leafy greens
1 cup unsweetened almond milk (or non-dairy milk of choice)
1 apple, sliced
5 strawberries, sliced
1 serving (32 grams) Berry Green Protein powder
Directions:
1. Add greens and liquid to your blender and blend until well combined.
2. Add in apple and strawberries and blend again.
3. Add in the protein powder and any needed additional liquid and blend until smooth.
Nutrition Facts
Calories per Serving:

293
Did you make this smoothie? Leave me a comment and let me know – I love hearing from you!
---
Berry Green Protein is a delicious plant-based vanilla strawberry blend that has 22g of highly absorbable protein per serving. It also has an impressive array of organic ingredients including barley grass, wheat grass, spirulina, chlorella, spinach, kale, tomatoes, carrots, beets, parsley, apple, blueberry, cranberry and raspberry.
If you are following a healthy lifestyle, seeking support for sustained energy, mental clarity and overall well-being, Berry Green Protein is a convenient, delicious and powerful nutrient-dense option for you!