On the menu tonight: Roasted 5lb chicken, coated with coconut oil, stuffed with ginger, garlic and blood oranges, baked with sweet potato and fennel.
Served with home-made popovers and sautéed asparagus…and wine.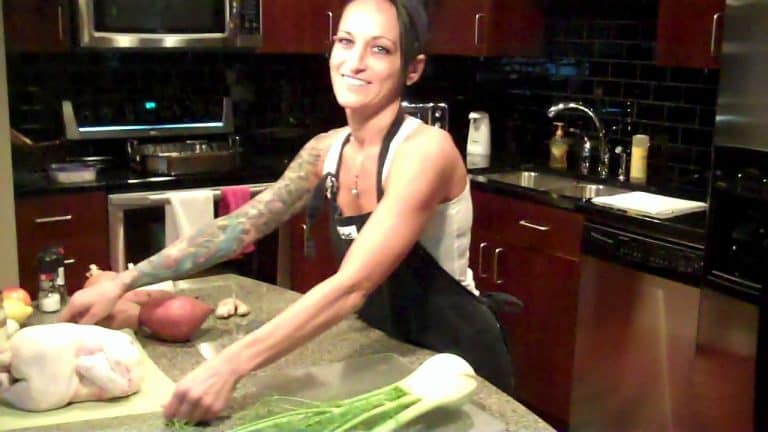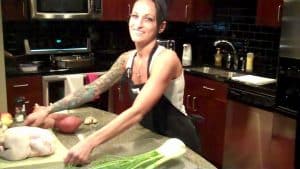 For my latest cooking venture, I decided to experiment with coconut oil as an alternative to butter for coating my chicken with. Coconut oil doesn't have as high a heat tolerance as some other oils, so I was curious as to how it would do on a roasted chicken. It contains heart-healthy benefits from its lauric acid content, a medium chain fatty acid that improves blood cholesterol by increasing the level of HDL to LDL cholesterol.
Roasting chicken with coconut oil got me thinking about what other flavors and foods would be tasty to combine it with as a dinner…so I planned a menu to make as a housewarming dinner party for a friend of mine who just moved back to Denver.
In this episode, I had some help from my friends, so join us as we take a trip to Whole Foods for supplies and then take over our friend's new kitchen and make dinner.
Recipes:
Roast Chicken
serves 4
1 five-six pound roasting chicken
2-4 T of coconut oil (or olive oil)
Salt and fresh ground pepper
2-3 medium sweet potatoes
2 medium onions
3-4 large garlic cloves
4 Tablespoons fresh ginger
2 Blood oranges
1 head of fennel
3-4 Thai peppers
Twine to tie the legs if needed
1. Preheat oven to 425F.
2. Let chicken stand at room temperature for 30 minutes.
3. Remove the giblets and excess fat from the chicken cavity.
4. Rinse chicken inside and out under cold running water.
5. Dry chicken with paper towels, tuck the wing tips under the body, and set it aside.
6. Chop your onions, fennel and peeled sweet potatoes and mix them together in a heavy-duty roasting pan.
7. Chop the thai peppers, and mince the garlic and ginger.
8. Quarter the blood oranges.
9. Set aside 1 Tablespoon of the ginger,1 Tablespoon of the garlic, half of the thai peppers and 3 quarters of orange.
10. Melt 1-2 Tablespoons of coconut oil and mix in the remaining garlic,ginger and peppers. Pour the mixture over the onion and potatoes in the roasting pan, mixing well. Place the blood oranges around the potatoes as well.
11. Coat the chicken with coconut oil, then sprinkle liberally with salt and pepper.
12. Stuff the cavity with the reserved ginger, garlic, thai peppers and blood orange. Fill out the cavity with a bit of the potato-fennel mixture as well, if desired.
13. Bring the legs forward and cross them, tying them with twine (some stores like Whole Foods will already have made a convenient cut in the skin to tuck the legs into which is what we do in the video).
14. Place the chicken in the roasting pan on top of the vegetables.
15. Put it in the oven to roast until skin is deep golden brown and crisp, and juice runs clear when pierced with a fork  – about 1 ½ hours.  If using a thermometer, the breast should read 180 degrees and the thigh 190 when done.
16. Remove the chicken from the vegetables and place it on a cutting board for about 10-15 minutes before serving so the juices can settle.
We served the chicken and popovers with sautéed asparagus. Kera sautéed it with coconut oil, and served it with fresh lemon squeezed on top, and feta cheese.
Nutrition Facts
Calories per Serving:

503
Popovers
2 eggs
1 cup almond milk (or other milk)
1/2 tsp salt
1 cup spelt flour (this is not gluten free)
1. Preheat oven to 450F.
2. Grease muffin tins (you can use large custard cups or regular sized muffin tins).
3. Fill custard cups or tins half full.
4. Bake at 450F for 20 minutes, then reduce heat to 350 and bake for another 20 minutes.
5. Remove immediately and serve hot.
---
The Body Fuel System uses my simple, proven Eating Types to make it easy to stay on track. It also gives you healthy, fat-burning recipes and foods you can eat to look and feel your BEST every day!
Recipes like….
This is my signature eating system and it contains 6 weeks of done-for-you meal planning and recipe guides! You will not only learn the strategies that have given me long-term success, but also enjoy the time-saving benefits of having it all planned out for you!