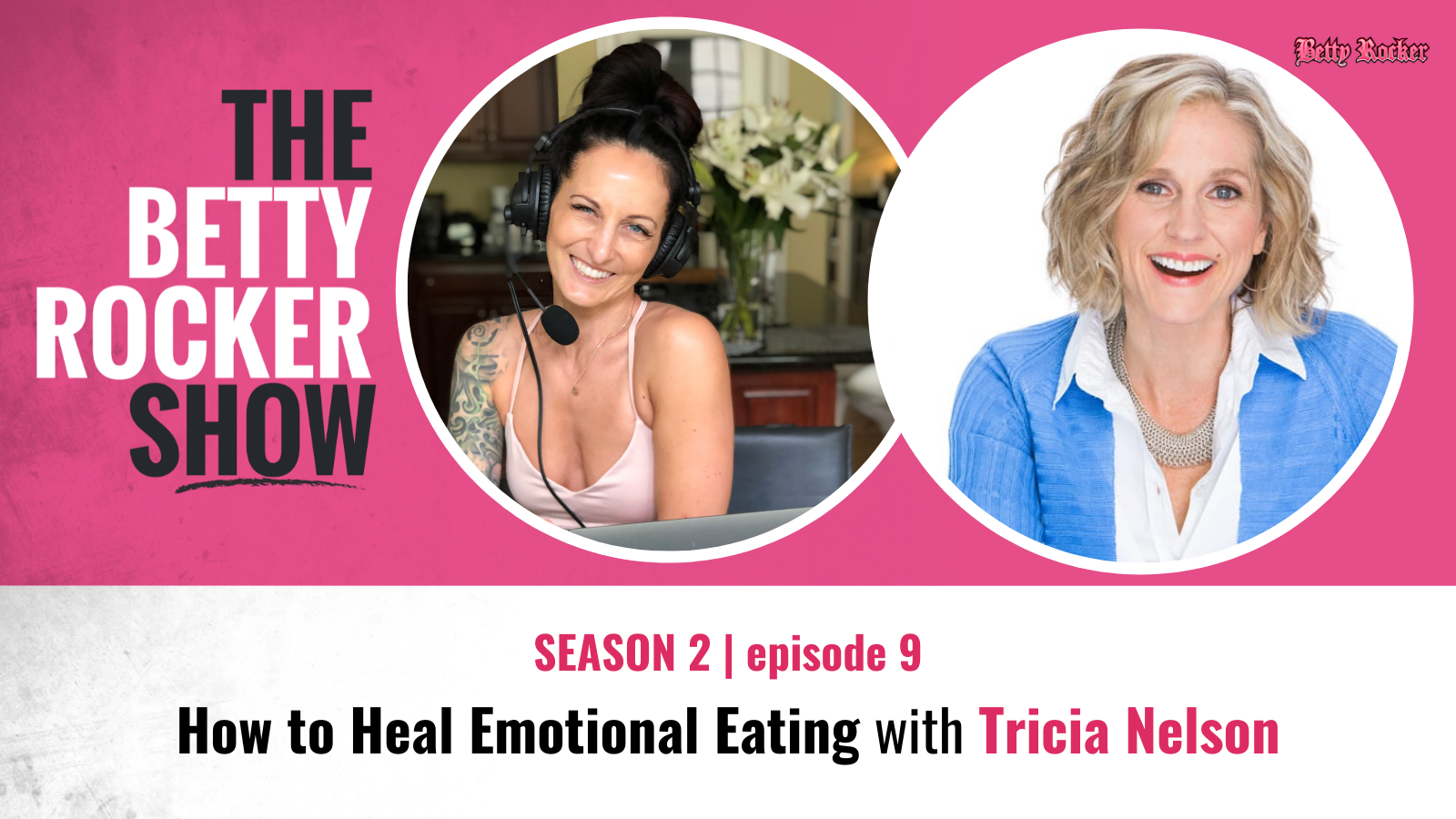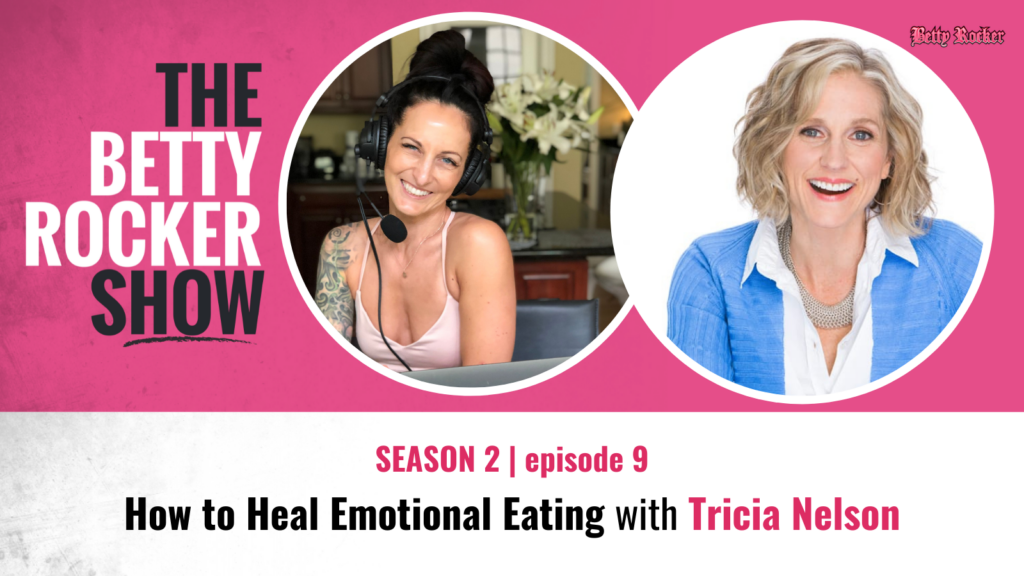 Welcome to The Betty Rocker Show, the place to be to nourish your mind, love your body, and rock your life.
My guest today is Tricia Nelson, an Emotional Eating expert and the author of the #1 bestselling book, "Heal Your Hunger- 7 Simple Steps to End Emotional Eating Now."
Tricia herself lost fifty pounds by identifying and healing the underlying causes of her emotional eating, and has spent over thirty years researching the hidden causes of the addictive personality.
She's the host of the popular podcast, "The Heal Your Hunger Show" (you can listen to my interview with her right here) and is a highly regarded speaker who has been featured on NBC, CBS, KTLA, FOX and Discovery Health.
One of the things we're talking about today is that we are all emotional eaters – on different ends of a spectrum. I'm curious to hear about your own experience with this, if you have struggled with it, overcome it, or are coming to terms with it. Be sure to check in with me in the comments section about this, and with any questions you have!
---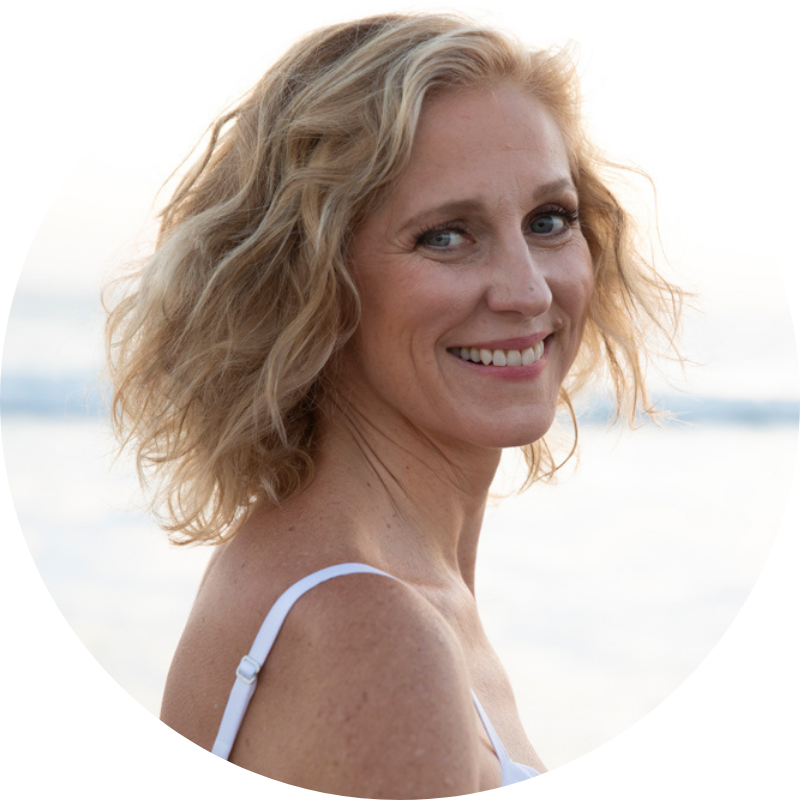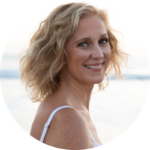 From her site:
"Excessive sugar consumption is a major cause of health problems such as Type 2 diabetes, obesity, and heart disease. It has also been proven to contribute to belly fat, depression, migraines, poor eyesight, and premature aging.
Getting free from the vice-grip of sugar isn't as hard as you might think. Getting support as you begin your journey will make it much easier. There are also many delicious, sugar-free alternatives to the foods you love, and great recipes that will make you happy as you nourish your body.
You deserve to feel good and look good, and kicking the sugar habit will help you do both!"
---
---
In This Episode You'll Discover:
Meet Tricia Nelson [0:36]
What does being an emotional eater mean? (1:46)
Why we use food for reasons beyond nutritional needs
The subconscious drive behind emotional eating
Tricia's story and what was different with her eating
The negative feelings that came from her yo-yo weight gain
The cycle that drives emotional eating
Why a diet won't fix emotional eating
Why a diet initially feels like it's working
How can you tell if you're eating emotionally or eating normally? (7:18)
The internal dialogue that helps
The benefit of regular meal times
Tricia's "3-meal magic" strategy
How skipping meals and strategies like intermittent fasting can create more disordered eating
The self check in that goes along with 3 meal magic
How snacking contributes to weight gain
What the self-check in can reveal that might help you avoid emotional eating
Intermittent fasting and how to approach it as a woman (10:29)
The trap of skipping meals
A great way to use IF as a woman
The importance of the quality of your meals
The most satisfying nutrient (and the one we need to be including in each meal)
Why we need more protein as we age
Thinking about maximizing the 3 main meals you're eating
Timing your eating around your training if you're active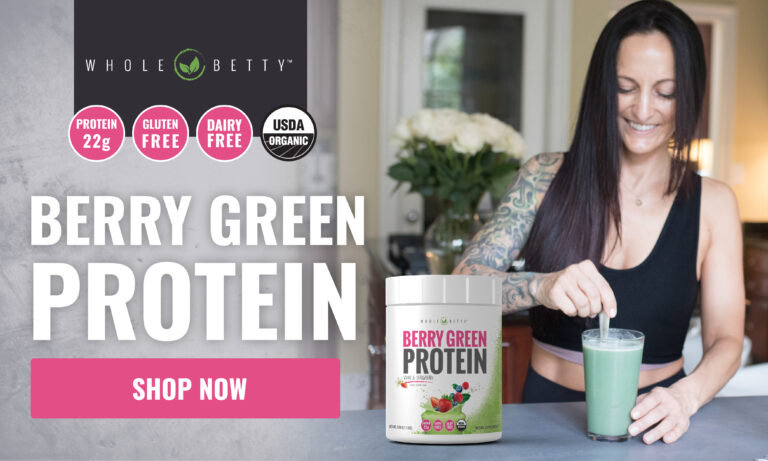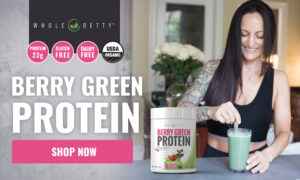 This podcast is brought to you by Berry Green Protein  my 100% organic, high protein, nutrient-dense whole food powder. Get your greens and protein all in one delicious smooth, strawberry vanilla flavored shake!
CLICK HERE to learn more about BERRY GREEN PROTEIN!
---
Why does eating often feel so hard? [15:05]
Is feeling "hangry" the perfect storm of emotional eating?
The breaks between main meals and how that serves us mentally and physically
How we can begin to recognize our emotions in between our meals
The benefit of tuning into ourselves and building emotional intelligence
Identifying, feeling, and processing emotions
Why we associate comfort foods with feeling states
Tools to empower us in coping with emotional eating [18:12]
A morning routine and the foundation this provides
Centering activities and ideas
The concept of deposits and withdrawals in our spiritual bank account
How these practices support you in dealing with stress throughout the day
Afternoon and evening activities that can support you
Sneaky ways that emotional eating sneaks in
Great tips to help us reset in non food-related ways
Is there a difference between addiction and emotional eating? [22:15]
The spectrum of emotional eating
Emotional eating vs. food addiction
What informs where you are on the spectrum
The consequences of long-term emotional eating and dieting
How does addiction show up in people with emotional eating? [25:53]
Tricia's personal example of her alcohol addiction and sugar addiction and how they are connected
The dopamine hit from shopping, porn and other pleasurable activities
The increased sensitivity that came from withdrawal from the activity
Tricia's example of "medicating her feelings"
Why swapping addictions can be typical
What is at the root cause of addictive cycles? [29:34]
Are there issues within ourselves that need deeper work?
Unresolved trauma may be at the root of addictive cycles
Chronic struggles with addictive behavior may be rooted in trauma
Tricia's personal story and share about childhood sexual abuse
How Tricia's research and self-healing has informed her powerful work
The "anatomy of the emotional eater" from the Heal Your Hunger book [32:48]
Why people pleasing shows up in some emotional eaters
How coping strategies from childhood translate into adult life
The need for validation and the negative cycle that sets up
How resentment results from people pleasing
How these traits drive the justification for emotional eating
Tricia's book: "Heal Your Hunger- 7 Simple Steps to End Emotional Eating Now."
Setting boundaries, people pleasing and speaking up for yourself for women
Uncovering the root cause of emotional eating can help you live a more fulfilling life
How we can see opportunities in all of our challenges
---
This Week's Challenge(s) [40:16]
Try 3 meal magic for 3 days.
This can help you observe your relationship with food, and how often you have impulses to unconsciously get something to eat.
---
Connect with Tricia Nelson [56:51]
---
Coming up next:  Coming up in our next episode, I'm talking to the founder of the Man UNcivilized movement, Traver Boehm. He's the author of the books "Today I Rise," and "Man UNcivilized" as well as a two time TEDx speaker, men's coach and podcaster. I really appreciate the work he's doing, and I thought you might be interested to hear this conversation, especially if you have men in your life who you love and want to share great tools and resources with.
In my own personal journey, learning more about how other people think has helped me uplevel my communication skills, deepen my empathy and understanding, and connect more meaningfully with others. I really love learning different perspectives and points of view, and I think you'll find Traver's work very insightful. I've given his book to several friends and family members, and enjoy hearing his take on many things.
This upcoming episode does have some swearing in it so if this is offensive to you, this may not be an episode you'll enjoy.
---
Love
The Betty Rocker Show
? We do too! ❤️ Share it with your friends, and subscribe on your favorite podcast player to be alerted when new shows drop!
Love
The Betty Rocker Show

? We do too!
Share it with your friends, and subscribe on your favorite podcast
player to be alerted when new shows drop!
ABOUT
THE BETTY ROCKER SHOW

:

Join me for open and thought provoking discussions about health, fitness, and how to stop undermining ourselves – and start taking meaningful action that makes us role models to others…

….and, listen in on my intimate conversations with amazing thought leaders, health care professionals, athletes and celebrities to learn their secrets and insights for overcoming life's challenges, living longer, healthier, stronger and more #flawsome lives.

New shows are released every other week during Season 2 of The Betty Rocker Show.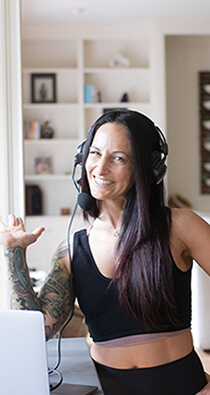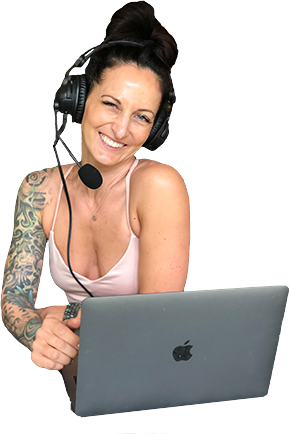 Subscribe

on your favorite

player today!