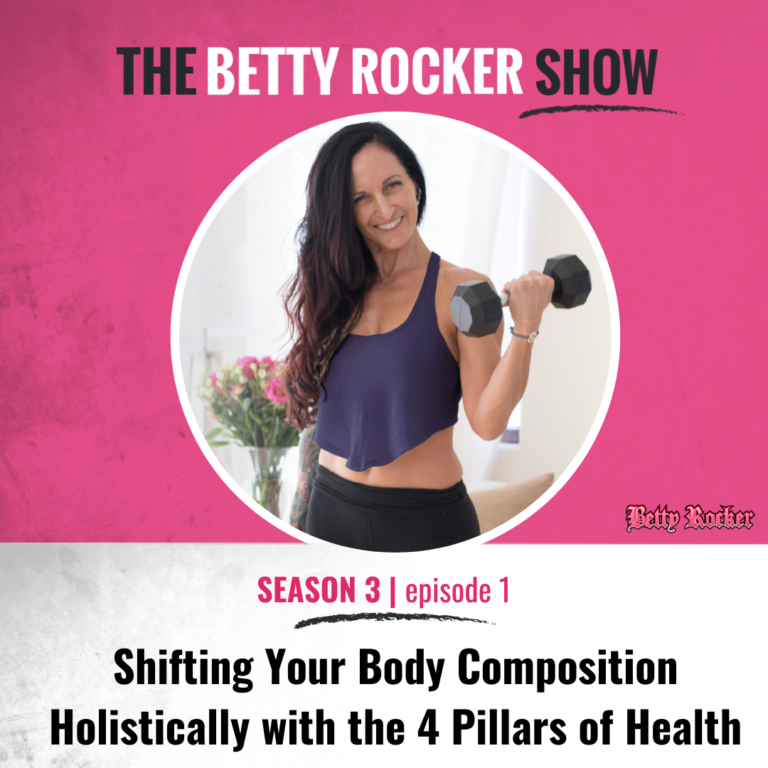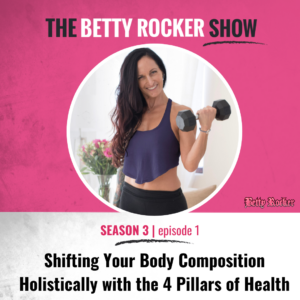 Welcome back to The Betty Rocker Show! In today's episode, I'm talking about the the actions we can take to create an optimal state in our bodies for fat loss and muscular strength to occur.
Sometimes, people give up too soon on an exercise program thinking "it's not working" because they haven't really given themselves time to build the other important habits around their workouts that contribute to their body composition goals.
Exercise is important, there's no question.
But we have to put it into perspective with our other health practices that impact our hormones and metabolic processes.
After listening to this episode, you'll have some great practical tips to apply the 4 pillars approach to your training right away!
Coach Betty Rocker (00:02):
Welcome to the Betty Rocker Show. The place to be to nourish your mind, love your body, and rock your life. What's up, Rockstars? Coach Betty Rocker here. I hope you're having an amazing day. Thank you so much for joining me. Now, you've probably heard me talk about the four pillars of health, but what do these really mean for you and how do they impact your success and ability to see results in a training program or basically shift your body composition to maybe more muscle and less fat? The thing about the four pillars is that they work together. So how they came to my mind was I pictured sitting on a chair and the chair had four legs and the chair needed all four legs in order to stand up and balance correctly.
(01:01)
Now, say one of the legs got removed, I could still balance on the other three legs, but I wouldn't be as efficient and say, I lost two of the legs. Well, I could still balance on the other two legs, but I would be way less efficient. Of course you can balance on one leg too, but you're even less efficient than you are with that nice, supportive, stable, four pillar base of your chair. So we all go through times in our lives when not every pillar can be a focal point. Let's say what those pillars are. They're sleep, nutrition, stress management, and exercise. So I'm sure right now you're picturing a time in your life when sleep could not be a priority. We all go through those times. So that's why you got the other three legs of your chair, right? It's okay. Focus more on the other pillars and you're going to still be okay.
(01:49)
You can still balance. You're just not as efficient as when you have all four pillars. So that aside, if you're like I used to be. I used to put the majority of my focus on the exercise pillar, and that's another way to imbalance your chair. If one leg is longer than the others, it's the same thing as being on one leg all by itself. It's that pillar, the exercise pillar tends to be the one that a lot of women focus on, especially when they're feeling like they're not losing enough weight and they're not seeing a result in their program. They actually tend to overly focus on exercise because in our culture that's like what we're trained for. We're trained to think that more exercise means more results.
(02:32)
It can mean more results if and only if you're surrounding the exercise with these other pillars, with these other actions that create an optimal state in your body for fat loss to occur, if that's the goal and/or muscle tissue to develop, strengthen, or be preserved if that's the goal. So the reason sleep is so important, we talked about sleep a minute ago, but it's actually number one on my list because without sleep, you're really, really running in a deficit for being able to restore, repair and recover from the training that you do, even from your daily life stresses, from your day-to-day activities and energy output. If you need to choose which pillar to focus on first, this would be the one I would choose every time because it's really the most essential part of our day.
(03:24)
I mean, everybody has to sleep at some point, so thinking about the optimization of sleep can help you optimize all of these other things in your life. Without enough sleep, you won't have as balanced and healthy of a metabolism. It impacts your glucose tolerance, if you're not getting enough sleep, which means it's harder for you to lose body fat and the timing of your sleep, the duration of your sleep and the quality of your sleep all play a huge role in the hormones that govern your appetite regulation. So your hunger and fullness are really skewed and thrown off if you aren't getting enough sleep. This is why a lot of people, when they aren't getting enough sleep, they're overeating, they're having cravings for carbs and sugar because literally that lack of sleep skews are ghrelin and leptin.
(04:11)
That's your hunger and fullness hormones and you just don't have that same regulation. It also impacts your cortisol levels, that's your stress hormone and cortisol is not a bad thing in our system. In fact, it's on a really important cycle throughout the day, just like melatonin, which you may have heard of, which helps you fall asleep and stay asleep. Melatonin has a cycle where it peaks after dark and helps you start to get sleepy and you can really mess with your melatonin by staying on your screens and on your devices too late. This will make it really hard for you to … for melatonin to do its job, for melatonin to make you sleepy. This is why a lot of people don't get good deep sleep. Cortisol actually has its own cycle too, which is complimentary to melatonin.
(04:57)
It starts to rise a little while before you wake up. It helps you wake up. It's what helps you become alert in the morning when you're awake. Now, if you're constantly going to bed too late, you may wake up feeling tired and groggy because you haven't gotten into that deep sleep that you need. If cortisol starts to get thrown off and it's too low or too high, you'll start to feel maybe tired but wired or you'll start to have some impact to your adrenal hormones. That's problematic, especially over time. Just like too much cortisol in your system is problematic over time. You won't be able to focus and perform at your best or recover as quickly, and you also won't get to experience the benefits of the human growth hormone elevation, which promotes the restoration repair of your muscle tissue and it helps reduce body fat.
(05:53)
So I really encourage you to focus on getting to bed on time as just as important a piece of your day. If you're focused on getting your workout in and you're someone who really makes a priority to get your workout in, but you don't make it a priority to get to sleep on time, you're kind of undermining all of that hard work that you're putting in. So do whatever it takes to get yourself to get better sleep whenever possible. Remembering of course, that we all go through seasons in life where sleep maybe or one of the other pillars can't be the focal point. We can't beat ourselves up if we're in a season of life where it's just not a possibility. However, if it is a possibility and you're doing things that are sabotaging your sleep, it's time to pay attention, time to wake up and pay attention to getting to sleep, getting better sleep.
(06:42)
You can really focus on reducing your exposure to blue light, especially before bedtime, doing things like a sound machine or fan or something that helps create a sound barrier so you get deeper sleep, keep light exposure away from your eyes using a sleeping mask or blackout blinds, lower the temperature in your room so that your body can really cycle down and get cooler. I use something called a Chilly Pad, which is from this cool company that makes these mattress toppers, that circulate water through the mattress topper that I can set to like 65 degrees, and that helps me, especially in perimenopause when my body temperature might be fluctuating more frequently. There's all kinds of things out there like that you can check out. I also for a while … part of why I know all this stuff about sleep is because I struggled with getting to sleep on time for years.
(07:35)
I worked in the hospitality industry, restaurants, bars, and I was up so late. It put me in the habit of not going to bed until one in the morning a lot of the time and sometimes later. That was really detrimental to me in my energy levels and my ability to regulate my body fat, build muscle, all of it. So one of the things I did when I was trying to heal my poor sleep habits is I started setting alarms on my phone to make myself be aware of going to bed. So maybe at 8:00, I would have an alarm go off that said something like TV off in 30 minutes or time to start winding down, which would just alert me because if I was watching a show, it's really easy to binge on shows or it's really easy to binge on whatever you're doing on your phone.
(08:25)
So it's important to just start to give yourself those little reminders of what you need to do to wind down. So whatever it is, maybe it's time to turn off the TV at 8:30. Maybe it's time to brush your teeth at 9:00. Maybe it's time to put your PJs on. Just set those little reminders. Even if they seem silly, they're so helpful and you don't have to do them forever. I would just really recommend doing them for a while because they really will help you wind down. I like to get in bed with my book by 9:45 or 10, and that really helps me wind down from the day. My body is in a still position. My eyes aren't strained by light anymore. I'm just really winding down and really just paying attention to that blue light exposure. So sleep is to me, one of the essential pillars that will really help optimize and support all the exercise that you do.
(09:18)
The second pillar that I would say right up there next to sleep, I mean these are all important, but nutrition is so important. What we're eating, what we're putting into our body, how does that food and nutrients impact our ability to lose body fat, build muscle? It's not so much just that you're eating healthy. Eating healthy can mean a lot of different things to a lot of different people. I think it's really important to make sure that you've got enough protein on your plate with each main meal. This is something that can really impact your ability to see results, whether you're trying to lose body fat, whether they're trying to add muscle, optimize your health. In any way, if you're not eating enough protein, you're missing out on these amino acids from the protein.
(10:03)
The protein that you eat breaks down into amino acids, and there are nine essential amino acids that your body can't make on its own. It has to get them from food, and when you eat protein with each main meal in an adequate amount, you create a circulating amino acid pool that your body can draw from, from everything it needs the protein for. So your body needs those amino acids from protein for everything from of course, muscle protein synthesis, which is repairing and restoring your muscle tissue and building muscle. It needs it for cognitive and brain function. It needs it for hormone and enzyme function. It needs it for your immune system. There are all these different things that those amino acids are needed for. Now, say you aren't eating enough protein in each of your meals or you're just not eating protein at all in some of your meals, your body can't find any aminos circulating in your system.
(10:53)
So it goes and breaks down your muscle tissue in order to get the amino acids that it needs. Unlike carbohydrates or fats, which our body is going to store some reserves in our liver, it's going to put some into our cells to store for later in case we need energy later, the protein doesn't have that storage tank to be drawn for our needs. Instead, it goes into your muscle tissue, and that's what gets broken down, if you are without an amino acid pool to draw from and your brain needs some amino acids for instance. Now, that might not be a problem for you. However, if you have a goal, a body composition goal, do you constantly want to be undermining the effort that it took to get yourself to go do that workout and all those bicep curls and squats you were doing?
(11:42)
You're not building muscle when you're doing those workouts. You're breaking down your muscle tissue during your workouts. It's not until you are done with your workout and you're in that restoration and repair phase that you have the opportunity to refuel your body with the nutrients that it needs to rebuild the muscle tissue. You need carbs. You need protein for that process to occur. So if you're not eating the optimal amount of those nutrients, you're just not going to see the same results with your workouts. It's not just about protein and carbs. We need our healthy fats. We need all of these different nutrients, we need our greens, we need fiber. We need all of these wholesome foods that heal and restore and energize our bodies.
(12:26)
In my programs, I don't really focus on calorie counting. I certainly can see how it can be a valuable strategy for people at different times, but more so just because I think it's important to understand the nutrient density of your foods. So taking a look at how many grams of protein are in your meals is a great place to start. I don't think you need to track every gram, every calorie, but if you really want to take a look at something specific, I would look at how many grams of protein are in your meals. For women who are still having a regular cycle, for instance, and were under 40 perhaps, I would say 20 to 30 grams per meal would be a great place to start and then, you could go up from there depending on your goals and how much your training and your energy output.
(13:14)
Once we get over 40, we don't absorb the amino acids from our protein that we eat as readily, so it's really helpful to increase the amount you're taking in a little bit so that you're … because you're not absorbing all of that protein that you eat, right? So you want to make sure that you're eating a little more. Otherwise, you're going to start to lose muscle, and this is what we see with a lot of people as they start to age is they start to lose muscle. They gain more fat and they lose more muscle. There are a lot of reasons for that, but we can look at … one nutrient aspect is they they're not eating enough protein for their needs. So if you're a woman over 40 or you're in maybe perimenopause or menopause, take a look at how many grams of protein are in your meals.
(13:51)
Are you getting 30 at minimum to 40 grams per meal? Because that's a great place to start, and I know it might sound like a lot, but it's only maybe a lot because you weren't paying attention to it before. So something to just work towards, something to think about, especially if you're active and you're looking for body composition shifts. Pay attention to fiber rich whole food carbohydrates for steady energy and healthy fats for that. Also, satisfaction in your meals, your fiber and your micronutrients from the greens and veggies, all those different healthy nutrients that we need from all of these different variety of foods that we put in our plates and the recipes that we put together. I think it's just really, really important to read your food labels, if you're buying pre-made foods or pre-packaged foods.
(14:43)
Check out to see that there isn't a lot of added sugar in there that's going to skew or impact your ability to not overeat, and if you're having a lot of cravings for sugar, it's often a sign of deficiency in a key nutrient, for instance, especially protein, because protein is the most satisfying of all the nutrients, surprisingly, and if you're not eating enough of it, your body … you go maybe craving sugar, you may be craving carbs. Make sure you're eating enough carbs in general. Make sure you're eating enough, in general period. Low energy availability is a huge issue that affects so many women. There have been studies about it, especially women athletes, they're not eating enough period because of all of the focus on women's bodies and this idea we have that we need to eat less and exercise more in order to be small, skinny, whatever.
(15:34)
It's just a terrible snowball effect that has made so many of us so unhealthy when we were actually trying to be healthy. So just really pay attention to your nutrition pillar. Nourish yourself with healthy whole foods. Use my programs as a support guide. Find a sustainable way to eat that makes you feel good and makes you feel nourished. I'll move on to my third pillar of health, which is stress management. I know that that's maybe not a very sexy word or words, but it's really important because we are faced with numerous stressors on a day-to-day basis. Our mental health is so important to prioritize and to pay attention to, and sometimes it's like an unaddressed elephant in the room when it comes to achieving our health and wellness goals.
(16:25)
I really invite you to bring this practice of or even just awareness of managing my stress back to the forefront of your health practices because chronic stress has been scientifically proven to cause us to reach for comfort foods, which undermines your efforts to have a balanced nutrition intake. Elevated levels of that stress hormone we talked about earlier, cortisol causes belly fat storage. The area where most of us have the hardest time losing our fat from, especially women just genetically and chronic stress really affects our brain. It lowers our immune response, so we get sick more often. We recover more slowly from injuries, and we're just really unable to maintain a state of health and vitality. There's external stressors and there's internal stressors.
(17:14)
We can't always control the external stressors that come at us day to day, what's on the news, things that happen at work. Working on strengthening our ability to be resilient to stress is a really good practice to have, just like you train regularly in the gym. And that gives you more resilience and strength to handle all your day-to-day activities, having a regular, maybe stress management or mental health practice, anything that makes you feel … anything that appeals to you, it can really help you build your resilience to dealing with those external stressors. Then, we also have internal stressors like the inner dialogue. We constantly have the mental negative self-talk and the mind soup that we all live in that no one knows about really except for ourselves.
(18:04)
It's really important that we get access to frameworks that empower us to think in a positive way and love ourselves because at the end of the day, it's down to us and how we see the world and that can really make or break how we're able to handle the stress that we're dealing with both externally and internally. So, that's why I say, again, I come back to having practices in place that are supportive to you, that help you deal with stress. It's just as important as having a workout program. So you can do breathing practices, you can do sitting meditations, you can listen to relaxing music, you can journal, you can go to therapy, you can join a supportive community, you can work with a coach, you can draw, paint, do yoga.
(18:50)
There's so many possibilities, but really it's the way your intention … it's your intention and your approach to these different practices and the fact that you actively make time to connect with yourself internally in a way that is supportive of you and is helpful, so that you can feel your best inside and out, and you have that resilience we were talking about to deal with the stress that comes at you day to day, and to help you manage the internal stressors that you may feel in what you're thinking about, in your thoughts. There's a lot to be said also for facing and working with the different trauma that we've experienced in our life. 
(19:41)
Often in therapy, it's a great way to work through difficult feelings and emotions because they really do play out over time and impact us and create internal stress. We don't always realize why we're being so reactive to things and it's because we're running a program from having to had to respond to something very difficult, and that's totally normal to experience as a human being, and you deserve to have the tools and the resources and the support for coping with those things. You're not supposed to have to figure all this out on your own. So give yourself permission and give yourself that opportunity to get the support that you need, if you are dealing with those types of internal stressors. Also, look for ways to practice, relax in your mind. Meditation is such a wonderful tool and there are so many different ways to do it.
(20:31)
Breathing techniques, like some of those other examples I was giving you, I threw out a lot of them, but that's because different things work for different people and there isn't a one size fits all approach to really managing your stress, but I do think that it's just as important as fitting in your workout, taking that time for yourself, just tuning in to how you're feeling. You could do it right now. You could just breathe for a few moments and close your eyes. You can pause the podcast and just check in with yourself, how am I doing right now? How am I feeling right now? And just honor that, honor your feelings and continue to make your stress management an important pillar in your life. Just like getting to bed on time is, just like your nutrition is, and having healthy foods to eat is. Just like your exercise is.
(21:20)
Speaking of exercise, exercise is so amazing and it is one of our pillars for a reason. It's natural stress reducer. As long as we're not overdoing it. It can help lower depression and anxiety and it can just also help you have a strong healthy body. It gets your blood flowing and just helps you think and focus and it's so good for us. So I really encourage you to have a regular exercise practice. Hey, there are times in your life where you won't be able to have a regular exercise practice. There will be seasons in your life where you can't work out, whether you got injured, maybe you just had a baby. There's so many different things that can happen that we need to take a break from exercising, but that doesn't mean we have to stop paying attention to our other pillars of health whenever possible.
(22:13)
We have to remember that they all work together, symbiotically, so synergistically and without the other pieces, your exercise won't be as effective. I think that's the point I want to just really make is that if you're overly focused on exercise, you're really not getting the best out of the exercise that you do. If you don't surround your workouts with the healthy eating, with the good sleep, without the stress management piece, you won't create an optimal state in your body for fat loss to occur, for muscle tissue to develop. That's why it's important if you do have these body composition goals or these goals and you want to see these results, that you're not just focused just on your workouts and it's not just about how little you eat and how much you work out.
(23:01)
That can really stress your system out and increase the amount of cortisol that's running through your body, causing more muscle to break down and causing more fat to store because that's what cortisol can do and it's elevated for too long. If we're overly stressed out, we're also causing cortisol to rise. If we haven't sleep slept enough, we have these imbalanced hormones, and so we're not creating an optimal state for the body to do its restoration and build muscle and burn body fat. So I know that this four pillars approach, I don't want you to stress out because you're like, "I'm not doing the four pillars perfectly." Remember that we all go through seasons in life where they can't all be the focus. We have to have that all or something approach to the way that we live our lives.
(23:49)
These are just four things that work together to help you in your life, optimize your health, and if you have fitness goals, these will help you optimize your fitness goals as well. So just do one thing at a time that you can, maybe today you want to commit to setting a timer on your phone to help you get to bed just a little bit earlier or maybe you were like, "Oh my gosh, I watch a lot of TV before bed. Maybe I'll cut my screen time in half tonight." Just commit to doing something that can help optimize one of these pillars of health for yourself and think about what that might be. Thank you so much for joining me today to talk about all this stuff and I'm so thankful for you being a part of my community. Thank you so much for being here for this conversation.
(24:35)
If you want to continue the conversation, hit me up on social media. I'm on Instagram, @thebettyrocker. I'm on Facebook. I'm on YouTube. You can find me on my blog and read more about a lot of these topics, the four pillars of health, more in depth about protein, especially protein for women, body composition topics, herbal supplements, all these different things. You can find them all over on the bettyrocker.com blog, and I hope that you'll read them. They're all free articles, and I just want you to have this information so that you can live a long, healthy life and a body that you love. As always, I'm Betty Rocker, and you are so awesome flawsome and amazing. I hope you have a great day, and I'll talk to you again very soon. Bye for now.
❤️
I just wanted to mention real quick that one of the most common mistakes I see women making when it comes to their health and fitness goals is putting too much emphasis on their workouts and not prioritizing nutrition or sleep or stress management.
Because one workout makes us feel good, a lot of us think more workouts will make us feel better and give us more results. So we get into this no days off mentality, sometimes going for two workouts a day, and endlessly pouring our valuable energy and time into exercise when that's actually burning us out and breaking down muscle tissue as the body doesn't have the building blocks in the form of nutrients or balanced hormones to support all that output. It's not really about how much you do, it's about the way all these important elements, like sleep, nutrition, stress management, and exercise, come together that truly drives your results, supports your body long-term, and as a nice byproduct, produces the results you are looking for physically.
This holistic approach is a long-term sustainable approach that focuses on how you talk to yourself, how you nourish yourself, and how you care for yourself on every level.
And that's exactly what we focus on in Rock Your Life, my online home workout studio and women's fitness community. It's a holistic approach to your health and fitness because you are a whole person.
And in Rock Your Life, you can enjoy the structure of a workout challenge program combined with a balanced guidance around eating healthy, getting good rest, and prioritizing your mental health. I'd love nothing more than to welcome you to our uplifting community. And to make it easy for you, there's even a 30-day trial for new members that you can take me up on. No obligation to stay. Just come enjoy the space and see how we can support you in nourishing your mind, loving your body, and rocking your life. Grab the trial at thebettyrocker.com/coaching.
❤️
This podcast is for information purposes only. Statements and views expressed on this podcast are not medical advice. This podcast including Bree Argetsinger, Betty Rocker Inc. and the producers disclaim responsibility for any possible adverse effects from the use of information contained herein. Opinions of guests are their own, and this podcast does not endorse or accept responsibility for statements made by guests. This podcast does not make any representations or warranties about guest qualifications or credibility. Individuals on this podcast may have a direct or indirect financial interest in products or services referred to herein. Before starting a new exercise, fitness, or health protocol, or if you think you have a medical problem, always consult a licensed physician.
This episode brought to you by Rock Your Life!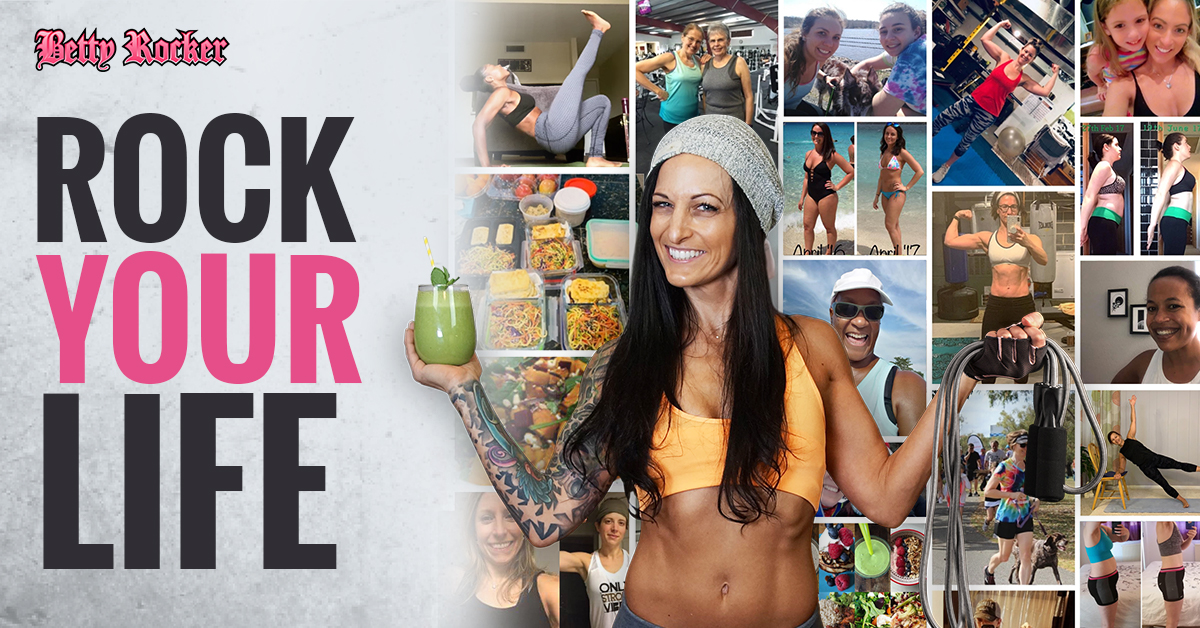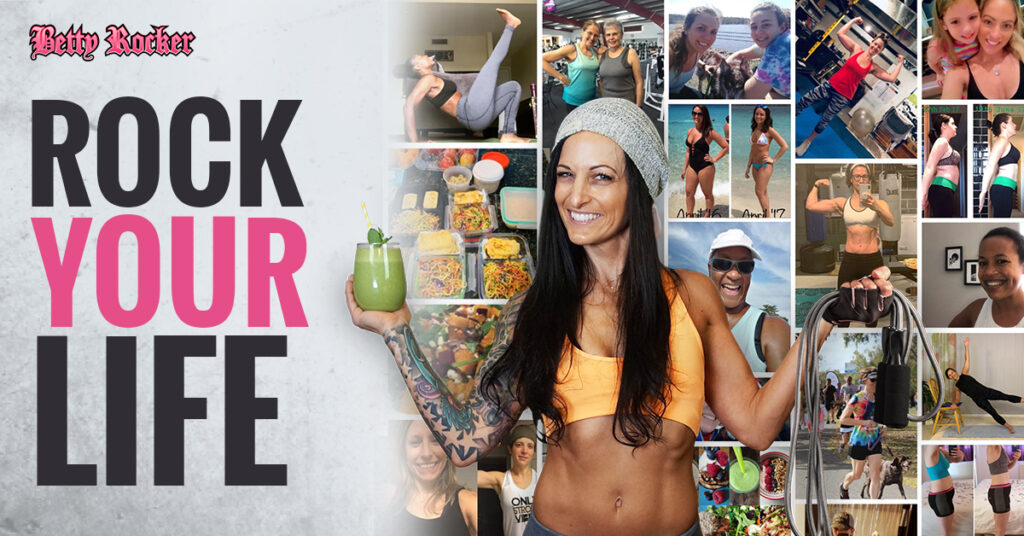 Rock Your Life is my online workout studio that you can attend from anywhere you are, and access workout challenge programs, healthy recipes, and get coaching and support in our private women's fitness community for all 4 Pillars of Health. We provide support and strategies for women in training with their cycle, training in perimenopause and training in menopause.
All of our workouts and training programs include a strong focus on form and alignment to keep you healthy and balanced. You'll find workout classes to take a la carte of all types, including strength training, HIIT, kickboxing, yoga, barre, mobility and more!
Our workout challenge programs provide a balanced training plan and you can start a challenge anytime within a time frame that works for you! We have challenges in tons of different time ranges, including 15-20, 20-25, 20-30, 30-40, and 45+. We show modifications and welcome all fitness levels!
Thanks for listening! Leave a comment and share your thoughts, and/or leave a podcast review on iTunes!