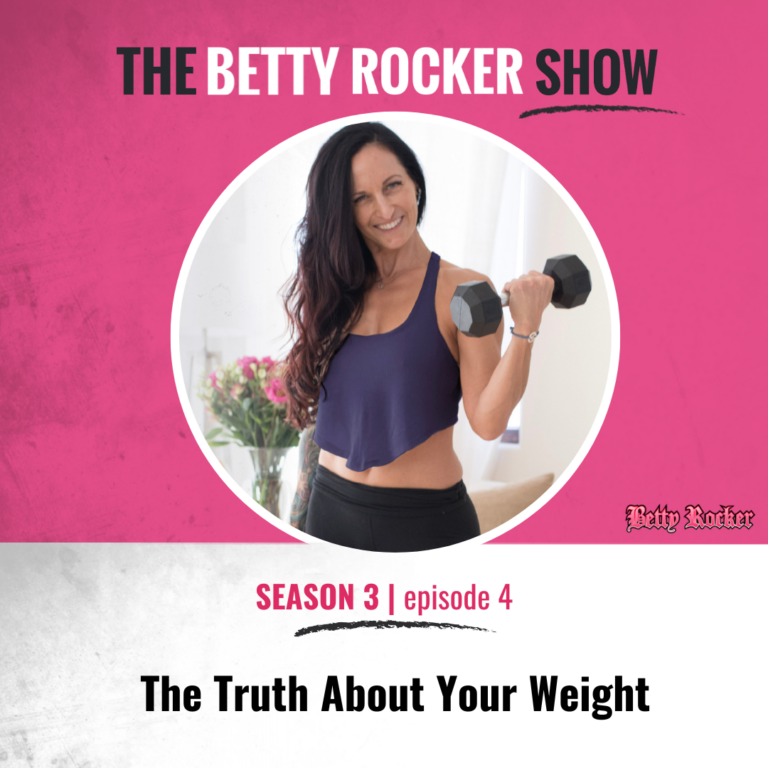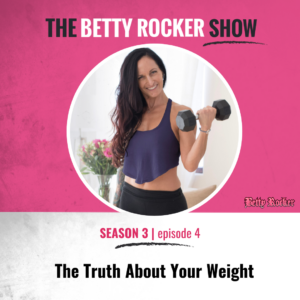 Welcome to The Betty Rocker Show! In today's episode, I'm talking about the difference between your scale weight and your body composition, and why you might want to be taking a closer look at the latter.
When I hear a woman say "I've been doing everything right but I stepped on the scale and I gained 2 pounds, and now I am discouraged," I want her to know that her weight isn't telling the full story – and there is no reason to be discouraged.
Our scale weight is a variable number that doesn't deserve the "weight" people give it when it comes to their decisions about their training or their perception of themselves.
Tune in as I go over the truth about your weight, and explain the value in taking a closer look at your body composition so you can frame your actions toward progress in a more useful, productive way.
For more on this topic, read:
Betty Rocker (00:02):
Welcome to the Betty Rocker Show. The place to be to nourish your mind, love your body, and rock your life.
(00:18)
What's up, rockstar? Coach Betty Rocker here. Thank you so much for joining me. Okay, so I want to talk today about body composition, and how it's different than just weighing yourself on the scale. So I find that scale weight can be problematic for a lot of us because of the way we associate value with the number that we see. And sometimes we're comparing the number of how much we weigh to a previous time in our life when we weighed something specific that we thought was a good weight for ourselves, because we liked how we looked. That's totally natural.
(00:54)
However, if we didn't at the time have the data or the details of what went into that weight, we can't really make an accurate comparison to now because there's so much that goes into that number. For example, how much you weigh has to do with how much water is currently in your body, your bone density, your bone mass, your muscle mass, your body fat mass. And these numbers can all change over time. When you're a younger person, you may not be fully developed yet. You may also be carrying less muscle tissue or less body fat. It really can vary. And so if you don't have that detailed information about when you were that other weight that you liked, you really can't compare yourself now just because your weight is different. You might have very different numbers for very different reasons when you look at your actual body composition.
(01:54)
So your body composition is not the same as your weight on the scale. Let's talk a little bit about muscle and fat, and how they take up space in the body. So if we had five pounds of muscle sitting here right now and five pounds of fat, they'd both weigh five pounds on the scale. The scale would even out. But your fat is going to take up a lot more space than your muscle. Muscle is more dense, more compact than fat. It's also an amazing organ in our body that supports our joints. It makes us strong. It secretes hormones. It does all these really cool things.
(02:30)
Our body fat is also important. It has a lot of important purposes in our body. It surrounds and supports our organs, it helps us thermal regulate and stay warm when we're cold. There's a lot of important functions that our fat serves as well, but the ratio of muscle to fat that you have is a big part of how much you weigh. And if you don't know how much fat you have versus how much muscle you have and you're not measuring that over time, it's impossible to really tell if you're progressing with a program.
(03:02)
If you are only looking at your weight on the scale every day and that number jumps up and then it jumps down and then it jumps up again, you may be constantly thinking to yourself, the program that I'm doing isn't working. It's not good enough. I'm not doing enough. So I need to eat less and work out more, because that's probably going to help me lose more body fat. That's not necessarily going to help you lose more body fat. And if you're not even measuring your body fat, then how do you even know if you're actually losing more body fat? It might be that you are actually building muscle. And because that muscle is more compact and more dense, you may not be your scale weight may not be going down as much as you think it should.
(03:47)
And I really just feel like I want you to understand that your weight alone is not the only thing that's going to tell you about your progress. This is why in a lot of my programs, I suggest you use observation by taking pictures of yourself periodically through the course of a program. Because when you see yourself day-to-day, you're not going to see any changes. However, if you take a picture of yourself, full-length, front, back, and side, wearing the same thing each time, you will see if your body is changing or not. And you'll be able to gauge the effectiveness of the actions that you're taking.
(04:24)
And it's not just your workouts that are going to help you lose body fat, right? It's the things that we surround our workouts with in the form of, what are we eating? Are we eating the right nutrients? Are we going to bed on time? Are we taking advantage of the sleep cycles and getting that deep restorative sleep and rest? Are we managing our stress so that cortisol isn't constantly running rampant through our system, breaking down our muscle tissue and making us store more body fat? They're really important factors that go into burning body fat and building muscle.
(04:59)
And sometimes these things don't happen at the same time. Sometimes one happens more and the other happens less. It really depends on how you are able to apply these four pillars of health, as I call them, sleep, nutrition, stress management, and exercise, to yourself consistently over time to create that state in your body for your desired outcome to happen.
(05:18)
So again, back to your weight on the scale. I just want you to take a step back from those daily weigh-ins and really consider how you can get a true gauge of how your body is progressing and how your body is responding to the stimulus that you're giving it, whether it's a workout or whether it's your eating plan. And one thing that you can do is get a smart scale. Smart scales have a varying amount of accuracy, but they're a lot more useful for us in thinking about our body composition than just the number on the scale alone. So a smart scale can be a helpful tool.
(06:00)
There are some professional ways to measure your body composition, like the DEXA scan. Which, DEXA stands for dual X-ray absorptiometry. There's the BOD POD, which is something that works with air displacement. You can find those in certain gyms or training facilities. There's the InBody scan, where you stand and you hold these paddles in your hands. There are 3D body scanners and other types of professional body composition measuring tests that are all effective, but you do need to probably go to a place and pay for those to be done.
(06:37)
However, if you do those maybe annually, that can be a great indicator of, are you holding onto muscle mass as you age or are you losing it? And there are some ways that you can rectify that if you are, for instance, losing muscle over time. You can definitely start applying different strategies to help prevent that. But I think it's helpful to get those types of snapshots from the big picture perspective. But day-to-day or even week-to-week, using maybe a smart scale to take a look at your progress within those metrics a little more closely if you do want to weigh yourself more frequently.
(07:14)
And then if you would like to maybe take a step back from that and simply go more by how your clothes are fitting or how your body looks across time, maybe every 10 days. That's where you're taking progress pictures and really noticing how your body looks over time, from a bigger picture perspective, so you're not up so close to it and being so hard on yourself day-to-day. And so I think that can be really, really helpful.
(07:42)
I think another thing to really remember and keep in mind is even when you're applying all four pillars of health in an optimal way, we have to adjust our expectations to how quickly the body is going to respond to these strategies and these methods of shifting our body composition. It takes time to build muscle. You have to really be consistent with all of these things together to build muscle. It takes time to lose body fat. When you think about how long it takes to gain body fat, it might feel like it comes on so fast. But really, we had to do certain things over and over and over to gain the body fat. So we have to do other things over and over and over to lose it.
(08:21)
And it is a process. We have to adjust our expectations and really be patient with the process and be kind to ourselves in the process. And this is what really bothers me about the weigh-ins and the value that we're putting on ourselves based on how much we weigh. I feel like we're really so, so hard on ourselves for not weighing light enough or not being small enough. And that in itself is a whole other conversation for women of why do we constantly need to be smaller? Let's take up some damn space, right?
(08:54)
But I understand when there's a health concern and you're wanting to get stronger and add more muscle to your body. And you're trying to be healthier in general, and you know that that should help you lose body fat and you should be able to put on more muscle as a result of your actions. And you want to see that progress over time. Well, that's great, but you're not going to learn that from looking at how much you weigh on a scale.
(09:19)
So I hope that this little quick conversation has been helpful. There is follow up reading for you over on thebettyrocker.com in the women's health section, if you're interested. There's a great article called The Truth About Your Weight, which I recommend you read. And there's some other follow up material as well.
(09:37)
So anyway, I hope this has been helpful, like I said. And I just want you to stop being quite so hard on yourself for how much you weigh. And remember, that's really an arbitrary number. Let me know what came up for you in this conversation, by leaving me a comment on social media or dropping me a line. I always love hearing from you, and I appreciate the opportunity to have conversations with you. So thanks for being part of my community.
(10:01)
As always, I'm Betty Rocker, and you are so awesome-blossom and amazing. I look forward to talking to you again real soon. Bye for now.
❤️
I just wanted to mention real quick that one of the most common mistakes I see women making when it comes to their health and fitness goals is putting too much emphasis on their workouts and not prioritizing nutrition or sleep or stress management.
Because one workout makes us feel good, a lot of us think more workouts will make us feel better and give us more results. So we get into this no days off mentality, sometimes going for two workouts a day, and endlessly pouring our valuable energy and time into exercise when that's actually burning us out and breaking down muscle tissue as the body doesn't have the building blocks in the form of nutrients or balanced hormones to support all that output. It's not really about how much you do, it's about the way all these important elements, like sleep, nutrition, stress management, and exercise, come together that truly drives your results, supports your body long-term, and as a nice byproduct, produces the results you are looking for physically.
This holistic approach is a long-term sustainable approach that focuses on how you talk to yourself, how you nourish yourself, and how you care for yourself on every level.
And that's exactly what we focus on in Rock Your Life, my online home workout studio and women's fitness community. It's a holistic approach to your health and fitness because you are a whole person.
And in Rock Your Life, you can enjoy the structure of a workout challenge program combined with a balanced guidance around eating healthy, getting good rest, and prioritizing your mental health. I'd love nothing more than to welcome you to our uplifting community.
And to make it easy for you, there's even a 30-day trial for new members that you can take me up on. No obligation to stay. Just come enjoy the space and see how we can support you in nourishing your mind, loving your body, and rocking your life. Grab the trial at thebettyrocker.com/coaching.
❤️
Announcer (10:16):
This podcast is for information purposes only. Statements and views expressed on this podcast are not medical advice. This podcast, including Bree Argetsinger, Betty Rocker, Inc. and the producers disclaim responsibility for any possible adverse effects from the use of information contained herein. Opinions of guests are their own, and this podcast does not endorse or accept responsibility for statements made by guests.
(10:36)
This podcast does not make any representations or warranties about guest qualifications or credibility. Individuals on this podcast may have a direct or indirect financial interest in products or services referred to herein. Before starting a new exercise, fitness or health protocol, or if you think you have a medical problem, always consult a licensed physician.
This episode brought to you by Rock Your Life!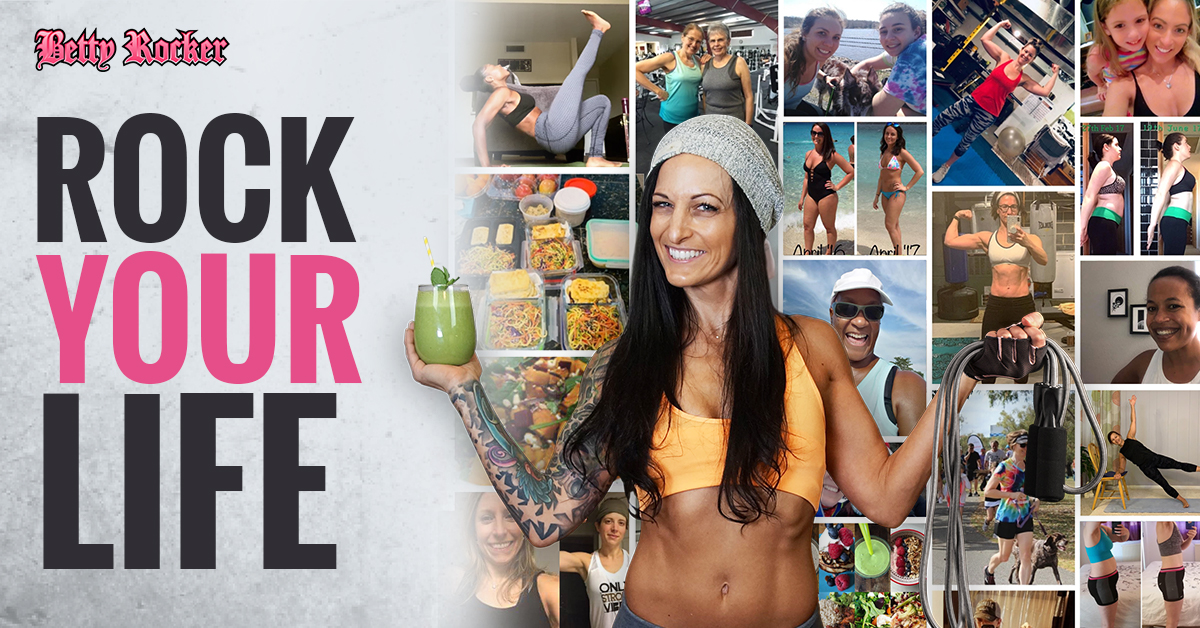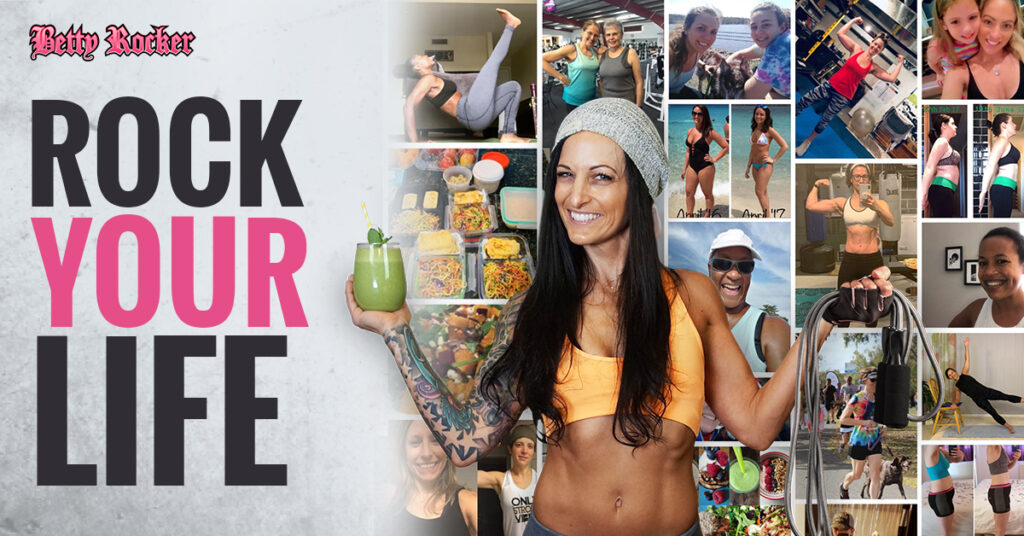 Rock Your Life is my online workout studio that you can attend from anywhere you are, and access workout challenge programs, healthy recipes, and get coaching and support in our private women's fitness community for all 4 Pillars of Health. We provide support and strategies for women in training with their cycle, training in perimenopause and training in menopause.
All of our workouts and training programs include a strong focus on form and alignment to keep you healthy and balanced. You'll find workout classes to take a la carte of all types, including strength training, HIIT, kickboxing, yoga, barre, mobility and more!
Our workout challenge programs provide a balanced training plan and you can start a challenge anytime within a time frame that works for you! We have challenges in tons of different time ranges, including 15-20, 20-25, 20-30, 30-40, and 45+. We show modifications and welcome all fitness levels!
Thanks for listening! Leave a comment and share your thoughts, and/or leave a podcast review on iTunes!