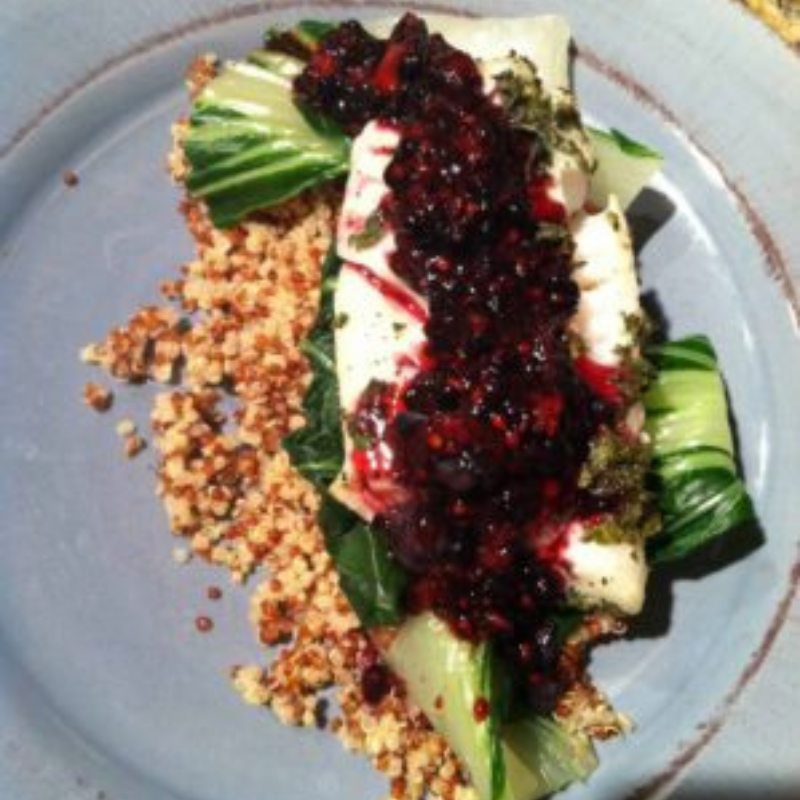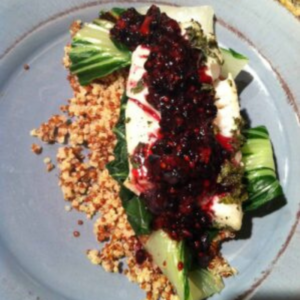 This might sound fancy, but it is one of the easiest things to pull together.
Getting some fresh cod is a plus – and for fresh fish, I recommend Vital Choice Seafood – you can order it straight to your house, frozen fresh.
It's some of the highest quality and best tasting fish (and you can save 10% it using my link – or use ROCKER at checkout).
I got about 3/4 of a pound for 2 servings. I served it over quinoa and steamed bok choy.
Sage Crusted Baked Cod with Blackberry Coulis
Yield: 2 servings
You will need: baking sheet, medium saucepan with lid, double boiler or steamer basket, mixing bowl, fork
3/4 lb Cod filet
1 lemon
2-4 T olive oil
2-4 stalks fresh sage
Sea salt and fresh ground pepper to taste
1/4 cup fresh blackberries
1/4 cup fresh blueberries
1. Preheat your oven to 350.
2. Spray or treat a cookie sheet with olive oil.
3. Cut the cod in half and place it in a wide deep dish.
4. Rub it with olive oil and quarter a lemon, squeezing the juice of 1/2 of it over both sides.
5. Add some sea salt and fresh ground pepper.
6. Lay the pieces of fish on the baking sheet.
7. Mince the sage and sprinkle it on top of the fish. I like to put the two pieces of squeezed lemon on the baking sheet with the fish and let it cook along with it.
8. Set your timer for 15 minutes and let it cook.
9. In a small bowl, mash the blackberries and blueberries together to form a rough mixture. Squeeze in another quarter of the lemon. Set aside.
10. While the fish is cooking, you could prepare quinoa – a 1:2 ratio of quinoa to water, cooks in about 15-20 minutes.
11. I steam my bok choy in a double boiler or steamer.
12. The fish can cook between 15-20 minutes, you just want to make sure it's juicy and not dry.
To plate, layer about a 1/4- 1/2 cup of cooked quinoa, bok choy and the fish on top. Squeeze the last piece of lemon over the baked fish and anything that comes out of the cooked lemon. Layer it with the blackberry coulis.
This was so good I can't wait to make it again.
Nutrition Facts
Calories per Serving:

347
---
The Body Fuel System uses my simple, proven Eating Types to make it easy to stay on track. It also gives you healthy, fat-burning recipes and foods you can eat to look and feel your BEST every day!
Recipes like….
This is my signature eating system and it contains 6 weeks of done-for-you meal planning and recipe guides! You will not only learn the strategies that have given me long-term success, but also enjoy the time-saving benefits of having it all planned out for you!