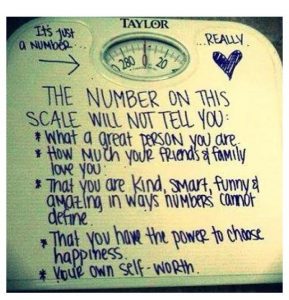 We have to stop using the scale as our main metric of success.
Unless you're using a scale that has the ability to give you more than one single number of body mass, that number does not tell you anything about the distinction between muscle mass, body fat, body water and how awesome you are.
Just like the amount of calories in a meal will never tell you the whole picture about what that meal is doing for your body, the number on the scale cannot give you the full picture of what is happening in your body.
Eating 400 calories of candy/fast food/frozen dinners is not going to fuel your body with nutrient density, vitamins and minerals the same way eating 400 calories of ground buffalo, avocado, sweet potatoes and asparagus is.
Using the scale as ONE of the metrics you use to keep an eye on things is fine, but letting your "weight" alone be what dictates your health is an outdated concept. What we want to keep an eye on is muscle mass and fat mass.
Here's why that scale number can be misleading. In the pic on the left, Mel logged her weight as 76.3kg. On the right, 4 weeks later she's looking leaner and tighter – but she logged her weight as 77.4kg. She added some lean muscle and lost some body fat.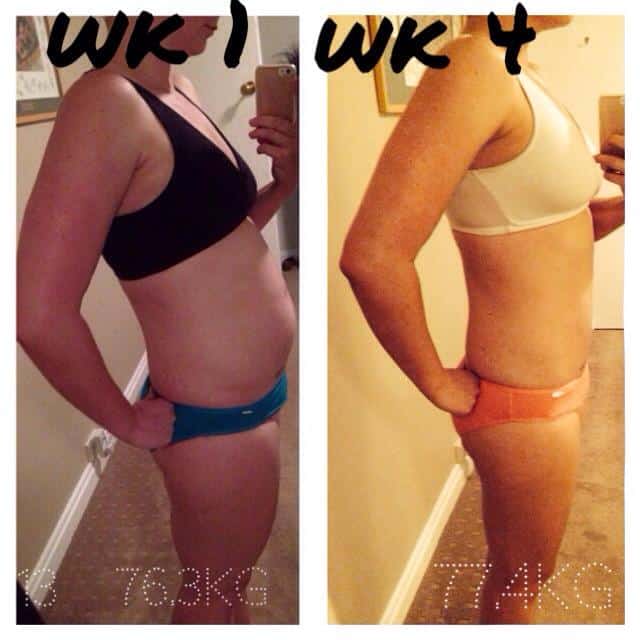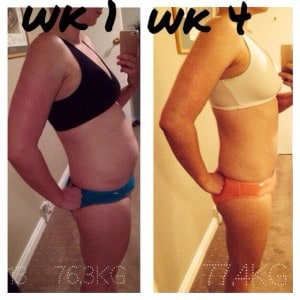 Muscle is more compact and dense than fat, and takes up less space in your body. A pound of fat and a pound of muscle both weigh 1 pound, but take up a different amount of room.
So as you lose body fat, you'll look physically smaller.
If you put on lean muscle, you'll look physically tighter.
But your weight may not go down significantly if you are actually adding muscle, because it's dense and compact – but it doesn't take up as much space.
Sometimes your weight might even go up.
When I was a twiggy 20-something, I thought my perfect weight was 103 lbs (I am 5'1″ tall so this is not unreasonable for me). But that was me without much muscle. As I started to get serious about training, I was easily up to 115 and it looked great. I was shredded.
If I was worried about my weight alone, I might not have been happy as I was gaining the weight.
What matters is what the weight is composed of – hence "body composition."
To shift our body composition to be less body fat and more lean muscle, we have to take a combined approach of:
Healthy, consistent eating – prioritizing protein, healthy whole food carbohydrates, plenty of veggies and greens, and add healthy, whole food based fats.
Balanced, consistent training – training different body parts throughout the week, combining resistance training with cardiovascular activities, taking rest days, doing self care for our muscles like mobility and stretching.
Prioritizing rest and sleep – so we can repair our muscles and minds, and restore ourselves for the next day.
Addressing our stressors and taking care of our mental health – so we can metabolize efficiently, not allow our stress hormones to run the show and create fat storage, and feel happy and complete in ourselves and the way we live our lives.
I have definitely had an unhealthy relationship with the scale in the past, and it affected my mental health and impacted the way I approached my training and eating. Remember that your weight can fluctuate throughout the day easily, because of how much water you have in your system.
If you find yourself addicted to weigh-ins and they make you feel bad about yourself if you gain, or good about yourself if you lose, it's a good idea to reassess the value you're putting on yourself for this one single metric, and expand the container to include more factors about your health.
You can try out a body composition scale, get a professional scan like a Dexa, BodPod, or Inbody (available in some gyms) or get a trainer to assess your body composition in person.
Check out "The Truth About Your Weight" for more on this topic!
---
Let me help you make eating healthy easy with the Body Fuel System.
Just real food – and a setup that suits YOUR lifestyle.
Enjoy Betty Rocker gluten and dairy free whole food recipes that are EASY to make, and even easier to eat.
Enjoy the done-for-you 6-weeks of daily menus that you can follow exactly, or use as a guideline and reference point.
Get weekly set up steps, customized to your preference: batch prepping for the week, taking shortcuts, or doing a little bit of both.