Failing to plan is planning to fail.
But we all need some help when it comes to putting a good plan together, and then STICKING to it!
When I created the Body Fuel System, it was in response to some of the biggest obstacles we all face when trying to stick to healthy eating habits successfully and consistently.
Two of the biggest challenges are:
Having the right good foods readily available – even when we're short on time
Motivation to keep going with our plan and specific strategies we can use to reach our goals
The BEST way to ensure your success is by setting yourself up for it in advance.
Two of my top success strategies include:
1. Food prepping specific food – either doing some bulk prepping for the week in advance, or a little strategic cooking daily so I have leftovers and am doing sort of a "rolling" prep for myself all week.
2. Creating a "Photo Food Journal"
1. Food Prepping: A Sample Week and the Mentality Behind It
It is really easy to get sidetracked by 'stuff' and life, but if we can just remember to do our weekly prep and take food with us for the day, our bodies feel better, we get the benefits of all those nutrients, we improve our lean gains, and we optimize our ability to burn fat.
Skipping meals only stresses out the body and triggers it to hold onto fat stores.
When I'm thinking about the food I'll be including this week, protein is at the top of my list! I include some with every meal.
So my protein options this week are eggs – I hard boil about half a dozen keep the rest whole, turkey burgers, Buffalo Lasagna (made with zucchini noodles) and assorted nuts, hemp seeds and protein powders. I keep those on hand to top my oatmeal, throw in my green smoothies and protein shakes.
Next is carbs. I train hard, and nothing is worse than waking up in a hurry and not having anything ready to go, or coming back from the gym and being too hungry to wait to cook something. So I pre-make staples to have on hand like overnight oats and quinoa – and keep a good assortment of fresh, low-glycemic fruits around (that's just this weeks options).
Healthy fats: I keep avocados, assorted nuts, oils (coconut, walnut, sesame, olive) on hand to include with my meals. The only time I don't eat fat is immediately post-workout because it slows down how quickly I can replenish my muscle glycogen stores.
Raw greens: I do prep a few greens, like this weeks' steamed baby bok choy, and some pesto to spread on the fish I'm going to cook fresh on Saturday. But the bulk of my greens I'll keep raw and have as a side salad with dinner, with eggs and toast, and of course in the Green Smoothies I make daily.
I generally choose a day (when I'm running low on fresh foods) and decide what I want to cook and eat for the week (using the above guidelines) – make a list based on the recipes or plan I come up with, and then grocery shop, meal prep and stock up my fridge for the week all in about 2.5 hours.
2. Creating a Daily Photo Food Journal and Why this Strategy Works
One of the best tactics I've used to my dream body dialed in is to create Photo Food Journals of everything I eat throughout the day.
As an alternative to just writing it down, the act of stopping and taking a picture keeps me accountable for what I'm taking in. Then at the end of the day, I make a little collage of all the things I ate and save it (if you're using a smartphone, download the instacollage app or similar) .
It's one of the most effective strategies I've used for getting in shape and sticking to healthy eating.
Here are 2 examples of Daily Food Journals I have made. The first one was an example from the week of food prep above, and the second is from a day when I was running out of groceries and had less options.
Food Journal #1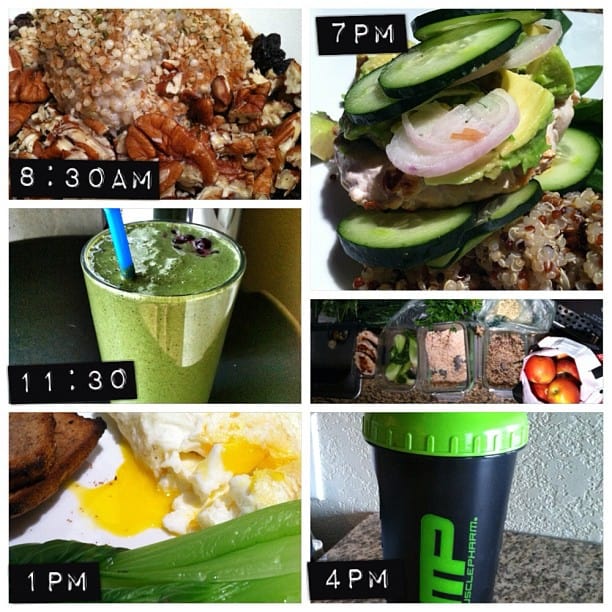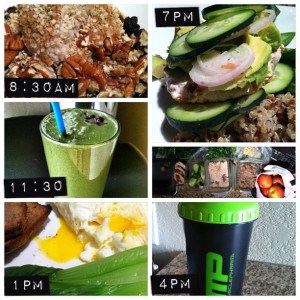 This was also a heavy lifting day, and I was very active and busy so I spaced out small amounts of complex carbs throughout the day – and had some protein with every meal.
On a not so active day, this would look a little different. Having good food on hand makes a big difference to my success!
1. Overnight oatmeal with 2 T pecans, 1 T currants and 3 T hemp seeds
2. Post workout Green Smoothie
3. Lunch- aka Second breakfast: 2 eggs, egg whites, 1 slice gluten-free toast with butter, steamed bok choy (if I was away from home I would have eaten some of the hard boiled eggs I have ready to go).
4. Small protein shake – just raw chocolate Protein Powder, almond milk.
5. Dinner: turkey burger, 1/4 cup quinoa, 1/2 avocado, shallot slices and cucumber "bun".
(The little pic is a sample of my food prep)
Food Journal #2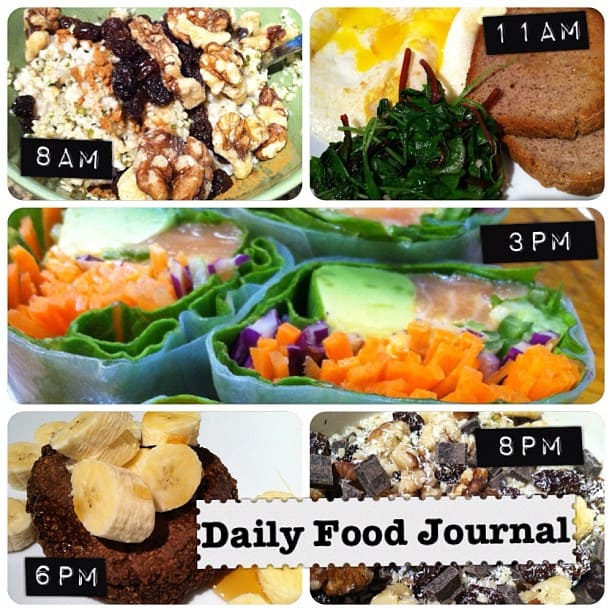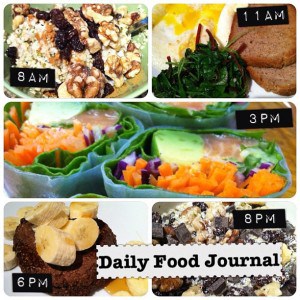 This journal's intake was a lot of leftovers and pre-grocery shopping food, but still a well balanced (though non traditional day – which is just fine):
1. Overnight oatmeal with hemp seeds, walnuts, raisins and cinnamon
2. Gluten free toast, butter, eggs and egg whites, sautéed chard, spinach and garlic
3. Sashimi, avocado, vegetable rolls from Whole Foods when I was there mid-day buying groceries (knowing I had to take a photo of whatever I ate kept me on point with my choices!).
4. Leftover chocolate protein pancakes, bacon and banana.
5. Power bowl: hemp seeds, unsweetened coconut flakes, walnuts, dark chocolate pieces, raisins – it IS a good idea to have a couple healthy snack ideas.
What about you? What does a day in your life in food look like? Want some feedback on it? I'd love to see you in Rock Your Life, my online fitness coaching community and virtual gym!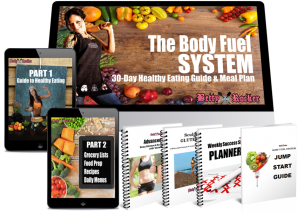 For more details about achieving your dream body, specific recipes, weekly grocery lists, daily menus, weekly food prep steps and the science of the nutrients explained in the most understandable way, read more about Betty Rocker's Body Fuel System.