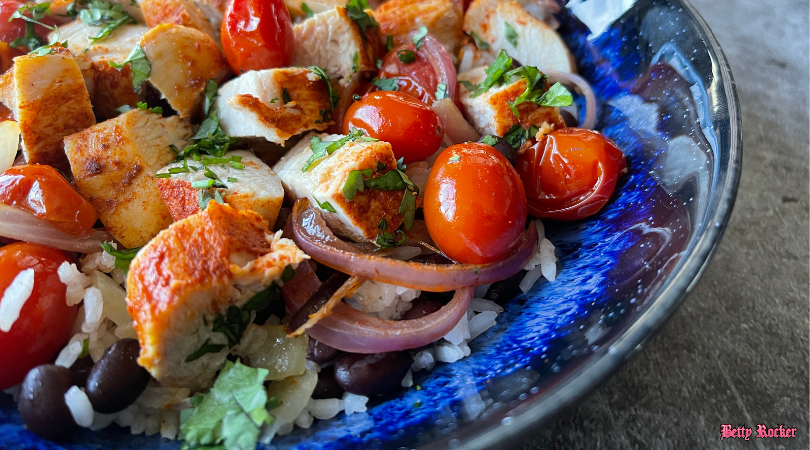 Looking for a time-saving, healthy and delicious recipe to make? This Smoky Chicken with Roasted Tomato Pilaf is easy to make and covers all of your nutritional bases.
The savory baked chicken in this recipe pairs perfectly with the fresh flavors from the tomatoes, onion and cilantro and is super easy to customize and vary if you choose. You can make it vegetarian by swapping out the chicken for tempeh (instructions included in the recipe).
When it comes to eating, I like to remember that without the right building blocks your body simply can't build muscle, and those building blocks include the amino acids we get from dietary protein.
Studies have shown that increasing the amount of high quality protein in your diet can help optimize your health, including everything from appetite and weight regulation to healthy aging and athletic performance  (1).
Chicken is the main source of protein (tempeh for the vegetarian option), and the rice and beans also have some protein but are primarily complex carbohydrates, which provide a great source of energy for your body and help regulate blood glucose levels and metabolism (2).
This recipe is easy to make ahead of time so you have food to grab and reheat and you can double it if you're cooking for more people.
---
Smoky Chicken with Roasted Tomato Pilaf
Yield: 3 servings
You will need: Knife, cutting board, measuring spoons, measuring cups, spoon, medium pot, baking sheet, parchment paper, medium mixing bowl
Key: T=Tablespoon; tsp=teaspoon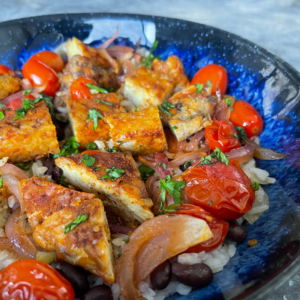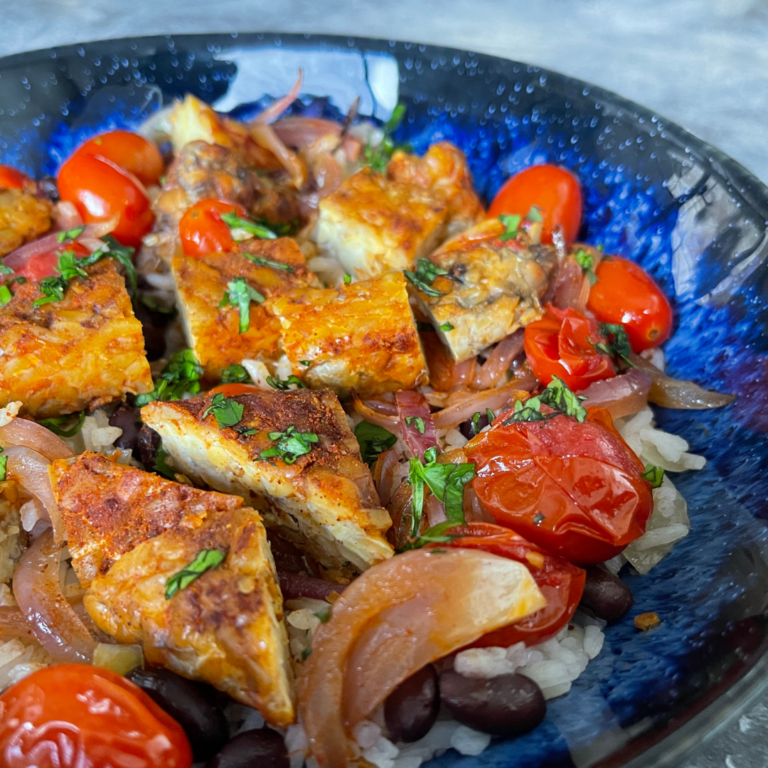 Ingredients:
For The Rice And Beans:
1/2 cup yellow onion, chopped
1/4 cup long grain white rice
1 can (15 oz) black beans, drained and rinsed
3/4 cup low sodium chicken or vegetable broth
For Chicken and Tomatoes:
2 (5-6 oz) boneless skinless chicken breasts, or

1

 

package

 (8 oz) 

tempeh

, cut into even size pieces
2 garlic cloves, minced
2 tsp smoked paprika
1/2 tsp sea salt
2 T cilantro, minced
2 cups cherry tomatoes, whole
1/2 cup yellow onion, thinly sliced
2 tsp olive oil
Directions:
Preheat the oven to 400 F. Line a baking sheet with parchment paper.
In a small mixing bowl, add garlic, paprika, 1 T of the cilantro, and sea salt. Add chicken or tempeh and toss to coat. Marinate for 30 minutes (this can be done hours before or overnight).
While that is marinating, heat a medium pot over medium heat and coat it with oil. Add the onions and cook for 3-5 minutes, until softened. Stir in the rice, then add in the beans and broth. Bring to a boil, then reduce the heat to low, cover, and simmer for 15 minutes. Let rest for 5-10 minutes before uncovering.
Meanwhile, add the marinated chicken or tempeh and the cherry tomatoes and onions to the baking sheet. Drizzle with olive oil and season vegetables with a ¼ tsp of sea salt. Bake for 15 minutes, then flip and cook for an additional 10-15 minutes or until the chicken or tempeh is fully cooked.
Serve the baked chicken (or tempeh,) tomatoes and onions with the rice and beans, and top with the remaining cilantro.
Enjoy!
Nutrition Facts
Calories per Serving:

373
I hope you enjoy this recipe! Let me know in the comments below if you make it and how it turns out.
---
Need some help with healthy eating? When planning for the week, I think about:
2-3 breakfast options I like
A few entrees that could double as dinner or lunch
A couple smoothie ideas that have complimentary ingredients to give you variety with your greens
A snack option like homemade protein muffins or an easy to make trail mix for days you're just hungrier and want a little more to eat.
Round out your plan with a couple of staple sides that you would like to have on hand daily like a big mixed greens salad and some rice, quinoa or easy to grab sweet potato chunks………and then make your grocery list around that.
Or, you can let me make the whole plan for you, with so many delicious, easy and healthy recipes!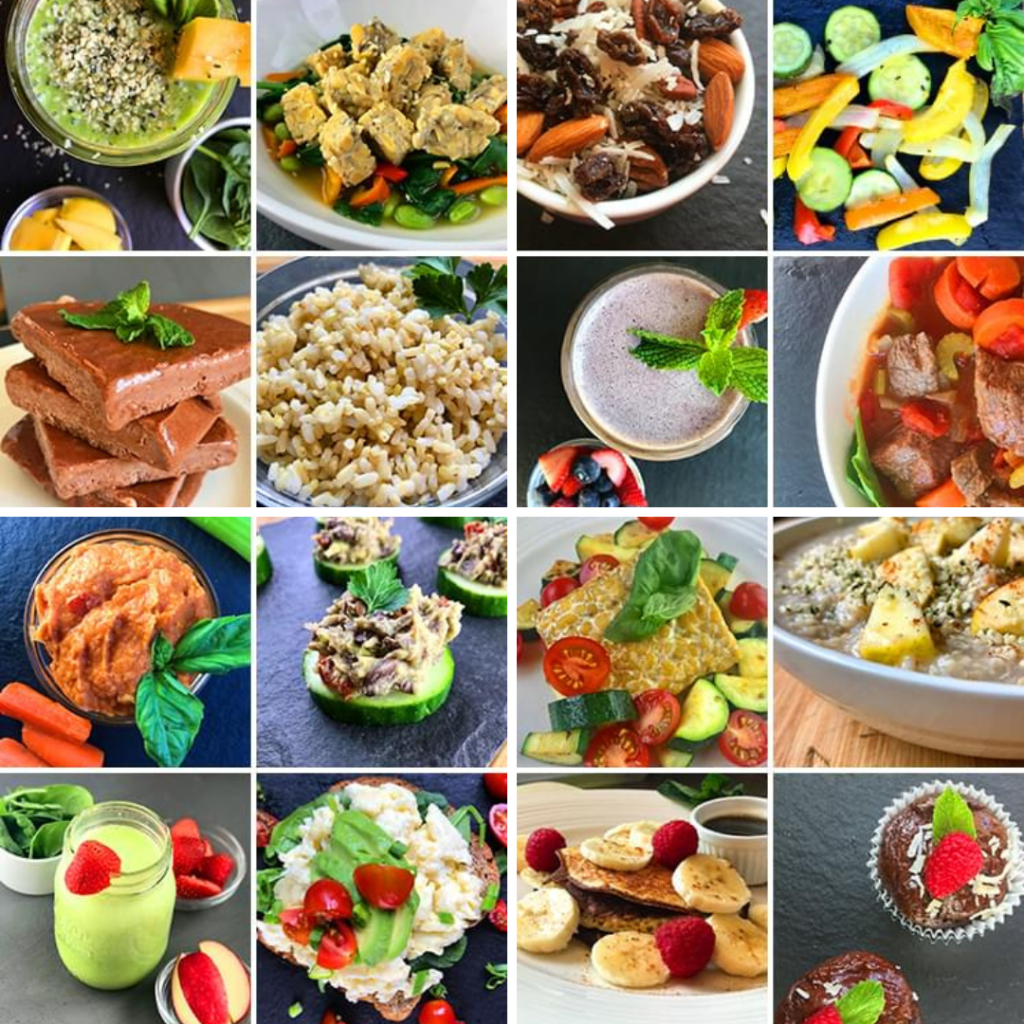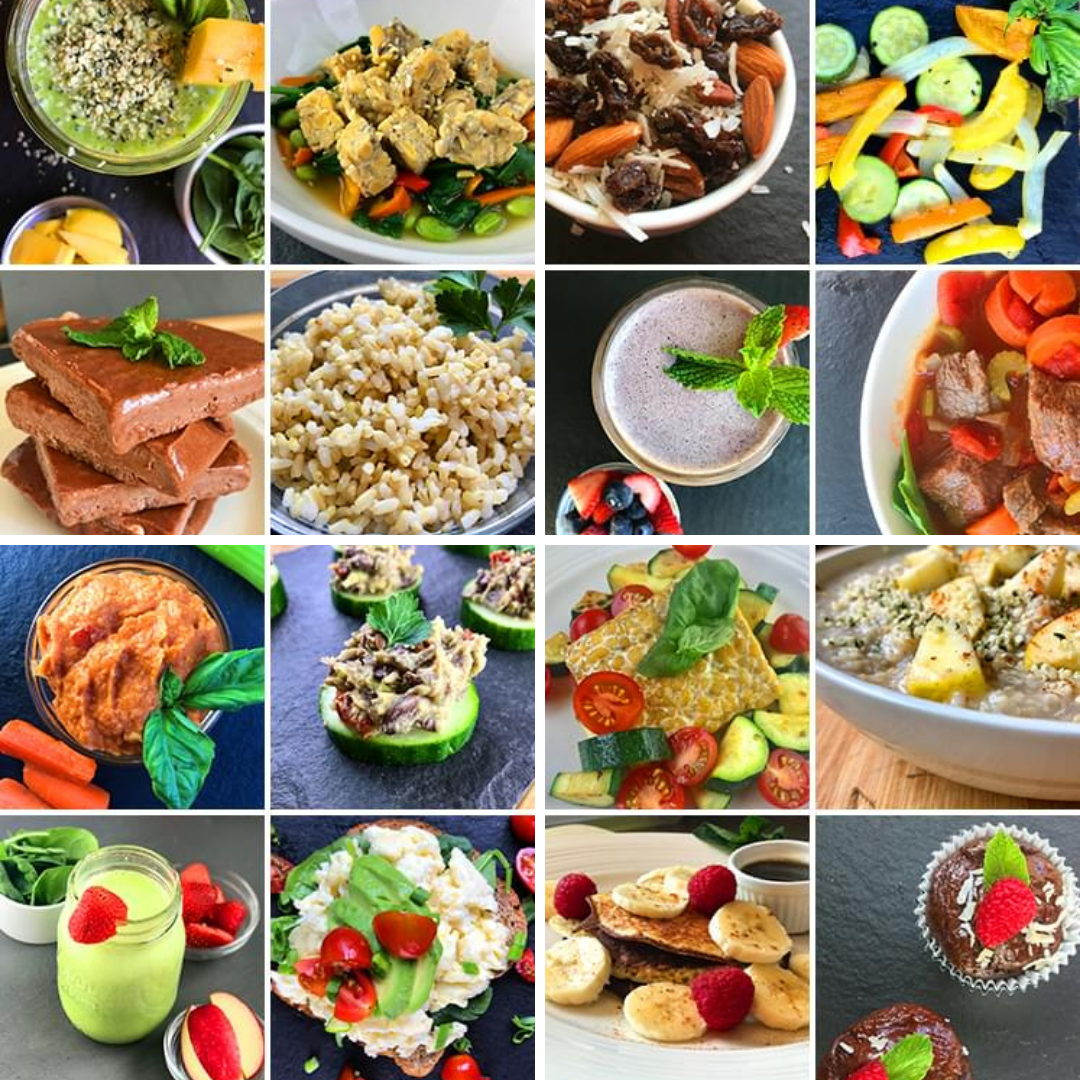 The 30 Day Challenge Meal Plan includes all the recipes and grocery lists for breakfasts, smoothies, sides, snacks and entrees for 4 full weeks – with plenty of delicious options and structure to help you eat right for YOUR life!